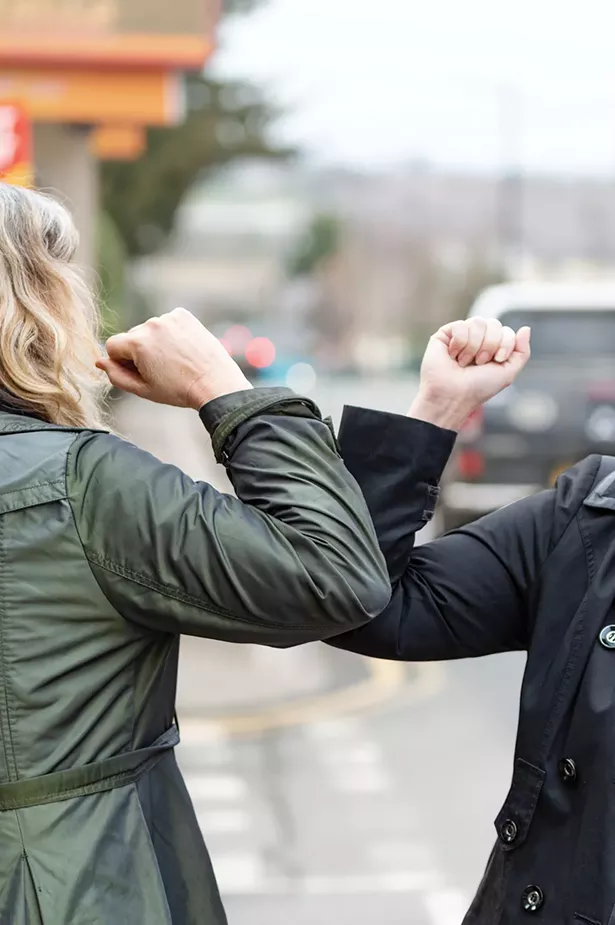 Before COVID-19, Sarah Bell's life was sweet. At 83, her world revolved around her six children, eight grandchildren, and two great-grandchildren, and she savored her career as a professional flutist and flute teacher. She had a rich spiritual life observing Contemplative Christianity, a nonfundamentalist practice that centers on meditative prayer and stillness. But when the pandemic hit in March, everything changed. "I had to cancel my lessons, my church closed, and my kids couldn't come home," recalls Bell (not her real name). "I'm an extrovert and I love to be with people, yet I couldn't be with friends. It was like my life came to a screeching halt." Perhaps the hardest part was that she had no rhythm to her days, and hardly anything got done because there were no deadlines—no students arriving for 4 o'clock lessons, no meetings with friends. "I felt nonessential. It's lovely to have a vacation, but when it became my life, well, nothing had much meaning anymore."
Her students inquired about virtual lessons, but at first, she resisted. "My generation didn't do computers, and I only started doing email a few years ago," she says. "I had this attitude that anything online was going to be artificial and there was going to be no connection." Yet, when her priest, Matthew Wright at St. Gregory's Episcopal Church in Woodstock, started holding Sunday morning services on Zoom and Facebook, Bell discovered that it could be a satisfying experience. "You almost feel like you're there, with the altar in the background. We have a virtual coffee hour afterwards where we hang out and talk."
Encouraged to find a kind of intimacy in cyberspace, she started taking Qi Gong classes on Zoom as well. Her granddaughter had taught her how to FaceTime, and in July, she tried FaceTime lessons with her flute students—and was surprised to find she could enjoy teaching that way. "I feel alive again," she says. "I can hardly believe I'm saying this, but in some ways, it's better than having the kids come to my house because they're not exhausted after being at school all day. Scheduling is easier, and I get to see them in their own spaces." Even if things aren't perfect—she still craves visits with family members that live far away, and she can only see local loved ones from a distance—Bell is amazed that a late-life tech awakening has given her new solutions. "I feel like I have my life back."
Avoiding a Social Recession
Nearly six months into the pandemic, with no end in sight to face masks and social distancing, we have to be creative and even go beyond our comfort zone to meet one of our most basic needs: connection. We're in a quandary because, thanks to a tiny spiked virus, some of the very things that make us human—talking face-to-face, laughing, hugging, singing, and the constellation of ways in which we interact with others—may also have the power to take our lives away. But science shows that without satisfying social connections, humans can wither and wilt like unwatered plants. Chronic loneliness is as bad for your health as smoking 15 cigarettes a day or being an alcoholic, according to a 2010 meta-study led by pyschologist Julianne Holt-Lunstad, PhD. Twice as lethal as obesity, having poor social connections can shave about eight years off your life, and lonely people are more likely to suffer from dementia, heart disease, and depression. On the flip side, having a supportive network of friends and family comes with significant preventative effects, helping us recover from disease faster and increasing our chances of longevity by 50 percent.
When COVID abruptly shut the door on our usual ways of interacting, loneliness ticked up alongside fear and anxiety. During strict lockdown in April, nearly half of Americans reported in a Kaiser Family Foundation poll that the virus was taking a toll on their mental health. Yet, a loneliness epidemic existed well before the global crisis, and in many ways, the virus has simply brought it to light. Data collected pre-pandemic reveals that one in five people in the US and UK are chronically lonely, according to the Campaign to End Loneliness, a research and outreach organization based in London. While isolation is an objective state, loneliness is subjective, defined by the Campaign to End Loneliness as "the unwelcome feeling of a gap between the social connections we have and the social connections we want." Because of this gap, we can be in a crowd and still feel lonely if our interactions don't feel satisfying or meaningful. Equally paradoxical, we can be alone and not feel lonely at all if we're connecting with ourselves or with nature and savoring the peace, creativity, and communion that solitude can bring.
A Social Media Catch-22
"Solitude is a choice," clarifies Allison Chawla, a licensed clinical psychotherapist and intuitive healer based in Rhinebeck. "You can choose to come out of solitude, whereas now [with COVID], it feels more like confinement or isolation. I'm seeing people at this point of the pandemic start to wear down a bit from the loneliness." And while technology has been a lifeline through quarantine, it too represents one of the paradoxes of aloneness. Used in moderation, it can help fill the gap and bring people together, but if we overdo it—especially social media platforms like Facebook and Snapchat—it can backfire and make us feel lonelier. A 2018 study from the University of Pennsylvania found that reducing our time spent on social media can significantly decrease feelings of loneliness and depression, and a 2019 poll from YouGov found that Millennials, the social media generation, are the loneliest age group alive right now.
Yet, Chawla has been inspired to see clients living alone in studio apartments in New York City who have created beautiful communities online, complete with virtual dinner parties. Her single clients have been going on dates via Zoom and Skype, which can be bizarre but better than no dates at all. "We're lucky to have this technology, but we're missing the sensory experience of a 3D physical interaction where we can smell and touch as well as hear and see. That type of exchange is so energizing, so fulfilling, and none of us are getting enough of it."
Chawla recommends trying differing venues of connection, beyond our screens—like penning a handwritten, old-fashioned letter. "Receiving a letter in the mail right now is exciting," she says. "Our devices become draining, but opening an envelope and seeing your friend's handwriting, you can tell they put love and energy into it, versus clicking away at keys. Little things like that I have found really help to make me, my kids, and my friends feel less lonely." Having a daily gratitude practice, in which we recognize the abundance we already have, can also help to adjust our perspective and keep us emotionally strong. It's key, too, to practice forgiveness, because our grudges only serve to create more alienation. "Repairing relationships and forgiving ourselves and others is so important," says Chawla. "At this time especially, when we're under so much isolation and pressure, we need to go easy on ourselves and other people."
Leading a People-Centered Life
Loneliness is an ache—it's a universal longing we've all felt at some time or other—and we can accept it and welcome it like an occasional guest. Only when it becomes chronic does loneliness have the power to affect our health, which is why we need to keep tabs on it and take proactive measures to keep it in check. In Together: The Healing Power of Human Connection in a Sometimes Lonely World (2020), former US Surgeon General Vivek Murthy, MD, writes about the importance of strengthening our social ties and leading a more people-centered life. One way to do that is to help others, and volunteer initiatives are booming right now, many of them geared toward easing the burden on socially isolated populations.
Rhinebeck Responds, a mutual aid group that formed during COVID, created Neighborly Chats, a program with the goal of reaching out by phone to every Rhinebeck citizen over 70. "Our mission is to provide community members with a point of human connection so they can feel less isolated through this challenging time," says Isabel Murray, a lifelong Rhinebeck resident and pre-med student at the University of Michigan, who led the initiative while she completed her junior year online during shelter-in-place. Powered by 36 call volunteers, the group also provides triage to additional services if the seniors need food, medicine, or other assistance.
In total, Neighborly Chats has reached about 450 seniors, and some have chosen to sign up for weekly phone calls to keep the connection going. "One call recipient's son got on the phone and said it was an amazing idea, thank you, and that he hoped that he could pay it forward one day, as his mom is very lonely and just likes interacting with others," says Murray. Other call recipients needed urgent help, like a man experiencing chronic pain who didn't have a bed to sleep in (Rhinebeck Responds is fundraising to buy him a new mattress). And several volunteers have befriended the seniors, including one pair that goes on weekly walks together. "A lot were able to connect over shared family histories, common interests, and similar life experiences," notes Murray. "It's powerful to know that this project helped bring Rhinebeck's community closer together in an everlasting way."
Beyond a Loneliness Mindset
Clearly, there's power in the collective—yet in our hyper-individualistic American culture, which idealizes independence and autonomy and often devalues seeking help from others as "weak," being lonely can carry a sense of shame. We don't have to fall for that, and we can recognize the strength that it takes to reach out and forge connections. "Before COVID, many of us got a lot of our social needs met passively by just going to work or school," says Thomas Shooman, a psychotherapist at Resolution Psychotherapy in Poughkeepsie. "You didn't need to schedule time to hang out with someone because you were probably going to see up to a dozen people just by accident every day. When that disappears, you can start feeling pretty bad without necessarily knowing why." Shooman recommends reaching out and setting up time in advance to talk on the phone, have a video chat, or see someone in a safe, socially distanced way. Doing so can feed our need for connection while also creating new social zeitgebers—time keepers or cues that can anchor our day—which many of us have lost in our vague, unscheduled post-COVID lives.
Creating new zeitgebers online has been a godsend for flute teacher Sarah Bell. With the infection rate relatively low in New York, she has been cautiously seeing friends and family outside, with distance. Although she rarely feels lonely now, she does have a kind of existential sadness sometimes. "I feel sad for the whole world—parents with young children, small business owners, everyone who's struggling. I give myself permission to feel that, but I don't let myself get swallowed up in it," she says. "It helps that I had a really grounded spiritual practice going into this. There's a conviction that I'm being held by more than just me, and that I'm not in this alone. We're all in it together."
Chawla, the psychotherapist in Rhinebeck, also finds grace and hope in the bigger, cosmic picture. "[COVID has] woken us up to recognize how small and fragile we are in the grand spectrum of life," she says. "We are intellectual beings and we feel that we are the dominant species, yet this teeny tiny microscopic virus is taking so many of us. If that's not going to shift perspective, I don't know what would. I'm seeing a lot of kindness, people extending themselves to create new relationships, repairing broken relationships, volunteering. It's brought us together in many ways, as far apart as we feel."