Ryan Carpenter
"Crossed Paths"
For 27 years, artist and curator Jeffrey Greene has organized Connecticut's Prison Arts Program, which is part of Community Partners in Action (CPA), a non-profit that focuses on behavioral change of both current and past inmates of the state's prison system, in addition to advocating for criminal justice reform. Green's approach to the program emphasizes artmaking rather than academic rigor, focusing on giving voice to inner worlds and personal histories, and the belief that learning and growth are primarily achieved by the making of art, not by learning technique.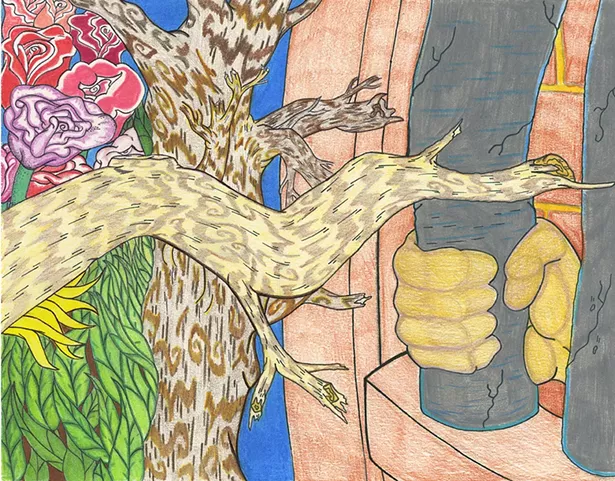 Lamont Thergood, The day, 2014; Collection of Jeffrey Greene
"The inmates in the program stop thinking of an artist as someone they could become, but someone that they could draw out of themselves," says Greene. "They stop thinking of art as something in the center of a piece of paper, but rather something that could span from their cell to the moon. In the oppressive environment of the prison, they need something that they control; they need to express and confirm that they are still themselves; they need to send out into the world something that states their wish to love and be loved. They have every reason to make art."
On January 27, "How Art Changed the Prison: The Work of CPA's Prison Arts Program," an exhibition of visual art borrowed from current and former inmates as well as private collections, will open at Aldrich Contemporary Art Museum in Ridgefield, Connecticut and remain on view through May 27.