John Garay
Howie Birch, Tyler Koester, and Grace Birch at the Testimonial Gatehouse on the Mohonk Preserve.
Depending on when you visit New Paltz, you might have a different definition of the town. Come in summer, see city dwellers grabbing a bite at the outdoor tables at the new Lola's Cafe on Main Street, and it's a tourist town. But come in fall, notice fine arts majors filling the tables at Bacchus, a storied watering hole, and it's a college town.
But New Paltz isn't just one thing. It's everything and something quite particular at the same time.
John Garay
Diane Drew and Michaela Rahimi, chief distiller Christopher Williams, tavern keeper Sarah Jane Young, Mashman, and Brad Nagle at Coppersea Distilling
"I think the best way to define New Paltz is: It has no character," says Rich Gottlieb, a mountain climber who fell into a job at Rock & Snow in 1982 and hasn't looked back. The popular outdoor outfitter, which Gottlieb now owns, is a meeting place for climbers, hikers, and adventurers darting to and from the nearby Shawangunk Ridge. "You can't just say it's a tourist town; I don't think you can just say it's a college town. You can't just say it's the hub of an outdoor community town. It's not just a farming community, it's not just weekenders. I think it's a healthy mix of all those things," Gottlieb says.
Therein lies the inherent tension in New Paltz's identity: The town's multifariousness invites endless interpretations of what it should be, and when interpretations clash, it makes for enticing theater. Just maybe not in a black box (more on that later).

In September, Chronogram held its traveling salon series Chronogram Conversations at Water Street Market in New Paltz on the topic of "Contested Development."
Major Developments In New Paltz
In September The most recent clash in the town regards Zero Place, a mixed-use, LEED-certified, and net-zero-energy apartment building slated for North Chestnut Street in the village. The plans include 46 one- and two-bedroom residential units and 8,200 square feet of retail space. In March, Zero Place's developer introduced a revised version of the original plan, calling for a 10-percent smaller structural footprint and an added public square with sculpture park, benches, and shade trees. The building's four story-height, however, has drawn opposition in the town.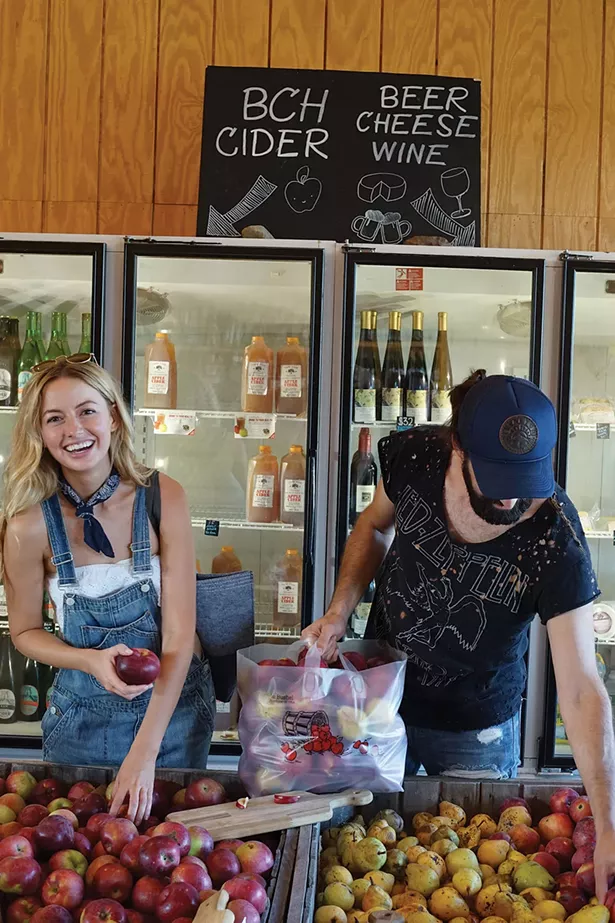 John Garay
Ashten Weniger and Joel Alexander at Brooklyn Cider House
Specifically, Zero Place's proposed 50-foot height is unprecedented, opening the door for future large-scale development along the Neighborhood Business Residential (NBR) District, on the southeast edge of the village. Residents opposing the project demanded a stop on Zero Place, and while village officials placed a six-month moratorium on building in the NBR to discuss modifying the zoning, Zero Place—along with other projects with open applications—was exempted from the moratorium. Meanwhile, the village planning board voted on September 5 that the development did not require an environmental impact statement, allowing it to move into the site plan review stage.
A second development, still in the planning stages, is La Estancia at the Ridgeview, a 97-room hotel and separate residential complex with 70 units. La Estancia is proposed on 2.4 acres adjacent to Village Hall, a long-vacant lot that is the last undeveloped parcel in the village. The original La Estancia plan called for a seven-story condominium complex; after multiple discussions with residents and village officials, the developer scaled that back to three above-ground stories.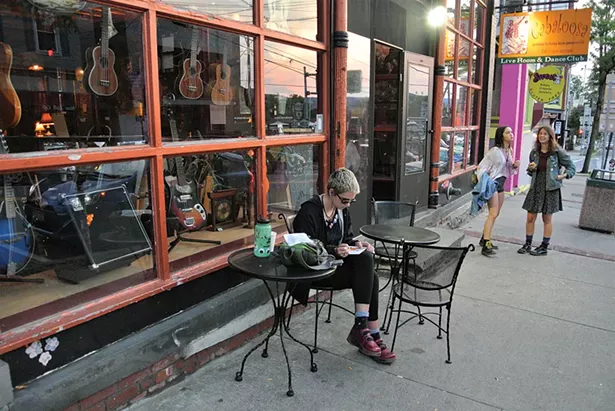 John Garay
Colleen Rogers, Jade Mogavero and Lily Lavender Wolf in front of Root Note Music and Cafeteria Coffee House.
The third proposal attracting controversy is smaller in scope but has also met opposition. Harry Lipstein, owner of town shopping anchor Water Street Market, is hoping to build a 50 to 70 seat black box theater behind the market. Residents opposing the plan cite worries about the theater abutting a residential neighborhood, increased noise, and further traffic congestion in a town known for its weekend traffic bottlenecks. First, Main Street is the only major East-West route in the village, causing substantial congestion, especially during the high-tourism periods of summer and fall. Moreover, there's one road leading to parking at Water Street Market, which is accessed via Water Street right beside the congested intersection with Route 299. To help alleviate some parking issues, Gottlieb and Lipstein struck a $1 deal, which would allow theater visitors to park at Rock & Snow's lot, which has 12 spots.
The list of proposed developments under fire goes on, including Rocking Horse Ranch owner Steve Turk's plans for Wildberry Lodge (a resort and butterfly conservatory) and the proposed CVS pharmacy, both blocked temporarily by a town moratorium on building near the New York State Thruway entrance. That moratorium was passed in May by the town council after hearing robust opposition from townspeople concerned that projects were being considered against a comprehensive plan adopted in 1995.
Mohonk Preserve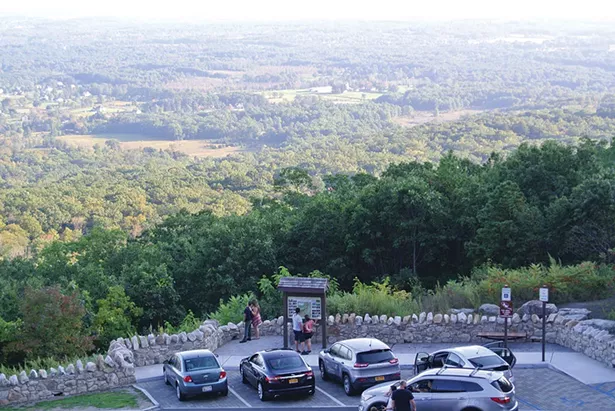 John Garay
Scenic overlook in the Mohonk Preserve off Rt. 44/55 looking south toward New Paltz.
That's how it works here: Something is proposed, opposition forms. Town Supervisor Neil Bettez wouldn't have it any other way. "The alternative is: What if no one cared?" Bettez asked. "If no one cared, it would be horrible. New Paltz is what it is because for a long time we've had people who know they have a voice and they want to have their voices heard."
To some, proposed change may threaten New Paltz's curated image as a quiet country town, a best-kept secret in some ways. But, as plenty of people say about New Paltz, change has been happening all over town for decades. People just don't notice it. "The developments that have been really happening in New Paltz—the only ones—have been the developments of the conservation of the ridge," says architect and conservationist Matthew Bialecki of the Shawangunk Ridge, which overlooks the town and has been deemed by the Nature Conservancy as one of the world's "last great places." "That has been astonishing and world class in a way I don't think people grasp. We have a national park equivalent [landscape here]."
Nobody in the town can deny the luck of having natural assets like the ridge, which frames the town along with the Wallkill River and its floodplain. The conservation of the ridge—spearheaded by organizations like the Open Space Institute, Scenic Hudson, Mohonk Preserve, and New York State (Minnewaska State Park Preserve)—has been the real headline for New Paltz over this last half-century.
John Garay
SUNY New Paltz students Jade Mogavero and Lily Lavender Wolf just off of Main Street in New Paltz.
Minnewaska is a story of citizen triumph, as local residents fought commercial development proposals (most famously a Marriott resort), leading the state to purchase the property in 1987 and open the public preserve in 1993. Every summer, you'll find families filling Minnewaska's lakeside beaches and hikers and bikers traversing the park's trails.
Mohonk Preserve, Minnewaska's neighbor, is 8,000 acres of land (2,400 of them in New Paltz) with 200 miles of trails and carriage roads. Today the organization is focused on the Mohonk Foothills project, calling for an 857-acre walking park with historic structure preservation, trailheads, farmer training grounds, and environmental education program space. Mohonk Preserve President Glenn Hoagland says he's participated in 30 community meetings over the plan—again, residents are invested in every detail. "It shows how much people love the Preserve," says Hoagland, who hopes to put shovels in the ground by 2018.
Townspeople say that New Paltz is a destination because of the work of organizations like the Mohonk Preserve and the assets that they've protected. "You take those things away and we're no longer a hub," says Gottlieb of the village. "You take us away, and that's still an amazing thing we have going on."


SUNY New Paltz
John Garay
Ashley Galarza, gallery assistant, in front of #ISO, a 2015 work made from wood, inkjet print, LCD screens, and USB flash drives by Tony Oursler, with sound by Josie Keefe and Laura Hunt, at the Samuel Dorsky Museum of Art.
Another asset, though manmade, is SUNY New Paltz, which is annually ranked in the top 30 among all regional universities in the north region by US News & World Report. More than 2,000 new first-year and transfer students began the 2017-2018 school year at New Paltz, which in March opened its new $48 million Science Hall. The 77,000-square-foot building houses the AC2 program, which supports students from economically disadvantaged and traditionally underrepresented backgrounds who intend to major in the STEM fields.
John Garay
Shanon Pasternak, Peter Pescatore, and Olivia Sozio, students at SUNY New Paltz.
Also on campus is the Samuel Dorsky Museum of Art, whose industrial chic interior of provides a fitting and expansive space for some wild and thought-provoking pieces of contemporary art. The museum, whose permanent collection includes more than 5,000 works of art, is exhibiting "Artists as Innovators," a partnered show with five other SUNY campuses of NYSCA/NYFA fellows (including Andres Serrano and the Guerrilla Girls), through November 12.
A Tourist Destination: Rest & Refreshments
Of course, fall in New Paltz means plenty of students scurrying about Main Street in their sweaters and backpacks. It means more occupied tables at P&G's, the longtime "cornerstone" (their words) of the village, built by John H. Hasbrouck in 1900 as the Casino and these days a place for burgers and beer. It means more lines out the door on Saturday morning at Main Street Bistro, where broke college kids rejoice over the $1.95 special: two eggs, home fries, and toast. If they're still hungry, they can hop over to the Bakery to pick up some rugelach.
John Garay
Cici Chichester, chef Kevin Gerth, and Shoshana Smith at Lola's Cafe.
Fall also means tourism, so good luck finding an open weekend to stay at Mohonk Mountain House, the 1869 Victorian resort on 40,000 acres that looks like something out of a European travel guide. Travelers can always visit Mohonk for the day and hike on up to 85 miles of trails.
John Garay
Rachel Buonfort, Charlie Versen, Antoinette Buonfort, and Tim Kelly at The Parish Restaurant
Then there's Historic Huguenot Street, the 10-acre historic landmark with stone structures dating to the 18th century and built by the Huguenots, the settlers who founded New Paltz. Weekends in October the street turns haunted, as docents show visitors the spooky history of the town after the sun sets.
And when the leaf peepers have seen enough brilliance, the students wish to waste a little time, the mountain climbers and hikers need a refueling, and the longtime residents want to reconnect with their neighbors, there's Water Street Market, the two-level shopping wonderland with outdoor tables and chairs. Bettez is quick to remind that the market was another highly controversial proposal; these days, it's what he calls "the town square."
There, you'll find folks sitting and conversing with each other, maybe over a craft cocktail at the Parish. From the restaurant's second-floor deck customers get an unobstructed view of the Shawangunk Ridge, the very reason for this intelligent, opinionated, and multifarious community.
John Garay
Danny and Rina Yellin at Mohonk Mountain House
But then, at some point, the tourists, students, and adventurers have to sleep somewhere. Typically, they have to travel outside of town for lodging because the only hotels in the village (the Hampton Inn and America's Best Value Inn at the Thruway exit) are constantly booked, says Kathy Prizzia, executive director of the New Paltz Regional Chamber of Commerce and former business owner in the village. "If people had the opportunity to stay here, they'd shower wherever they were staying and then head back out to dinner," says Prizzia, who wants one or two more hotels in the town and supports La Estancia.
That debate is ongoing. New Paltz lives up to its character, you know.
John Garay
Charles and Sara, patrons of Huguenot Creamery, with Creamery owner Pat Walker.