Stockade FC vs. Greater Lowell United FC in 2016.
If you knew Kingston back in the days of desperately seeking revitalization, you might not recognize the historic, maritime city now. Sure, there are still glimpses of post-urban renewal strip mall development and post-housing market crash dilapidation. But if that's all you see when you look at Kingston, you'd be missing the action of recent times.

On an April day earlier this year, a mixed-use building on North Front Street in the historic Stockade district that was assessed for $500,000 sold for $1 million. The Kingston City School District building has an offer on it for over $4 million. Among the rising market value purchases are four historic buildings that developer Charles Blaichman will reestablish as a collection of boutique hotels. Designed as essentially one hotel with four locations, each will have its own personality. Property manager Nan Potter of Pottery Realty, which was involved in the sale, feels it's a positive use for the buildings, which were minimally income- and non-tax-producing. "They were never escalating in their tax assessments, except for what Blaichman is investing now," she says.
Their prime location within walking distance of restaurants, retail, entertainment, and the Adirondack Trailways bus station is at the heart of the business model. "We're finding that people come up for First Saturday or the farmers' market. They're only going to be in their room for a minimum amount of time, and they're looking for a small, cozy place," Potter explains. "The B&Bs and Air BnBs are booked every weekend." Not owner-run, not big box hotel, these boutiques will be somewhere in between—a new niche in Kingston.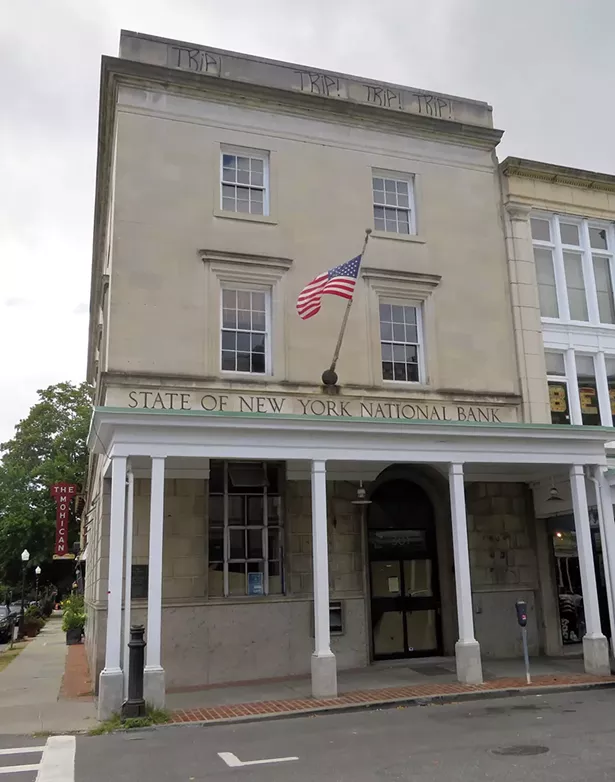 The former Tonner Doll Co. building will become one of four new boutique hotels developer Charles Blaichman is opening in Uptown Kingston.
At the core of every development issue in Kingston is parking, though. It was recently announced that three local developers were teaming up to offer a plan for the former Uptown garage site on North Front Street. Andrew Wright, an architect who packages plans for developers, was tapped by Kingston Mayor Steve Noble to help guide the plan on behalf of the city. Wright envisions the project as a hub, where car traffic can enter off Schwenk Drive into a multistory parking facility, with a pedestrian plaza for gathering, and a commercial venture, possibly a hotel and spa, to justify the 200 spaces of public parking that the city requires. Another stipulation of the development rights is to hold public forums as the plan develops, and to ensure historic preservation. Wright says that, in choosing someone responsible and transparent, it will be successful. The team was chosen because of their vested interest in the community. "I like that it's all local developers," he says. "These guys want something more long term. They don't want it to fall apart. It's very lucky that they stepped up and took an interest."
Long-term Projects
The energy in Uptown is palpable and contagious. The owners of Hamilton & Adams, a men's clothing, grooming, and gift shop on John Street which unveiled itself in April 2017, are history buffs. They told Kingston Weekender that they fell in love with the region during a visit in 2010, and were subsequently drawn to open a retail store in the historic Stockade district in concert with other interesting enterprises that they saw encouraging Kingston's renaissance: the men's semi-professional fourth division soccer team, Kingston Stockade Football Club regularly pack the stands at

Dietz Stadium; and Stockade Works, a non-profit organization dedicated to attracting large-scale production and tech projects to Kingston, run by Mary Stuart Masterson, announced itself in early 2016.
Partnering with Stockade Works is RUPCO on a 70,000-square-foot renovation of the former Pilgrim Furniture factory in Midtown—the Metro. Stockade Works will utilize a large portion of the space to create a film studio, sound stage, post production center, and job training for film, television, and technology. RUPCO will surround that with spaces for light manufacturing and makers.
With an influx of influence and money, and a heightened interest in all the river cities, Kingston's challenges are shifting. RUPCO's CEO Kevin O'Connor finds industrial space at a premium, so it's important to create new opportunities and economic development. "If the City of Kingston is to be successful, we need more diverse housing," he says. "For many people coming in with the health, tech, and entertainment industries expanding, having an improved stock of rental housing is important for the city's future."
Affordable housing is RUPCO's mainstay. They just purchased an abandoned bowling alley around the corner from the Ulster Performing Arts Center (UPAC), which they'll knock down to build a new, energy efficient construction designed by Dutton Architecture. E2 Energy Square will be a mix of market rate and affordable housing units with a raised deck for parking, green space for community gardens, and 10,000 square feet of community space, which will house the Center for Creative Education—Kingston's staple arts education organization.
"We like to do projects that can help transform neighborhoods," says O'Connor. "The Lace Mill [an adaptive reuse project in Midtown that was opened two years ago as affordable housing and community space for artists] sat vacant for 20 years with its windows boarded up. That just sends a message to the children who live in that neighborhood that there's something wrong with the neighborhood. We don't like to see that stand."
That the Lace Mill was developed as artist housing in Midtown is no accident. Named an official arts district by the City of Kingston in 2015, Midtown is also home to arts businesses, artist studios in the renovated Shirt Factory, and UPAC, which hosts big name performers year-round. Working to unify all this creative energy is the volunteer-run Midtown Arts District (MAD). They're behind Art Walk Kingston, the artists' studio tours which celebrated its second annual event in September, the Celebration of the Arts concert that will repeat each August, and the maker fair, Made in Kingston, held each December. MAD recently took up First Saturday, where art galleries around the city host joint monthly events.
New to the Midtown arts scene is the Happy Spot on Broadway, the brainchild of conceptual artist Riley Johndonnell. Johndonnell first came to Kingston as a muralist for the O+ Festival. He developed a yellow color with Pantone, the system used for accurate color matching. Called Int-O Yellow, it stands for International Optimism Yellow, and people are rallying for it to become the national color of mental health awareness. The Happy Spot is a community think tank and project space, where artists can do projects using Int-O Yellow. They're piloting a handful of projects there, including hosting 100 students who displayed their ideas for making Midtown brighter on 10-inch Int-O Yellow disks. One student suggested Midtown needed more dialogue, which led to a collaboration with the Kingston Police Department—a slow motion video of officers making peace dove symbols with their hands.
With an infusion of $6 million dollars in infrastructure investments, Midtown is about to get an overhaul with American Disabilities Act-compliant sidewalks and intersections, streamlined traffic flows, a bike lane, and other green infrastructure elements like landscaping and stormwater catchments to modernize and beautify the corridor, which acts as both welcoming committee and central artery for the city.
Show Me the Money
"People's attitudes about Kingston have changed," muses Mayor Noble. "That's what I've been trying to do for past year: bring in forward-thinking positivity, so Kingston can be a place where people want to invest." Growing up, Noble always heard that Kingston was a dying city. When other places were doing well in the 1980s and 1990s, Kingston lost IBM, its biggest employer, and with it, Kingston lost its people, enthusiasm, and a sense that it was going somewhere. Noble says it's taken a long time to change that attitude and increase consumer confidence.
That's why it was especially exciting when Governor Andrew Cuomo came to the city in September to present a $10 million check to Kingston—a first-place award in the second round of the state's Downtown Revitalization Initiative (DRI). Kingston had applied for the first round of the DRI Award, basing the application on Midtown, which many agree is an area in need. But it lost to Middletown, a community with a hollowed out commercial area of 80 to 90 percent vacancy rate and serious struggles. That wasn't Kingston.
Rendering of the future E2 Energy Square, a RUPCO project for Midtown Kingston designed by Dutton Architecture, the site of a former bowling alley.
This year's application focused on Kingston's need for public capital to work with private investment. Identified by the census map and employment density, the Stockade District was determined to be the commercial center of the city—a community on the brink of revitalization, which could be successful or could devolve into hyper-gentrification and fuel a fire of displacement. The application argued that, in strengthening Kingston's core, it would help bolster the interconnected neighborhoods and shape the community and the region to which Kingston is central.
The 2017 application hit the mark, and while plans for the money are still to be determined with guidance from the state and a committee of community members, projects identified in the application as having potential span the entire city. "Without this kind of assistance and guidance, Kingston will continue to develop, but it's not going to develop in a guided way that becomes a city that creates jobs fairly and equitably," says Mayor Noble. "With this money, we'll develop a plan to create an economic and commercial engine in Uptown. As they say, 'A rising tide lifts all boats.'"