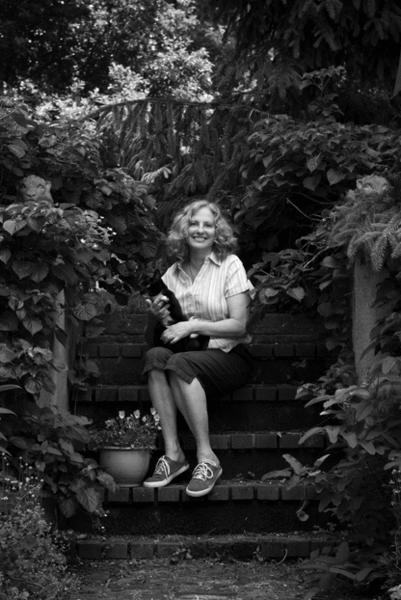 Jennifer May
Maxine Paetro
It's hard to approach Maxine Paetro's Amenia home without gasping out loud. The driveway comes out of the woods between an iris-ringed pond and a 300-foot rose border, in full June bloom. At the top of a sweeping lawn sits a tidy white cottage, framed by tall pines and surrounded by peony blossoms the size of small melons. Between the main cottage and its wisteria-draped guesthouse—once a garage—is a courtyard garden with a bubbling fountain. An espaliered apple tunnel leads off to a hedge-framed phlox garden, where a professional gardener (identified only as "Heather" by her employer) is tidying up for the upcoming Garden Conservancy Tour.The gardens at Broccoli Hall comprise a full acre of plantings, with only one spot that looks less than wellgroomed. There's a small vegetable patch tucked out of sight behind the guesthouse where, Paetro quips, "We do stupid plant tricks." In one shady corner sits a cafe table with a vintage typewriter. There's a single chair pulled up to the table, and a box on its seat sprouts catnip and weeds. "That's my homage to the ghostwriter," Paetro says with a satisfied grin.
Paetro has done time as a ghost in the machine, penning uncredited books for business writers, celebrity bios, and high-profile thrillers before hooking up with James Patterson as co-author of New York Times bestsellers 4th of July and The 5th Horseman, part of his Women's Murder Club series. Patterson and Paetro just topped the charts for the second week running with The 6th Target. "It feels great," she exults. "No one can take that away from you."
Dubbed by Time magazine "The Man Who Can't Miss," Patterson is a publishing phenomenon. His books have sold an estimated 130 million copies worldwide, with three different series—the Alex Cross detective novels, the Women's Murder Club, and young adult Maximum Ride—all reaching the number one spot. He and Paetro will continue the Women's Murder Club series with 7th Heaven, forthcoming in February 2008, and an untitled eighth due in 2009. She's also collaborating with Patterson on a stand-alone "scary thriller."
But Max, as she's known to friends, doesn't want to talk about any of that. There are gardens to tour.
"It's an English garden, so I wanted a Wind in the Willows, English fairy-tale, children's book name—whimsical, not pretentious," she says of Broccoli Hall, "It's an Alice in Wonderland, Cinderella, woman-who-never-had-kids-of-her-own kind of fantasy." She leads her two guests past a sign that says "Please Back Out Slowly—Watch For Cats" and into a woodland "wild garden" of native plants such as jack-in-the-pulpit and meadow rue. Next comes the rose border, a breathtaking mix of rugosa, beach roses, heirloom "French ladies" from the 1700s, and wild dog roses ("That guy came in off the road by himself, and he gives the border a lot of heft," she says, telling another interloper. "I did not plant you, and I think you're getting carried away").
A winding trail leads to the Teddy Bears' Picnic, a rustic cedar pavilion tucked into a grove. Then it's up the stone steps to the koi pond and on to the five-sided treehouse for "the long view." Gazing down from above, Paetro says, "There are no murders here. Unlike my actual work, where I can kill off 20, 30 people, whatever it takes. The only people doing murders here are the cats." (She has six at the moment, including an avian serial killer named Harry.)
Paetro's gardening and literary lives merged when she married consultant John Duffy—where else?—in the gardens at Broccoli Hall. Her wedding photo shows a beaming James Patterson and numerous publishing-world heavy hitters among the guests. The newlyweds, 55 and 53, were both marrying for the first time.
Deeply entrenched in their independent lives, they've forged a sort of inverted "Green Acres" arrangement. Paetro spends time in her husband's Manhattan apartment when pressed, but prefers to stay upstate, where the inverterate New Yorker tries to cope with the bucolic beauty. "He has a real Woody Allen relationshiop to the country: hates bugs, dirt, insect bites, rain, weather," laughs Paetro.
Born in Miami to Hungarian-Jewish parents, Maxine Paetro dropped out of college and moved to New York in the 1970s. She found work in advertising, eventually becoming an executive headhunter. Her first publication, How to Put Your Book Together and Get a Job in Advertising, debuted in 1980 and has since been reprinted at least 15 times.