It's probably no accident that the restaurants I've found most appealing in the past few months serve comfort food. The anxiety of the election season, coupled with the uncertain economic climate, has activated a yen for simple, uncomplicated things. I've been drawn to eateries whose primary motivation is pleasure without pretense or hard work. Food that doesn't require anything of me but to be present for its enjoyment. No fusion cuisine. No elaborate preparations or layered sauces. No molecular gastronomy. And leave the big, kick-you-in-the-teeth wines in the cellar as well. All I require is a simple grilled fish, or a steaming bowl of noodles, or an order of steak frites—and a sturdy table wine.
Three restaurants—a bistro in Rhinebeck, a Japanese noodle house in New Paltz, and a steak house in Red Hook—have satisfied my need to comforted. Though their menus are as diverse as their décor, they share some similarities. All opened in the past year, all are run by a couple, and they don't skimp on seriousness of purpose, quality of ingredients, or attention to service despite their studied casualness. They also reflect the desires of their owners—what and how they want to eat—as much as the perceived need of the market. These restaurateurs have created places they wished existed. As Nick Rebraca, co-owner of Arielle told me, "We wanted to create a restaurant that suits our own tastes, and we hope everyone else follows."
And while—with the exception of Gomen Kudasai—they can't truly be called inexpensive, that's to be expected. Comfort, after all, has its price.

The Steak House
On a busy Saturday night, my party of three arrived early for our reservation at Flatiron in Red Hook. We had a drink at the bar, but were then stranded 20 minutes past our reservation waiting for a table to clear. A suboptimal situation, but one that's going to happen occasionally. The hostess (who turned out to be Jessica Stingo, who co-owns Flatiron with the chef, Craig Stafford) handled the situation with professionalism and aplomb, offering to buy us a round of drinks for our trouble. We humbly accepted, charmed. Stingo's attention to our contentment was mirrored by her staff and set the tone for our meal.
Flatiron has been a going concern since August, and having eaten there, it's unsurprising that the place was mobbed on a Saturday night. Flatiron bills itself a steak house in an almost hesitant way. Yes, there are five different steaks on the menu, and they do serve creamed spinach, but this is not Peter Luger's. (Thank goodness!) Flatiron takes the basics of the steak house tradition—beef served with a variety of sides (try the pecorino-truffle fundue on top), oysters on the half shell (we had creamy, briny Beausoleils from Nova Scotia that were the best we'd tasted in years)—and then takes off in more interesting directions. Like the duck burger: ground duck with a fried egg on top, sprinkled with duck cracklins. Like the lobster bisque, which substituted truffle oil for an over-reliance on cream to a satisfying, earthy effect. Like the suckling pig special: strips of juiciness pulled from three spots on the pig, with fried skin to boot. This is a meat lover's Mecca, and a number of the steaks are available in half portions, an ingenious innovation which allows you to explore the various sides (cheddar mashed potatoes are a winner) and appetizers (molasses braise pork belly, anyone?).





The Noodle House
Opened in May, Gomen Kudasai is the realization Yuoko Yamamoto's dream to open an eatery serving the healthy, nourishing food of her native Japan. Yamamoto and her husband, Kazuma Oshita, spent four years scouring the Hudson Valley before finding a home for Gomen Kudasai inside the Medusa Antiques building on Main Street in New Paltz. With seating for 40, the noodle house interior's sleek lines and wood appointments reflect Yamamoto's former career as a graphic designer. The food impresses with its fresh, clean flavors. Don't mistake Gomen Kudasai with a sushi bar, however—no raw fish is served here. The menu consists mostly of hot noodle dishes, varieties of tempura, and tofu dishes, with some meat and fish as well, reflecting the varied cuisines of Japan Yamamoto encountered in her peripatetic childhood.
On a recent outing with friends, we ordered hiya-yakko—chilled, pressed tofu served with grated ginger, bonito flakes, and scallions. This dish, with its simple evocation of supple bean and the texture of a hard flan, has made me a believer in the power of bean curd. Nasoya has nothing on Yammato's tofu. We also got an order of potato salad. It turns out that potato salad is a Japanese staple, and they make it in a style similar to ours, except without vinegar. All local produce was used in the salad, and it carried a lively crunch and mild creaminess that featured the freshness of the vegetables. Another standout was katsu-don—pork cutlet and egg. Served in a steaming broth made from shitake juice, sake, and mirin (a low-alcohol rice wine, like sake), the tender fried cutlet finished with a scrambled egg tastes almost healthy, invigorating, in a way not normally associated with pork. But to be clear: the noodle dishes are the reason to visit Gomen Kudasai. Yamamoto and her staff serve steaming bowls of beautiful broth with succulent soba or al dente udon noodles and crispy tempura. The hot noodle soups are especially appealing and are filled with a variety of ingredients, from kimchi to wild vegetables. Yamamoto even serves organic soy sauce made in Middletown, reflecting her commitment to health and sustainability.
The Bistro
Nick Rebraca and his wife Patricia Panarella gutted the Rhinebeck storefront that was to become Arielle—formerly a succession of pizza and fast-food joints—before opening in April. What was formerly a Formica-and-drop ceiling disaster is now a rustic bistro with rough-hewn, exposed wood beams above and long banquettes with toile upholstery and pillows. Subdued lighting in the form of low-hanging lampshades over the tables rounds out the intimate, clubby feel. The menu is pan-European bistro, combining nostalgic dishes from Rebraca's childhood on the Adriatic coast of Yugoslavia, like grilled sardines (as large as small trout!) and whole grilled branzino, as well as others reflecting Panarella's Italian heritage, like pappardelle with braised beef, ricotta, tomato, and basil. All the pastas are made daily at Arielle. One not to pass up is the gnocchi a mourir pour—herb gnocchi that's pan-finished to crisp up its exterior, and served with slices of black and white truffles in a Parmesan cream sauce. Three pure flavors melded simply together, the combined effect equally more than the some of its parts.
Rebraca and Panarella, who also own Belvedere Mansion in Staatsburg, a special occasion catering destination serving classic Continental cuisine like Dover sole and Chateaubriand, wanted Arielle to have a touch of whimsy to it, which is reflected in their wine list. It's broken into three classes: "Not So Bad" ($24), "Pretty Good" ($32), and "Very Good" ($46). A strong international selection, well chosen, there are many bargains on the list. If you're willing to splurge, I recommend the 2005 Vincent Girardin Cuvee St. Vincent. A white Burgundy that's dry but not austere, it has enough body to stand up to most of the food on the menu, even the pork Milanese and the duck confit, certainly the Moroccan chicken tagine and the skate Grenobloise.



Arielle
51 East Market Street, Rhinebeck, (845) 876-5666; www.ariellerhinebeck.com
Dinner: Monday-Thursday, 5-9:30pm; Friday-Saturday, 5-11pm.
Sunday, brunch and dinner, 12-8:30pm. Closed Wednesday.
Recommended dishes: Sautéed artichokes, herb gnocchi with truffles and parmesan
cream sauce, grilled sardines, whole grilled branzino
Wine list: Fun, eclectic, international mix; 50 bottles in the $24-$46 range.
Price Range: Appetizers, $7-$12; entrées, $16-$32.
Flatiron
7488 South Broadway, Red Hook, (845) 758-8260; www.flatironsteakhouse.com
Dinner: Tuesday-Thursday, 5:30-9:30pm; Friday-Saturday: 5:30-10:30pm.
Sunday brunch: 12-3pm. Closed Monday.
Recommended dishes: select market oysters, Lobster bisque, smoked Cheddar mashed potatoes, flatiron steak, grilled rack of lamb.
Wine list: Many pricy, European bottles; a few bargains under $30.
Price Range: Appetizers, $6-$14; entrées, $20-$38.

Gomen Kudasai
215 Main Street, New Paltz, (845) 255-8811; www.gomenkudasai.com
Hours: 11am-9pm. Closed Wednesday.
Recommended Dishes: Katsu-don (pork cutlet and egg), hiya-yakko (chilled tofu),
potato salad, ten-zaru soba with vegetable and shrimp tempura (cold noodles with
dipping broth and tempura).
Price Range: Appetizers, $3-$7; entrées, $9-$15.
(As of the end of November, Gomen Kudasai did not have a liquor license,
nor did it accept credit cards.)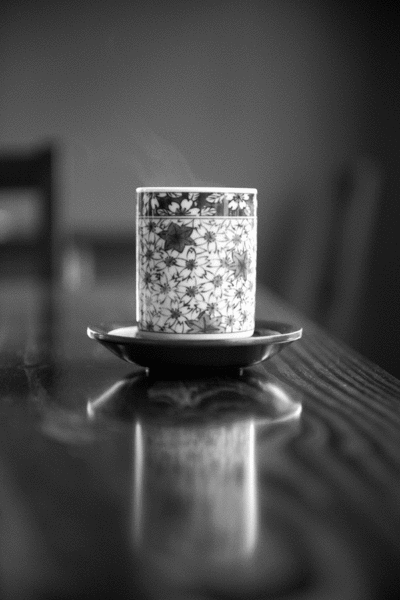 Jennifer May
A cup of tea at Gomen Kudasai.
Jennifer May
The interior of the Gomen Kudasai restaurant.