Franco Vogt
The Monthly Kingston Night Market in the Roundout
In the early 2000s, there was much talk of Kingston, New York, becoming—please forgive this usage of perhaps the most loathsome marketing phrase of our generation—"the new Brooklyn," with the city's Uptown neighborhood serving as its nexus. And, back then, after years of decrepitude brought on by the manufacturing exodus that swept America in the 1980s and the departure of the local IBM plant in 1995, it appeared that a renewal was taking place. Here and there on Front and Wall Streets in Uptown's Stockade district, lights were going on in the once-vacant shops. The missing teeth of Kingston's cracked smile were being filled in with the odd, life-giving boutique, cafe, or gallery. But it didn't take long for landlords to jump the gun. Getting greedy when they sensed gold in them thar ol' buildin's, they upped their rents to not-yet-sustainable levels, forcing out promising businesses and residential tenants. And then, of course, the Great Recession hit, smothering most of the remaining embers. Kingston's rebirth looked about as dead as a daisy in December.
Nearly a decade later, however, and the Kingston renaissance is here. This time for real, it seems. October's returning 0+ Festival and other nationally publicized events and newly added attractions have helped to bring attention to the town, and a wave of arts- and small business-encouraging economic incentive programs, far-sighted investors, and a recent rush of activity by forward-thinking entrepreneurs are increasingly coming together to rekindle Kingston's dormant flame.
Still Standing
Founded in 1651 by Dutch settlers, who called the outpost Esopus after one of the local Native American tribes, Kingston later became New York's first state capital. The burgeoning village was chosen as the site of the new state's government in 1777, when Albany, the intended center of leadership, was threatened by attack from British forces. Unfortunately, in October of that year the British invaded Kingston, burning much of it to the ground; today, however, many of the stone structures that escaped King George's torch, such as the 1676 Senate House, the original functioning capitol building, do still stand. (The city commemorates the attack every other year with a reenactment of the 1777 burning; the next such event is slated for October 2017.) In addition to playing an active role in the Revolutionary War and serving as a major commercial port into the 19th century, Kingston provided a majority of the bricks, bluestone, and cement used in the construction of New York City. Unlike its comparable Hudson Valley companions, Beacon and Hudson, the pulse of the Ulster County seat does not course along a single main street. Instead, Kingston's cultural and business life is divided among its three distinct districts—Uptown, Midtown, and the Rondout—which sometimes makes this city of 24,000 feel like three cities in one.
Franco Vogt
Outdated Cafe
Uptown, the oldest, is centered around the eight-block Stockade area. With the city's largest concentration of historic stone buildings, including the 1852 Old Dutch Church, the neighborhood is further defined by its quaint covered sidewalks. The sector is packed with coffeehouses and cafes (Outdated, Sissy's Cafe, Uptown Coffee), music and book shops (Rhino Records, Rocket Number Nine Records, Half Moon Books), instrument suppliers (Saker Guitar Works, Stockade Guitars), art provision vendors (Catskill Art Supply), and antiques stores (Gargoyle). Bars and nightclubs include Elephant, the Stockade Tavern, Uncle Willy's, and Two Ravens Tavern. Uptown is also home to intriguing boutiques such as Exit 19 (20th-century furnishings, art, lighting, and decorative objects), Ester Wine & Spirits, and Oak 42 (innovative designer clothing), and delectable dining options like Le Canard Enchainé (French fare), Stella's (Italian favorites), DMZ (Asian-fusion tapas), and the new Redwood (creative comfort food). Another recent addition is Kovo Rotisserie (Greek-inspired casual cuisine), the sister bistro of the adjacent Boitson's (classic comfort fare, raw bar). "Uptown has a really nice variety of places to eat at," says Maria Philippis, the owner of both restaurants. "The shopping is great, and there are always good shows going on at [Wall Street music venue] BSP."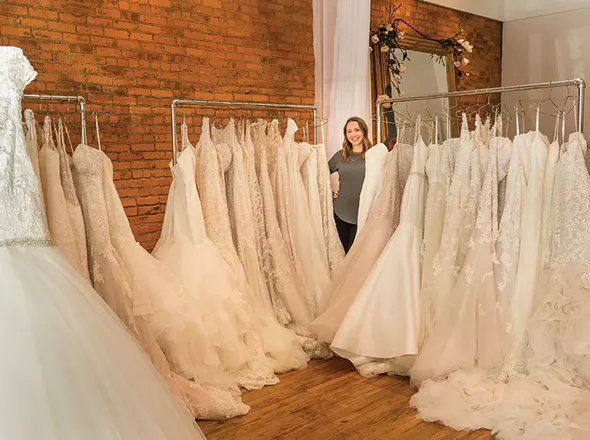 Franco Vogt
Emily Glass at Blush Bridal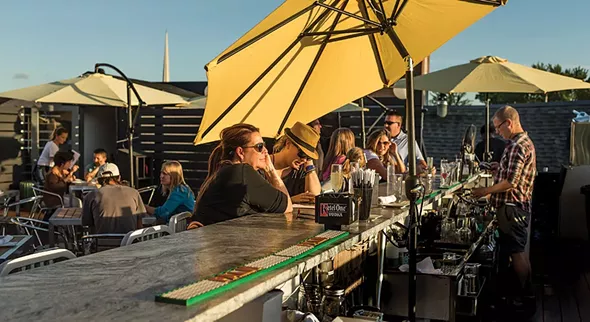 Franco Vogt
Derek Williams tending bar on the rooftop deck at Redwood

Franco Vogt
Scott Neild at Clove & Creek
In the Middle of It All
Franco Vogt
Aaron Martine at Pakt in Kingston
Midtown has long been Kingston's diamond in the rough. The city's thriving economic heart for generations, it slid into blight in the 1970s when businesses began moving outward, toward the area's big-box/mall quadrant, the Town of Ulster. Within the last few years, though, thanks to city-backed arts and business incentives, life has been moving back into Midtown, whose spine, the four-lane Broadway corridor, connects Uptown to the Rondout. Situated at 601 Broadway is the Ulster Performing Arts Center (UPAC), a former movie and vaudeville house built in 1927. Saved from demolition in 1977, it was taken over by the directors of Poughkeepsie's Bardavon Theater in 2006 to present top acts in the fields of music, dance, comedy, and other entertainment, and continues as the district's anchor of renewal. Speaking of anchors, a few blocks up from UPAC is the Anchor, a music venue geared toward live rock 'n' roll, craft beers, and savory pub food. Around the corner, on St. James Street, is microbrewery Keegan Ales, which features live music and food as well. New and nearby are Peace Nation Cafe, which specializes in Latin American and vegetarian dishes for breakfast, lunch, and dinner; and PAKT Restaurant and Catering, which puts a health-conscious, locally sourced spin on traditional Southern cooking.
Franco Vogt
Kay Cee Wimbush at YMCA Farm Project
Newer to Midtown's gustatory landscape is the Beverly, a gastropub and cocktail bar in a turn-of-the-century tavern opened by Trippy Thompson and Jennifer Constantine, the couple behind Rosendale's hip hang Market Market. "We wanted to have another spot, in Kingston, but one that was different [than the more brunch-and-lunch-oriented Market Market]," says Thompson. "We also wanted to be part of an area that was evolving—Uptown and the Rondout are great, but they're already established. Midtown is funkier and still reinventing itself. People are really excited about what's happening here, with all of the arts initiatives that are being launched." Indeed, driving Midtown's current burst of revitalization is the advent of the artist work/live loft buildings the Lace Mill (just across Foxhall Avenue from the Beverly), the Shirt Factory, and the forthcoming Pajama Factory and Brush Factory, all of them disused manufacturing buildings whose reclamations are being overseen by developer Mike Piazza. Further signs of the influx of artistic spirit into Midtown include the arrivals of two new galleries: ArtBar, on Broadway, and Greenkill, on Greenkill Avenue. There's even a farm hidden away in the city's midsection: The Kingston YMCA Farm Project, tucked in behind the Y and a radiology clinic off Pine Grove Avenue, educates and empowers young people by directly engaging them in sustainable food production on an urban farm.
Do the Strand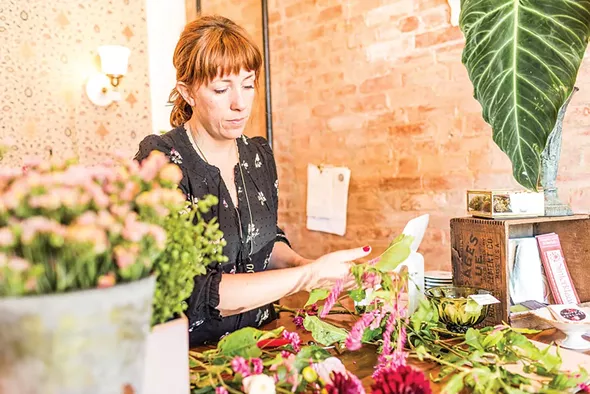 Franco Vogt
Kelli Galloway at Hops Petunia
The Rondout-West Strand Historic District—or as it's also known, the Strand, or, most commonly, the Rondout—sits along the Rondout Creek, an estuary of the Hudson River. The section is populated with striking brick buildings that date from its 19th-century heyday as a shipping center. Once the tough realm of canal diggers, ice cutters, dockworkers, brick makers, and brewers, the area was a city unto itself before being officially incorporated into Kingston in 1872. The 1960s and '70s saw vice and decay set in, but in the '90s urban pioneers and restaurateurs began reinvigorating the neighborhood's West Strand block to help make the Rondout into the lively entertainment spot it is today. In addition to such attractions as the Trolley Museum of New York, the Hudson River Maritime Museum, and the Rondout Lighthouse (the Irish Cultural Center of the Hudson Valley, an outgrowth of the waterfront's popular Hooley on the Hudson festival, has proposed a plan to the city and hopes to break ground in 2017), the area features a wealth of fine eateries, such as Ship to Shore (New American fare), Armadillo (Mexican), Brunette (wine bar with small plates), Ole Savannah (barbecue, craft beers), and mainstay Mariner's Harbor (seafood). Quality shops include Clove and Creek, which sells locally handcrafted housewares and gifts; On the Hill Antiques, a multidealer emporium; and Hops Petunia, an award-winning floral shop focused on ground-breaking creations.
Franco Vogt
French Kiss Patisserie at Le Canard Enchaine
Franco Vogt
Oak 42
Besides being such an easily walkable, self-contained district, the Rondout is a homey haven to several cozy inns. Unveiled last month is the Forsyth B&B, a renovated, two-story 1830s brick house located on Abeel Street, one block from the waterfront, that boasts four spacious and charming guest rooms, private baths, and a casual-chic mix of modern and vintage furnishings. "When we first visited Kingston we were just so struck by what a beautiful, interesting community it is, with just the right balance between the feelings of 'city' and 'country,'" explains innkeeper Tamara Ehlin, an event planner whose husband, architect Charles Mallea, had a hand in the Forsyth's redesign. "Every day when I wake up and walk out the door, I just kick myself at how lucky I am to live here." Ehlin is also a pastry chef, and, yes, her confections are, if you will, the icing on a stay at the inn.
Franco Vogt
Brunette Wine Bar
Even more mouthwatering deliciousness awaits just up the shoreline. Opened at the former Hutton Brickyards this past summer is the Hudson Valley wing of Smorgasburg, the wildly popular outdoor market begun in Brooklyn in 2011 by business partners Jonathan Butler and Eric Demby. "We'd been eyeing the Hudson Valley for two or three years and had really wanted to do something up here," says Butler, who with Demby also co-founded Brooklyn Flea in 2008 and has since exported the Smorgasburg concept—vendors selling artisanal and locally made food, crafts, and vintage goods, with a smattering of live music, at reclaimed industrial sites—to Downtown Los Angeles as well. Open Saturdays from 11am to 5pm through late October, the family-friendly Smorgasburg Upstate was packed with attendees on its opening day and has continued to draw visitors from the Kingston area and beyond. "We're so glad to see this historic place being used and preserved, instead of torn down and replaced with condos, which was what was being planned before we approached the city about doing Smorgasburg here. And it's really been going great. You know—sitting on the bank of the Hudson River on a nice, sunny day, drinking local beer? There are definitely worse things in life."