Image courtesy of Columbia Memorial Health
Over the last decade, modern medicine has made tremendous strides in the treatment of breast cancer. Better education and advanced screening technologies like 3-D mammography have translated to earlier detection and treatment—critical factors in the improving survival rates for breast cancer patients.

With Columbia Memorial Health's (CMH) new Center for Breast Health, patients in Columbia and Greene Counties will have centralized access to modern and comfortable space dedicated to every aspect of their breast cancer journey. As the only provider of breast cancer screening services in Columbia and Greene Counties—performing approximately 10,000 breast imaging exams each year—breast health has long been a top priority for CMH.

As part of the Albany Med Health System, CMH joins Albany Medical Center, Glens Falls Hospital, and Saratoga Hospital in providing comprehensive breast health services. Each hospital has a specialized center for breast care to help extend resources throughout the region and provide specialized, compassionate care closer to home.

"The Center for Breast Health will offer industry-leading treatments for our patients while also prioritizing their experience," says Rakel Astorga, MD, a surgeon at the Albany Med Health System who sees patients in Hudson. "Education and advocacy are just as important to positive patient outcomes as cutting-edge technology, especially in a field of care as specialized as breast health."
Scheduled to open at the Medical Office Building on the hospital's Hudson campus in April, the center will provide a gateway to services provided at CMH, such as a suite of state-of-the-art screening and diagnostic breast health services, including everything from screening services such as 3D mammography and ultrasound to diagnostic procedures such as ultrasound guided biopsy and stereotactic breast biopsy, and holistic support services including bone densitometry, education on breast health, and consultation on treatment.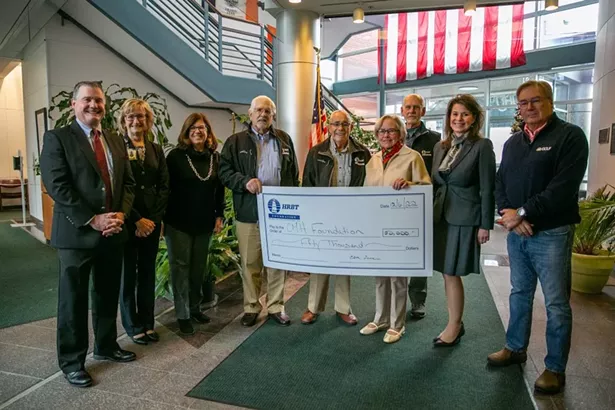 Image courtesy of Columbia Memorial Health
HRBT Foundation provided a $50,000 grant to support the construction of the new Center for Breast Health at Columbia Memorial Health. Pictured above from left to right are Jay P. Cahalan, former President & CEO, CMH; Barbara Klassen, Executive Director, CMH Foundation; HRBT Foundation: Holly Rappleyea, Secretary; Joseph Phelan, Director; Sidney Richter, Treasurer; Marilyn Herrington, Director; Tony Jones, Vice President; Dorothy M. Urschel, current President & CEO, CMH; and Carl Florio, President, HRBT Foundation.
"Our highly skilled breast heath providers deliver compassionate patient care and ensure that our services are aligned to meet the needs of all the patients we serve," says CMH President and CEO Dorothy M. Urschel.

At the heart of its services is the multidisciplinary, collaborative care team that will be working with patients. The team includes a surgical specialist, board-certified radiologist, mammographer, certified technologists, sonographers, and a special role known as a patient navigator.

The patient navigator will help coordinate the social, emotional, and educational needs of patients and their families—providing solutions and helping overcome challenges at many points. As a personal patient advocate, they will provide support tailored to each patient's need, from providing education about treatment and care options to addressing insurance problems, finding a doctor, serving as a liaison to the health care team, working with family members and caregivers, and mobilizing resources.

The patient navigator will also lead support groups and educational programs, which will be open to anyone diagnosed with breast cancer and family members interested in help and guidance following diagnosis or treatment.

Columbiamemorialhealth.org