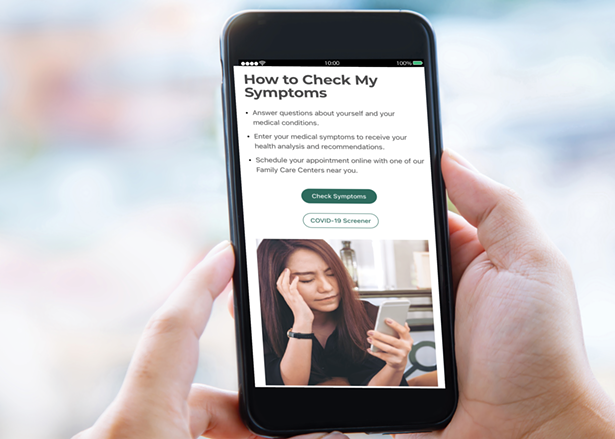 Image courtesy of Columbia Memorial Health
Here's a situation many people know all too well. You know you're not feeling your best—maybe your ankle is acting up after a recent hike or you've got a sore throat that just won't go away—but you don't quite know when it's time to call your doctor or head to urgent care.
With this summer's launch of Columbia Memorial Health's (CMH) state-of-the-art digital "Symptom Checker" technology, the guesswork is all but gone. CMH's Symptom Checker is the region's first online virtual medical assistant that will allow patients to efficiently assess and triage their symptoms and quickly access the care they need 24 hours a day.
"CMH is working every day to provide high quality, compassionate care to our community," says Dr. Ronald Pope, CMH's Vice President of Medical Services, Care Centers. "This state-of-the-art technology represents the next step in our commitment to continually advance the quality and accessibility of our services."
Dr. Ronald Pope, CMH Vice President of Medical Services, Care Centers
Powered by advanced artificial intelligence (AI) technology from Mediktor, the CMH Symptom Checker virtual assistant asks a series of simple questions—such as the location of and duration of symptoms, and whether or not they're worsening—to develop custom, patient-specific recommendations, such as possible illnesses and the urgency of any care needed.
Even better—the Symptom Checker goes one step further, providing patients with a recommendation for the most appropriate point of entry to care, as well as direct links to schedule an in-person or telehealth visit with a CMH provider at any of its primary care or Rapid Care centers located across Columbia, Greene, and Dutchess counties.
"In every instance, this service will guide patients to a care provider whose expertise and experience best match the patient's needs," says Dr. Pope. "It's a big step into the future of medicine that will provide a more efficient, effective and pleasant experience for our patients."
The new CMH Symptom Checker service can be accessed on the CMH homepage at Columbiamemorialhealth.org on the CMH App (available at the Apple App Store and Google Play for Android) or directly at: Columbiamemorialhealth.org/check-my-symptoms.