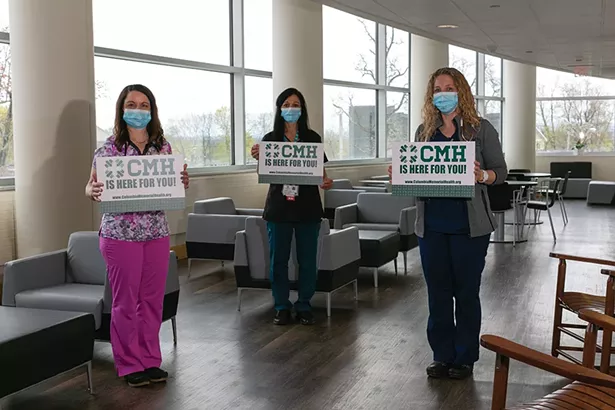 Like many hospitals in Upstate New York, Columbia Memorial Health in Hudson prepared for a wave of coronavirus patients that never hit. According to Jeff Burns, nursing director for the emergency department, it's another challenge for an already-demanding environment as the only critical resource dedicated to Columbia and Greene counties. "We don't know if someone might be positive, so we're treating everyone like they could be as a precaution," he says.
By now, Columbia Memorial Health's emergency department staff have become accustomed to the personal protective equipment (PPE) that they must wear daily to keep themselves and their patients safe. Full operating scrubs, face masks, glasses, and hair bonnets are the new, if cumbersome, normal. A booth in the hospital parking lot staffed by a health care provider screens every incoming visitor for possible coronavirus exposure. If they're high-risk, the patient will be further evaluated by a provider wearing proper PPE.
The precautions are part of the new reality of routine healthcare in a pandemic. But for the team at Columbia Memorial Health, the atmosphere of a pandemic is taking an entirely different toll on their patients. "We're seeing people who are critically sick and have been for days who are afraid to come in," Burns says. "But we have all the right safety precautions in place, and we're an expert resource for our community."
The emergency department is the first place people think of when they or a loved one needs treatment for a heart attack, stroke, vehicular trauma, or substance overdose. But as the first stop for many patients, the emergency department at Columbia Memorial Health also specializes in connecting them to a web of other healthcare resources. "We're more than just an ER. We're a vital part of our community for all kinds of health resources," Burns says.
Among the department's many other services is a mental health unit stationed in the ER itself, which can refer patients to the in-patient unit upstairs or to out-patient facilities all over the state. The department also has trained on-staff nurse case managers with backgrounds in social work who provide support on issues like domestic violence or caregiver burnout. "Sometimes EMS will bring a patient into the emergency department because they realized they're struggling with the exhaustion of caring for a family member," says Burns. "Our nurse case managers can find them the respite resources they need."
The department also has trained sexual assault nurse examiners, who can provide comprehensive care to sexual assault victims, conduct forensic exams, and provide expert testimony in a court. "Our nurses are able to provide a compassionate environment while understanding the gravity of the situation," Burns says.
The emergency department even runs a program for community members suffering from substance abuse issues like opioid and heroin addictions, which have particularly plagued rural areas like those in Columbia and Greene counties. "We have relationships with trained peer coaches who meet with patients who have overdosed to help guide them through what the process for a recovery program is. They can provide help getting to a peer support group or just be someone to talk to at 2am."
Critical illnesses aren't going to wait for the coronavirus pandemic to go away. That's why the emergency department at Columbia Memorial Health is still working every day to provide their community with the resources they need when they walk in the door. "We're not just an emergency room," Burns says. "We're a full-service emergency team."