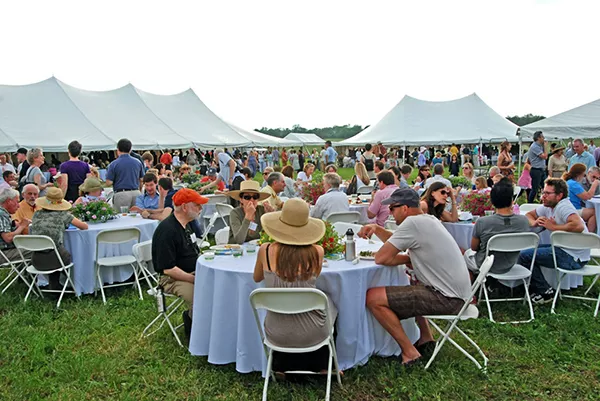 Joining 1,000 supporters of local conservation at a beautiful Columbia County farm for a barbecue featuring local food, an array of wines, and locally brewed beer is the perfect way to inaugurate the summer. Yet the Columbia Land Conservancy's (CLC)
Country Barbecue
is so much more. The fundraising event is held on Sunday, May 26 from 4:30 to 8:00 pm in Livingston, NY, and is packed with a diverse range of entertainment.
The fun begins as you approach the event, held at
David Rockefeller's Clum and Patchen Farm
, which is permanently protected with a conservation agreement with CLC. You enter on a long drive lined with poplar trees that reveal 400 acres of expansive fields and spectacular views of the Catskill Mountains. From the parking area you can ride on a horse drawn trolley for additional views.
Acclaimed Country western band Spurs USA will be performing much of the afternoon and evening. They play hits performed by the likes of Johnny Cash, Hank Williams, Loretta Lynn, and Patsy Cline.
Sharing the main stage with The Spurs USA will be the Bindlestiff Family Cirkus. This world renowned and locally based troupe combines amazing feats, wit, and comic timing. Their work often features tight rope and balancing acts, sword swallowing, rope tricks, juggling, and hijinks. When not on the stage, they'll be cruising through the crowd – juggling, riding unicycles, and stilt walking.
Throughout the event there will demonstrations and activities drawing from rural traditions including a petting farm, horse drawn carriage, hay maze, stonemasonry, birds of prey, working oxen demonstrations. CLC environmental educators will also be leading hands-on activities at a special kids' tent.
Delicious food
is sourced from local farms and there will be local beer from award-winning Chatham Brewing. Highlights include grilled local chicken with a Scotch Ale Chipotle sauce, Mediterranean pasta salad, a variety of local gourmet cheeses, and lemon squares.
At the end of an event like this it's easy to appreciate the importance of protecting rural landscapes and connecting people to the land. It's a good thing that ticket purchases support
Columbia Land Conservancy
's local conservation efforts. The nonprofit organization relies on the financial support of individuals to conserve the farmland, forests, wildlife habitat, and rural character of Columbia County, strengthening connections between people and the land.
For more information and to purchase tickets, go to
clctrust.org/barbecue
.  Pre-purchase and save up to $10 per ticket.