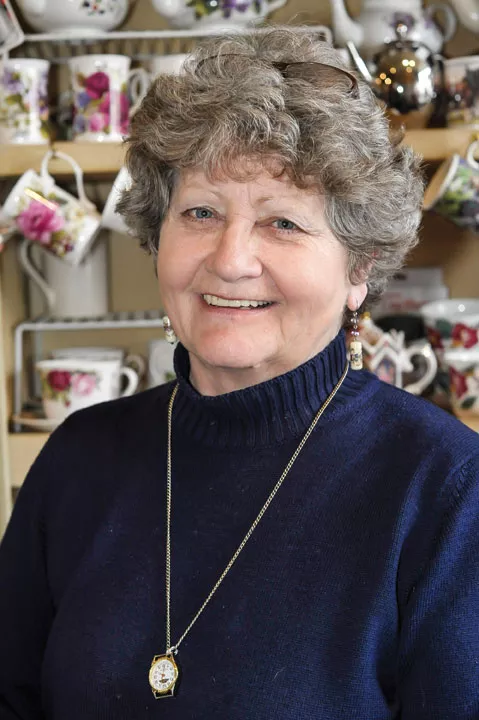 Photo by David Morris Cunningham.
Leonora Burton says her business isn't about making sales, it's about making people smile. "If I can make one of my costumers laugh or smile I'm happy, and if I can make two of them laugh that's even better," she says.
Burton is the outgoing and sincerely friendly owner of The Country Goose and Highland Baskets in Cold Spring. The Country Goose is a restaurant and kitchen supply store and Highland Baskets sells popular custom-made gift baskets that are shipped all over the country. Burton's store and her colorful character have long been fixtures of Cold Spring's Main Street.
A native of Newport, Wales, Burton—who lives in Garrison—moved to the United States more than 40 years ago. At first she settled in New York with her husband and sons, but about 30 years ago her aging mother-in-law decided to come live with them. Her mother-in-law was in her late 80s and came from a very small village in Wales. "She would have not enjoyed the city," says Burton. "We had to find a village where my husband could commute and where our five-year-old twin boys could go to school. We found Cold Spring."
Burton bought the Country Goose from a friend 28 years ago. At first, business was good but it started to decline after a Walmart opened in nearby Fishkill. To combat declining sales Burton, took a seminar on making gift baskets and opened Highland Baskets out of the same location as The Country Goose. The baskets quickly took off and Burton designs each basket to fit the personality and any dietary needs of the recipient.
Today both of Burton's business are thriving. "We're now back into the kitchen ware business because more and more people are eating at home [and] we have enough locals who just love shopping locally," she says.
After almost three decades Burton is part of the fabric of Cold Spring's Main Street and she couldn't be happier about that. "I'm looking down the road across the river, it reminds me of being back in Wales. It's just so beautiful, the people are so lovely, it's just a great place to be," she says. "I get parents who call me up and say 'I'm letting my little Charlie down into the village by himself for the first time, can you just keep an eye on him?' I feel like the grandmother because I've been here so long and I just know all these little kids, actually I know all the parents who were little kids who used to come to the store. It's a very, very close knit and a very friendly place to be. It's unique."
Highlandbaskets.com
.