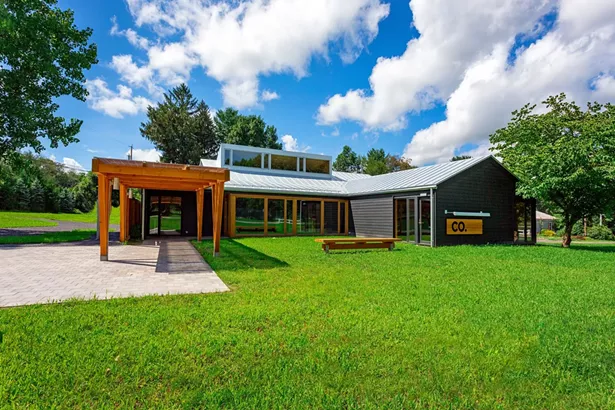 Since the concept crystallized in the Bay Area in 2005, coworking spaces around the globe have doubled in number each year. At CO, a cooperatively-owned "center for entrepreneurship, action and inspiration" that opened on Route 9 in Rhinebeck last September, over 100 members have signed up to share a sleek, well-appointed workspace and the creative synergy sparked by human contact.
"We're the first Hudson Valley coworking space that was built intentionally to facilitate coworking and events," says Johnny LeHane, co-owner and one of three founders. "We did an enormous amount of listening during the creation. We sought to provide the inspirational needs and wants that would make people happy to come here on whatever level of involvement they choose."
The building, a 4,000 square foot former rustic furniture store, owned by CO member/co-owner Jonathan Cohen, was fully redesigned and renovated for coworking. It is "eye-popping," according to LeHane. "People pull over and stop and say, 'Wow, what's this?' Then when they find out, they want to join in." The architectural design was done by Frank Mazzarella, another CO member/co-owner whose background includes designing galleries and other public spaces.
The open floor plan space is outfitted with long tables and comfy lounge spaces, glass-door phone and diner booths, event spaces, and conference rooms with whiteboard walls for visioning as you go. There are nearby walking trails, a patio, and a communal kitchen. Daily, part-time or full-time memberships mean that you can work in a variety of shared spaces, or at your own dedicated desk. You can also exchange services for CO time or join the co-op and get profit-sharing and voting rights.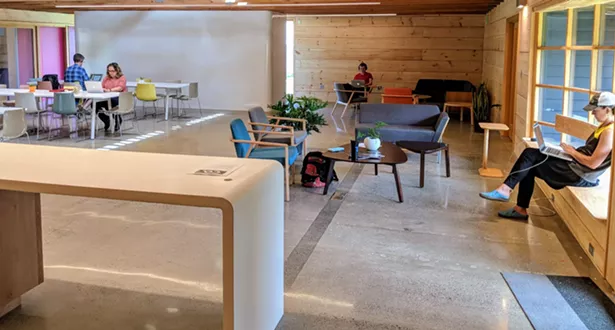 The "distributed" workers of the Hudson Valley (LeHane prefers "distributed" to "virtual," pointing out that the work we do is as real as any work anywhere) are lovin' it. "We get business owners, software and network architects, freelancers, people who work remotely for all sorts of companies, lawyers, financial people, artists," says LeHane. "It's just as diverse as the Hudson Valley itself."
CO can be visited at 6571 Route 9 in Rhinebeck, NY from 9am-5pm Monday through Friday; find out more by calling (845) 481-3681 or emailing hello@coworkwith.co