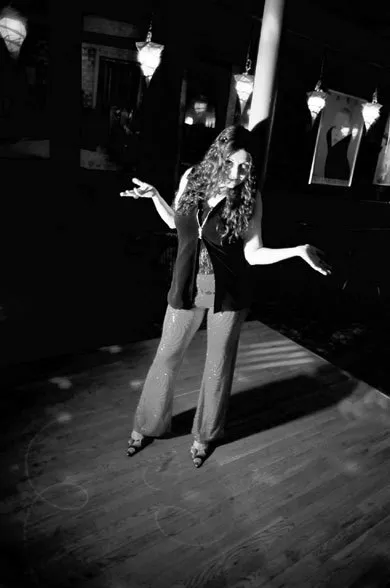 It's 1992. I'm in the dank basement of some underground industrial music dive in Salt Lake City, flailing to the metal-against-metal of Front 242 and Nitzer Ebb. Half the people in the scene have Robert Smith hair and enough black eyeliner to make Nick Cave weep more than usual. The skinhead next to me is wearing a ripped tee broadcasting the f-word. The place is wall to wall with freaks. If it weren't for the strobe lights and smoke, everyone would be invisible, because everyone is wrapped in black upon black.
Suddenly, I snap out of this delicious, inky reverie. It's the brutal winter of 2004 and I'm in my Hurley house, blueprinting a quasi-hip dance party which will take place in the living room. It's not my first; it's not my last. My mission is to get some of the mole people to crawl out of their frozen lairs and swing by. I've got three video screens going, the lights are happening, the i-Book is fired up, and I'm jonesing to move. But it's four degrees outside, and my driveway is a sheet of ice. Then it hits me. I've got to get out of here and shake it up in the real world soon, or I'll wind up in a straightjacket, and that's a fact.
I suppose the dance club scene in the Hudson Valley had eluded me, cuz I certainly didn't know where it was. There's New World in Saugerties, but I never dug dancing to live music. I'd heard that Freestyle Frolic was good, but the name always left me horror-stricken. Joyous Lake in Woodstock is cool when it's open, but I'm in agony now. And I don't want no Latin, no salsa, no tango, no swing. I'm on the prowl for a disco ball, and I enlist some friends to help me find one.
Lucy invites me to Powder, a club in Tannersville. Yeah, I didn't know it was there either. It's just reopened, and DJ VS is spinning some Hip Hop after a singer-songwriter set. Kewl. I drive up the mountain, hand over five bucks, and wait for the DJ. No one's dancing. The music's good, but methinks this is some new-fangled version of the genre, because it's a bit slow. I'm an old fart, and I need some Funky Cold Medina and a little O.P.P.
Suddenly I'm hungry for a taste of the '80s. But where can I find such dope notes on one disc? You guessed it - loser alert! - the mall. Whoomp! There It Is: Non-Stop Hip Hop. How could I have ever forgotten Rob Base & DJ E-Z Rock? The way those boyz put me on crutches was wack. Of course, I don't have those moves anymore - thanks to that industrial club, my knees are shot to hell.
Arriving home with my new acquisition, Kriss Kross makes me jump! jump!, but ultimately it's unsatisfying. I want to go nuts in public with some other nutjobs. Where to go? I let my fingers do the walking in the Yellow Pages under "Dance Clubs." It says, "see Clubs." So, bust this: there's the American Legion, the Elks Lodge, a sportmen's club, a moose lodge, a bridge club, a rod and gun club, a fish and game club, a cricket club, and the YWCA.
But this sounds promising - Joe's East/West with retro night every Friday. I am so there! Just lay some Bee Gees on the Dancing Queen and observe. I haul down to New Paltz with my friend Renee and shell out my three bucks around 10PM. The place is considerable - fantastic lights, big screen, the whole shebang. I'm in need of some Salt-N-Pepa and I'm more than ready to push it good. The DJ plays pretty much everything we request. Why? We're the only ones dancing, that's why. There are dozens of people in there, all standing around watching. Eventually I'm left dancing solo. This is a disco, is it not? Why are all these weenies just standing around?
"You're an extrovert," Renee yells over the beat.
"No, I'm not," I yell back, "I just wanna dance!"
Sure, I'll put my hands in the air. Hell, I'll shake it like I just don't care. Maybe I'm putting on a show for these people now. Whatever. Put me in a cage, throw me some popcorn, and I'm on autopilot. Losers. The music is smokin'!
I mention my dissatisfaction to Ted at Evergreen. "Dancing is so out," he jests. "No really, dancing is a tribal element, it's natural, it's sensual. It's fear that holds people back. People are afraid of looking stupid. I say, get up offa that thing. Looking stupid is where it's at." We exchange thoughts about my spinning at his venue in the future and creating our own scene, dammit.