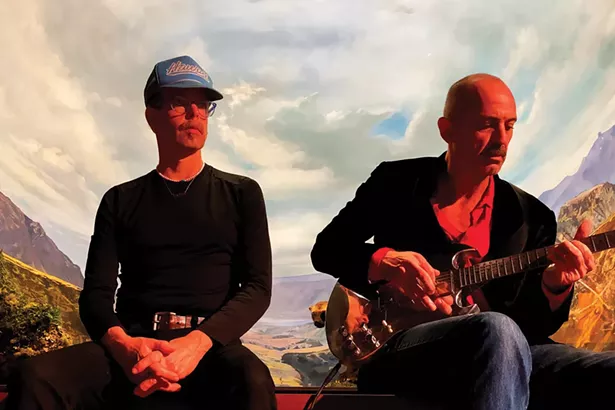 Photo by Jonah Freeman and Justin Lowe
Will Oldham and Matt Sweeney as Superwolves play Kaatsbaan Cultural Park December 16, 17, 18.
Spikes and troughs in the COVID curve aside, 2021 will be remembered as the year the music returned to our concert venues and restaurants, town parks, and bars. We're closing out the year with a bevy of exciting shows that run the gamut from frequent festival headliners moe. to a holiday show from banjo virtuoso Tony Trischka and friends. Here are our sick picks for live music this December.
John Sebastian's Jug Band Village | December 3
Many veteran musicians, even after they've evolved artistically and tried different styles, return to the stuff that originally sparked their musical passions. And so it is with Woodstock's John Sebastian, the Lovin' Spoonful leader and solo artist who for this night at the Bearsville Theater will journey back to his 1960s Greenwich Village folk and jug-band roots. He'll be accompanied by Spoonful bassist Steve Boone as well as Jimmy Vivino, Cindy Cashdollar, Paul Rishell, Annie Raines, and James Wormworth. (Jack DeJohnette, Matt Garrison, Don Byron, and Luisito Quinero jam December 17; Robert Gordon, Billy Burnette, and Marshall Crenshaw rock December 18.) 8pm. $30-$60. Bearsville.
Bearsvilletheater.com
Moe. | December 10,11
Everyone knows that the jam band market is huge in these here parts—and Moe., familiar festival headliners in pre-COVID times, are easily one of the genre's biggest names. "We're a better band now," says the group's long-time drummer Vinnie Amico. "The reality is, you spent 30 years with people doing what you do, you get better. There's no ifs, ands, or buts about it. Your ears get more trained, your playing gets better and better, your ability to communicate with each other better"—all of which certainly contribute to the band's instrumental prowess. The Buffalo-born group had planned to tour more extensively in support of their two 2020 releases, the album This is Not, We Are and the EP Not Normal, but were, sadly and like so many other acts, sidelined by the pandemic. Back out on the road, they'll make this two-night stand at the Capitol Theatre. (Chris Isaak croons December 1; Hot Tuna sizzles December 4.) 7pm. $35-$172.50. Port Chester.
Thecapitoltheatre.com
The Split Squad | December 4
How's this for an all-star team? On guitar and vocals: Eddie Munoz (the Plimsouls). On drums: Clem Burke (Blondie). On guitar: Keith Streng (the Fleshtones). On bass: Michael Giblin (Cherry Twister). On keyboards: Josh Kantor (the Baseball Project). Known as the Split Squad, the veteran-comprised power pop/rock 'n' roll combo came together in 2012 and, between working with their other outfits, has been kicking up a catchy racket in the studio and on the stage ever since, releasing Now Hear This and The Showstopper EP. Here, they make an über-rare visit to the region for a date at the Avalon Lounge. With Pajamazon and Medicine Day. (Arone Dyer appears December 3; PAKT brings the prog December 16.) 6pm. $15. Catskill. Theavalonlounge.com
Superwolves: Bonnie "Prince" Billy and Matt Sweeney | December 17, 18, 19
Singer-songwriter, actor, and modern-day icon Bonnie "Prince" Billy aka Will Oldham (Palace Brothers) and Matt Sweeney (Iggy Pop, Chavez) debuted as a duo in 2005 on the Drag City record label with Superwolf,an effort widely hailed as an instant classic. Sixteen years later, the pair return with the album's highly anticipated followup, Superwolves, a release whose title now serves as that of their collaborative project itself. Joined by musical accomplices Emmett Kelly (the Cairo Gang, Ty Segall) and Dave Pajo (Slint, Tortoise), the twosome takes over Kaatsbaan Cultural Park for this three-show residency. Warming up each performance is a different opener: Ben Vida (December 17), Weak Signal (December 18), and Sargent Seedoo (December 19). 8pm. $70. Tivoli. Kaatsbaan.org
Jay Rosen Trio | December 5
Drummer Jay Rosen has been a force within the experimental/out-jazz sphere since the mid-1990s, most notably in Trio X with multi-instrumentalist Joe McPhee and bassist Dominic Duval while also playing with the late Duval on many recordings for the seminal CIMP label. Rosen's new trio includes two paragons of the Hudson Valley's vibrant avant garde: guitarist Patrick Higgins (Zs) and bassist Michael Bisio (Matthew Shipp Trio). This month the triumvirate unfurls their formidable collective improvising power, quite appropriately, at one of the area's most vital hubs of creative activity: the Lace Mill, RUPCO's multi-unit, artist-oriented affordable housing complex and performance space/gallery. 4pm. $20 suggested donation. Kingston. Facebook.com/thelacemill
Tony Trischka | December 19
Instead of crassly commercial network TV fare, how about a holiday show that looks genuinely tasteful and heartwarming? In honor of On a Winter's Night, his 2015 locally recorded live acoustic holiday-themed album, banjo virtuoso Tony Trischka makes his way to the cozy confines of the Towne Crier to once again sing and strum to celebrate the season. Teaming up with Trischka for this exemplary evening of bluegrass and Americana will be multi-instrumentalist and shape-note singer Tim Eriksen (Cold Mountain soundtrack), bassist Larry Cook, and drummer Sean Trischka. On the set list are songs from 1844's Sacred Harp hymnbook and several that even predate the Revolutionary War.(Steve Forbert sings December 3; the Nitty Gritty Dirt Band's John McKuen visits December 10.) 7pm. $20, $25. Beacon. Townecrier.com