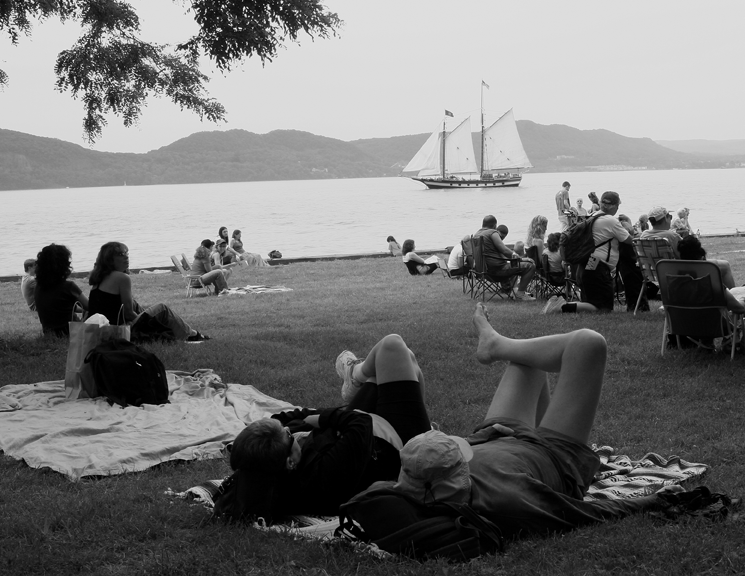 Clearwater Festival attendees lounge and watch the sloop Clearwater pass at the 2006 Great Hudson River Revival.
In 1966, activist and folksinger Pete Seeger was distressed about the state of the Hudson River; the once thriving body of water had been polluted so heavily that a fish was seldom found in many of the areas of the river. Recognizing the environmental and social tragedy, Seeger decided"to build a boat to save the river" and literally passed his banjo around to collect donations to build the sloop Clearwater and the organization of the same name. More than 30 years later, the sloop Clearwater has become an international symbol of grassroots environmental advocacy, and more than 15,000 people have gathered for a weekend every June since the organization's Great River Revival to support Seeger's original intentions to help preserve and celebrate the Hudson River.
Though the festival's main priority is to raise money to benefit the Poughkeepsie-based nonprofit organization's research, education, and advocacy, the festival has always employed music to support its cause. Each year, dozens of nationally and internationally recognized singers, songwriters, performing artists, and bands from many musical genres have come to entertain on one of the five performance stages at Croton Point Park on the Hudson—all powered by 100 percent sustainable energy. In addition, the festival features vendors, crafters, community and nonprofit organizations, exhibits, and performers including jugglers, storytellers, clowns, and puppeteers. There are also two-hour sails on the Hudson River on the boat that started it all, the sloop Clearwater, as well as the schooner Mystic Whaler.
This year, the Clearwater Festival Great Hudson River Revival will occur Saturday, June 21, and Sunday, June 22, from 10am to dusk at Croton Point Park in Westchester. (845) 454-7673.
http://www.clearwater.org/revival/index.html
.