Clarkson University, in partnership with SUNY College of Environmental Science and Forestry (ESF), was recently designated as a New York State Center of Excellence in Healthy Water Solutions.
The mission of the new Center is to generate solutions that help protect and improve waters for sustainable natural environments, healthy populations, resilient communities, and sound economies.
Supported by state Senator Rachel May and Assemblyman Al Stirpe with signatures from representatives from around the state, the partners are collaborating to bring experts, students, technology innovations, and research-based solutions to work with local partners to assess challenges in aquatic systems and water infrastructures.
This includes representatives from Clarkson's Beacon Institute for Rivers and Estuaries who will add user-inspired research and development, citizen science and education through collaboration and creative innovation to inspire sustainable solutions for estuary and freshwater ecosystems.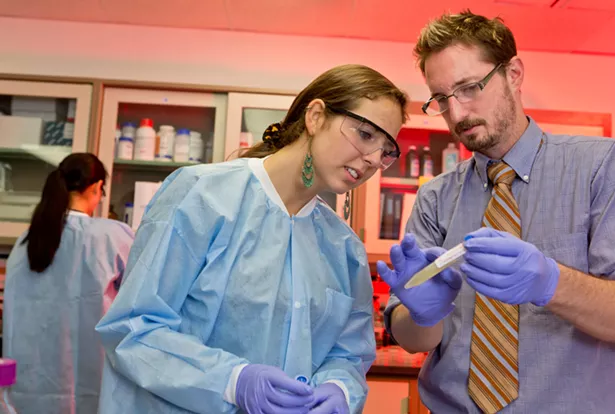 "Climate change is wreaking havoc on our lakes and waterways in Central New York," May said. "The increased presence of harmful algal blooms coupled with our aging infrastructure endangers the future health of our waters. It is critical that we invest in practical and innovative solutions to these complex problems."
Dr. Michelle Crimi, a professor and the director of the Engineering and Management program at Clarkson University (with appointments at both the Potsdam campus and Clarkson's Beacon Institute) has done extensive research on eliminating toxic per- and polyfluoroalkyl substances (PFAS) in groundwater. Recently, she shared insights with Chronogram on the importance of the civilian and scientific communities approaching this issue with a sense of urgency and science-based knowledge.
"People can engage in a partnership with those who provide their community's water to understand what [chemicals are in] there, and what can and should be done about it," she says. "The public can also talk to their legislators, both at the local and state level—even at the federal level—to make sure the resources are being allocated to understanding this problem and, ultimately, to developing solutions."
Working with government agencies and areas affected by traditional contaminants and the aging water infrastructure, the center will look to address the problems the water and natural environment are facing, to develop early-warning systems to "monitor, model, predict and avoid threats before they become issues," and to examine management practices and ecosystem design to "improve the resilience of New York state's water assets."
"Together, we recognize the national and statewide sense of urgency to protect New York's valuable water resources while also ensuring their role as an engine for economic growth and vitality," Tony Collins, president of Clarkson University, says.