First came a focus on
interior
design, which continues to inspire innovative style statements. Then homeowners and designers turned their attention to
outdoor
living, creating comfortable plein-air spaces for lounging, cooking, and dining. In the Northeast, homeowners have begun to embrace a new trend: living inside out.
By inviting sunshine and warmth into your space and blurring the lines between the coziness of the interior and the nature beyond, you can reclaim the light you deserve. Intentional selection of personalized windows and doors is the key bringing the outdoors in and transforming your quality of life.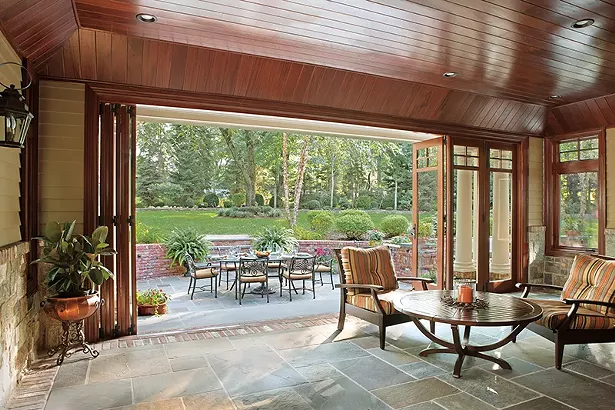 The natural setting is especially spectacular here in the Hudson Valley—from lush woods to stunning mountain and river views, to beautiful backyard gardens. Is there a small, dark bedroom in your home or a cramped sitting room—why not open that space up by inviting the beauty and expansiveness from beyond the walls indoors with the thoughtful positioning of windows. The added light opens up the space and frames the view as if it were a beautiful piece of art.
Perhaps you love your backyard with that flowering tree, yet feel you seldom have the time to enjoy it. Or you've invested in a waterfront home and find that the original owners never took advantage of that view of the Hudson River that inspired your purchase. With an intention to live inside out, you invite the light and nature you crave into your space. A perfectly placed sliding or bi-fold door can change the way you live—and the way you feel about life—by creating a seamless connection between your home and its calming landscape.
Start a Living Inside Out Journey

It's a scientific fact: sunlight boosts our serotonin levels and that, in turn, makes us happier. You know how good it feels to bask in sunshine, and designing a home to embrace that experience begins with exploring the possibilities. The showroom at Williams Lumber & Home Centers is an excellent place to start. Here a high-tech, high-touch journey inspires you to explore a myriad of doors and windows in full scale, and appreciate what they could do for your lifestyle.
At the Williams Lumber showroom you'll encounter the Marvin Scenic Door Portfolio, which includes stunningly large doors engineered to provide a seamless connection to the light and natural beauty beyond your walls. Marvin's Ultimate Lift and Slide, Multi-slide or Bi-Fold Doors all offer opportunities to create a movable "wall of glass" that provides effortless access to a deck, patio, porch or waterfront.
Create That Seamless Connection

Your home's architectural style helps pinpoint the most complementary way to create the inside-out connection, according to Kim Deetjen, principal at architecture and interior design firm TruexCullins in Burlington, Vermont. "The specific door depends on the style of the house—is it traditional or modern? Formal or informal? The context is always the first determining factor," she explains.
Considering the home's setting and the surrounding landscape also helps homeowners zero in on the appropriate selection, Deetjen explains. Homeowners are encouraged to think about how windows and doors can be used to enhance—and not disrupt—the room's flow. The right door creates a seamless handoff from the interior to exterior, while making the interior space appear larger and more in tune with the view.
Remember Comfort and Security

While the intent is to invite the light, air, and beauty outside your home into your living space, you never want to overlook the need for screens to make living more comfortable and hardware to make your space secure. Marvin offers a selection of different screens, even high-transparency mesh solutions, to ensure that this element never detracts from the intended connection.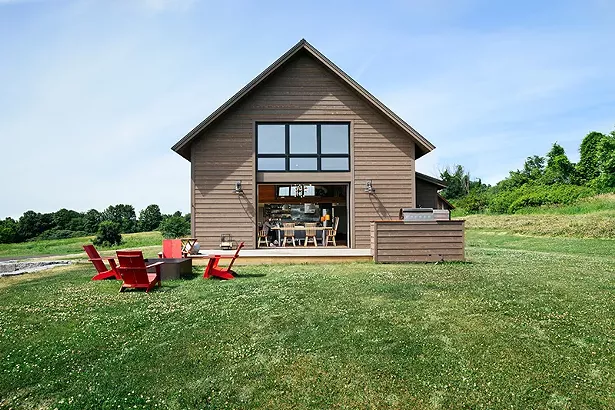 In addition, Marvin also offers a new smart home technology, the
Lock Status Sensor
, which seamlessly integrates into your new or existing security system. Marvin is the only manufacturer offering a fully integrated, factory-prepped hardware solution to give you peace of mind in knowing your windows and doors are secure. This provides the security you deserve while also helping you elegantly and effortlessly live intentionally with the beauty outside your home.
Invite Light into Your Home Today

If you find the concept of living inside out intriguing, start your research
online
to explore Marvin and Integrity windows and doors. And visit
Williams Lumber and Homes Centers
for an exciting introduction to what's possible in your home. When you're ready to talk window specifications and pricing, make an appointment with a millwork specialist at the Williams lumber showroom, where Marvin experts are ready to help you select windows and doors to create the look you imagine.