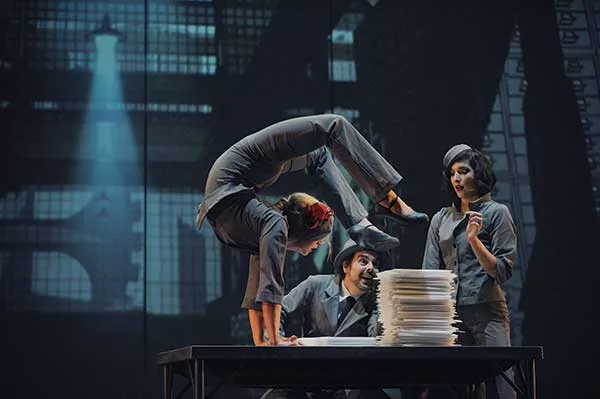 Valérie Remise
Cirque Éloize brings "Cirkopolis" to Proctor's Theater in Schenectady this month.
A woman in a violet dress makes her way across the stage, but never touches it. Five men hold her above their heads as she dips into hyperextended splits or jumps into complex lifts before soaring into the arms of the next performer. Finally, they hoist her high into the air by one foot and she raises her leg a full 180 degrees—a human skyscraper. This is just one awe-inspiring scene from Cirque Éloize's new show, "Cirkopolis."
The Montreal-based troupe recently signed a five-year commitment with Proctor's Theatre, making the historic venue their seasonal home. "[They] exhibit the highest quality of craft and professionalism [and] we are so proud to be hosting them here," says Richard Lovrich, the theater's marketing director. "For me, Montreal and Schenectady are appropriately connected: Montreal is a place of realized, fabulous dreams, and Schenectady is a place of newly re-imagined dreams." Part of the town's revivalist spirit has to do with Proctor's 2007 renovation that made the theater into a booming Broadway-style house.
Though Proctor's has hosted circus groups before, Lovrich maintains whats sets Cirque Éloize apart is its commitment to storytelling as well as acrobatics. "Cirkopolis" is inspired by movies about totalitarian societies—a heavy topic for a cirque troupe to tackle. However, the theme is ultimately an upbeat one. Opening with a dismal city scene, the 12 performers start out playing characters going through their dreary daily routine. As they drudge through their bureaucratic work, each character gradually breaks out of the monotony with stunts involving contortion, juggling, and aerial gymnastics. Their personalities emerge and the show unfolds into the colorful spectacle characteristic of Cirque du Soleil.
Among the acts is Angelica Bongiovonni's performance with the Cyr wheel: a large metal hoop invented by Cirque Éloize's cofounder, Daniel Cyr. As it spins on its axis, Bongiovonni is able to maneuver dozens of acrobatic tricks and forms, swinging solely by her arms or extending her legs into the frame of the wheel. With her hair down in curls and her red dress billowing around her, it's clear that for Bongiovonni this is a moment of freedom. "I'm not acting at all, whereas in other parts of the show I'm putting on a character and always smiling," she explains. It is the honesty of these performances that she thinks makes the show believable. Rather than the over-the-top costumes and dramatics typical of other circuses, "Cirkopolis" relies on realism. "Our story takes place in a city atmosphere, we're wearing normal clothes—it's more realistic than being on stage looking like superheroes, which is what I think lets people relate to us more," says Bongiovonni.
With an audience comprised of both children and adults, Cirque Éloize makes sure these emotional connections are accessible to all age groups. To that end, Bongiovonni insists neither acrobatic elements nor theater and dance could function alone. She says, "Just doing circus tricks you won't be able to get across emotions. You need the theatrics to portray emotion, the dance to link the moves and the story together, and the tricks for the wow-factor."
Cirque Éloize will help students of all ages learn some of these amazing feats in a summer camp they're hosting throughout the month. The aim for the week-long sessions for teens is to educate them about the artistry and the physicality of the stunts as well as teaching them the tricks themselves. For adults the goal is the same, but since the session is only for one day, the program will be less educational and more fun. Nonetheless, whether guests are watching these acts or doing them, ultimately the troupe's hope is the same. Says Tour Director Valerie D'Amours simply, "We want everyone to fall in love with the circus."
"Cirkopolis" will be hitting Proctor's Theater in Schenectady from August 7 to 24 with ticket prices starting at $20. Cirque Éloize's summer programs run from August 5 through 9 for 12 to 14 year-olds, August 12 to 16 for 15 to 18 year-olds, and the single-day sessions for adults go from August 12 to 23.