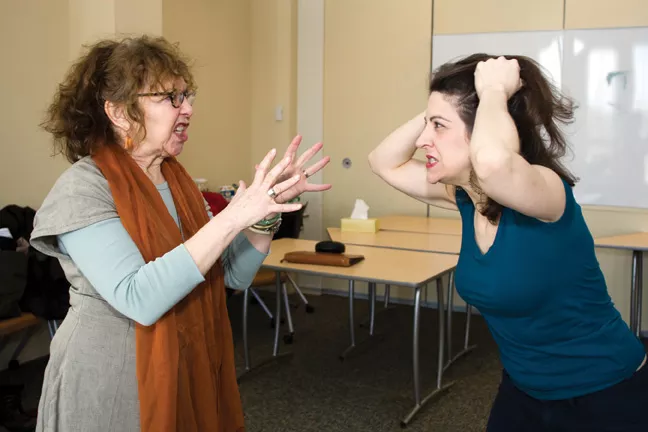 Jen Kiaba
Kathryn Grody as Marty and Alexanda Napier as Theresa in "Circle Mirror Transformation."
Here in the Valley, we're usually awash in feel-good theater: competent retreads of crowd-pleasers like "The Pajama Game" and other stale chestnuts of the American stage.
While standard community theatre shows guarantees healthy ticket sales and provides inadvertent joys—remember Waiting for Guffman—a handful of upstart local companies have broken with tradition.
Half Moon Theatre was founded five years ago by a group of professionals who had worked in New York City, Los Angeles, and San Francisco. They had relocated to the Valley, says Geoff Tarson, the troupe's artistic director, only to be dismayed by the amateur shows presented. So they launched their own group and now mount two productions annually.
These low-budget, high-energy productions have included the sly romance of John Cariani's "Almost, Maine," the magic realism of Morris Panych's "7 Stories," and the black comedy of Jeffrey Hatcher's "Three Viewings." A reading series was added two years ago. "What we're looking to give our audience up here," Tarson says, "is as close to an off-Broadway experience as we can." Eschewing well-worn musicals, Half Moon will focus on "small chamber pieces."
Half Moon's current production has an unimpeachable off-Broadway pedigree: "Circle Mirror Transformation" sparked a sensation in 2009, nabbing Obie Awards for Best New American Play, Best Ensemble Performance, and Best Direction.
In a rural Vermont town, four aspiring actors (aged 17 to 60) take a community center class led by a grandiose, New Age-type instructor of questionable capabilities. Over the course of a summer, she leads the students through exercises meant to hone their craft. Not only does the group warm up to one another, they unwittingly peel back the carapace of defense mechanisms to meet themselves. "It's one of the plays in which very little happens," Tarson says, "and yet you see their lives unfold and you see important changes in their lives."
A wunderkind by any measure, playwright Annie Baker wrote this perceptive work in her mid twenties and remains low-key amidst the resulting accolades. Last year, she explained the creative process to the New York Times: "I sleep a lot and get really depressed and stare at the ceiling, and then maybe I'll write for an hour."
The Half Moon production will feature two-time Obie Award-winning Kathryn Grody; Brendan Burke, artistic director of Shadowland Theatre in Ellenville; Alexandra Napier; Michael Rhodes, Artistic Director of tangent theatre company in Tivoli; and Annabel Barrett. "Circle Mirror Transformation" is directed by Josh Hecht, who has worked with premier off-Broadway companies and teaches at the New School for Drama.
"Circle Mirror Transformation" may be galvanizing theater, but it will prove less unsettling than a previous Half Moon production. "Emerson High" by Jim Knable examined a relationship between a high school teacher and his student, raising thorny issues of responsibility and power. Tarson enjoyed the theatrical provocation of that show, but doesn't want Half Moon to be known as a one-note company. "We push buttons, but we don't want to be a theater only known for pushing buttons."
"Circle Mirror Transformation" will be staged by Half Moon Theatre at the Cunneen-Hackett Arts Center in Poughkeepsie, March 10-20. $25 admission, $20/students, seniors for 8pm performances; $20 admission, $18/students, seniors for 2pm matinees. Pay-what-you-can preview Thursday, March 10, 8pm. (888) 71-TICKETS;
www.halfmoontheatre.org
.