We sifted through the most relaxing, romantic, and delicious V-Day plans in the Hudson Valley so you wouldn't have to. Check out our Top 10 Tips for Valentine's Day 2015.
CREATIVE COUPLES
What better way to celebrate the creation of love than by creating art? Olana is offering an acrylic painting workshop from 2pm-4pm on Valentine's Day along with a variety of desserts and hot drinks called Just Desserts: Coffee and Creations. Hudson Valley art teacher Jill Obrig will guide you through a Jim Dine heart-inspired piece. There is limited space available, so register by February 12.
FOOD BY THE FIRE
There's nothing more romantic than good food, good drinks, and panoramic views of the Hudson Valley while lounging in front of a yawning fireplace. Restaurant 1915 and Blue Roof Tapas Bar at Bear Mountain Inn are offering just that. Choose from a variety of appetizers, entrees, and desserts to enjoy, including aphrodisiacs like raw oysters and double chocolate flan.
ASTROLOGICAL ADMIRERS
It's all written in the stars. Astrologer Sue Wilens is offering couples the opportunity to explore how they give or receive love using their birth information in her workshop, The Ties That Bind: A Couple's Astrological Guide at Mirabai of Woodstock (birth time, she notes, is essential). If you and your partner provide your information two days before the Valentine's Day workshop, you'll receive individual charts as well as a couple's composite.
VALENTINE'S VINOS
Valentine's Day is technically about love, but we know it's mostly about chocolate and wine. Millbrook Vineyards & Winery is offering a guided wine and chocolate tasting featuring expert chocolatier and CIA graduate Oliver Kita of Rhinebeck. Start with a glass of Millbrook's 2008 Brut and let Kita guide your palette through a flight of five other Millbrook wines. Followed by the tasting is a reception, complete with a complimentary chocolate fountain and wine available by the glass.
WOOER'S WEEKEND
If you're going out for Valentine's Day, finding a hotel and dining package can take the stress off of your schedule. The Roundhouse at Beacon Falls is offering two such packages for a two-night stay: their Penthouse Suite with a balcony and panoramic views of Beacon Falls and Mill Deluxe Rooms, which also include a view of the falls. Beyond the room, both package include a four course prix fixe dinner valued at $200, a complimentary bottle of champagne, a box of chocolate-covered strawberries, and a full continental breakfast in the morning. If you and your partner live further north, Diamond Mills Hotel & Tavern includes a two-night stay and an exclusive prix fixe menu on Valentine's Day night. Couples receive a complimentary rose upon arrival and a box of housemade truffles when they leave. If you're somewhere in between, book a stay at Buttermilk Falls Inn + Spa for their "Romancing the Getaway" special. For two nights in a standard room, the per-couple rate includes fresh flowers, a complimentary bottle of Prosecco, a plate of chocolate-covered strawberries, breakfast every morning, and afternoon tea each day.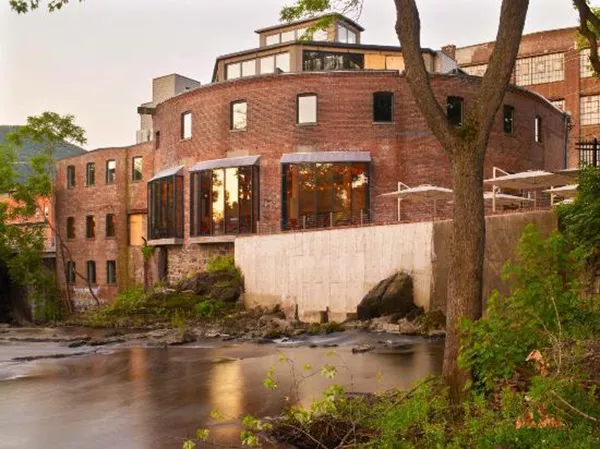 FLEXIBLE FLAMES
Rest and relaxation can be more romantic than food, jewelry, and flowers combined for some people. Shakti Yoga Studio in Woodstock is hosting St. Valentine Sound Healing Tantra for Couples, a partner class that uses sound healing to strengthen the bond between you and your significant other. Sitting back-to-back with your partner in a warm, quiet candle-lit room, a series of sound blessings will help you to relax and connect on a subconscious level.
CANINE COMPANIONS
Why leave out the love we have for our four-legged friends? The Whiskers, Wags, and Wine fundraiser hosted by Cornwall Wines & Spirits offers complimentary snacks and sweets, a wine tasting, and a raffle with prizes, including a basket of wine and chocolate. All proceeds go to the Hudson Valley SPCA.
HARDCORE HONEYS
For some couples, love means less romance and more rock-and-roll. The new Motorcyclepedia Museum in Newburgh brings in four hard-rock bands to tear up the stage on Valentine's Day: Bedrock, First Roung, Obsidian, and Iron Cobra. The show includes dinner and one beer, though a cash bar with a variety of beer, wine, soda, and snacks will be available throughout the show.
AMOROUS ARTISANS
For the art-loving lovers, the Hudson Valley Center for Contemporary Art (HVCCA) scheduled the opening reception for their new exhibit "Love" on, appropriately, Valentine's Day. The reception marks the beginning of a year-long series of exhibits and programs following two themes: "Love: The First of the 7 Virtues" and "Lust: The 4th of the Seven Deadly Sins." Art-loving lovers can enjoy a variety of pieces from around the world at the HVCCA while picking at chocolate desserts with a glass of either Prosecco or craft beer.