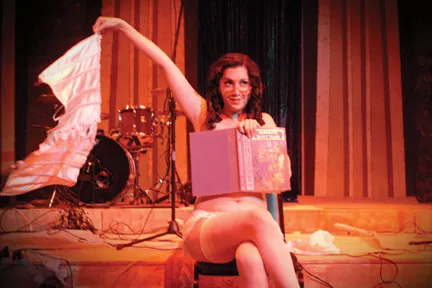 Angelique A'Lamode, of the Alpha Psi Ecdysia Burlesque troupe, performing at the WGXC New Year's Masquerade Ball at Basilica Industria in Hudson. Photo by Meghan Davis.
As part of our ongoing commitment to nourish and support the creative, cultural, and economic life of the Hudson Valley,
Chronogram
helps promote organizations and events in our pages each month. Here's some of what we're sponsoring in February.
Beahive
Beahive is a collaborative workspace with two locations—Beacon and Kingston—with community events after-hours. This month, music and film are on tap. For a full schedule visit the Beahive websites:
www.beahivebeacon.com; www.beahivekingston.com
Hudson Valley Green Drinks
The traveling networking event for the eco-committed  meets at The Would restaurant in Highland on February  10, from 6:30 to 9pm. (845) 454-6410; www.hvgreendrinks.org
Woodstock Writers Festival
Literary heavy-hitters Susan Orlean, Julie Powell, Shalom Auslander and many more read, perform, and offer advice and guidance February 12-15. www.woodstockwritersfestival.com
Too Much Information
The world premiere of "Too Much Information," directed by Eva Tenuto, on February 19 & 20 at 8pm at the Rosendale Theater, is a benefit Hope's for Fund. (845) 331-4199x3