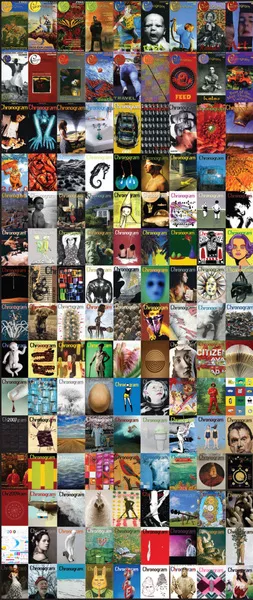 Since its launch in the fall of 1993,
Chronogram
has featured the work of hundreds of Hudson Valley artists on its cover. Unlike most publications,
Chronogram
does not put anything on the cover but its logo, allowing artists an unadorned canvas for their paintings, photographs, sculptures, illustrations, and mixed-media work.
Some of the artists
Chronogram
has featured on its cover include Peter Max, Martin Puryear, Dion Ogust, Steven Spacarelli, Alex Grey, Emil Alzamora, Richard Butler, Denise Orzo, Kathy Ruttenberg, Eric Bean, Laura Levine, Stuart Bigley, Devorah Sperber, Steven Kenny, Keith Haring, Jeffrey M ilstein, Edie Nadelhaft, Joe Concra, Zak Pullen, and Kevin Paulsen, among more than 150 others.
Over 100 covers of
Chronogram
will be on display at Hudson Coffee Traders in January and February, from Jane Sander's illustration on the inaugural October/November 1993 issue to portrait of Snow White with her heart on her sleeve on the September 2011 cover by Seattle-based artist Alicia J. Rose and beyond.
"The cover of
Chronogram
is proof of the artistic vitality of the Hudson Valley," says
Chronogram
editor Brian K. Mahoney. "Showcasing the work of a diverse variety of artists each month, from established artists to emerging talents, is a privilege we take very seriously. I sometimes wish
Chronogram
was a weekly publication so we could feature 52 artists on the cover each year, instead of only 12."
Launched in 1993,
Chronogram
's mission is to nourish and support the creative and cultural life of the Hudson Valley. Chronogram was nominated for a 2010 Independent Press Award by Utne Reader.
"The Covers Show" will be exhibited at
Hudson Coffee Traders
, 288 Wall Street in Kingston, January 6-February 29. An opening reception will be held on Friday, January 6, 6-8pm. For more information call (845) 334-8600x103.