Richard A. Smith
Music producer Chris Hansen with sibling (and Luminary Media production manager) Sean Hansen
In anticipation of the Rhinebeck, Red Hook, and Tivoli Community Pages feature (see page TK), we hosted yet another Chronogram Conversations event at Terrapin in Rhinebeck in May. The room buzzed with regional influencers, ranging from Rhinebeck's mayor, to art gallery and retail business owners, musicians, spirit and wine makers—and the Luminary Media business development team.
The affable Brian K. Mahoney, Chronogram's editorial director, led a group of panelists in a discussion that wove themes of development, tourism, and sustainability into the evening. Attendees sipped award-winning Milea wines, which are produced less than 10 miles from Rhinebeck, and snacked on Bread Alone's freshly baked goods. Another treat: The founder of Tuthilltown Spirits, Ralph Erenzo, poured samples of his Hudson Baby Bourbon and Hudson Manhattan Rye whiskeys. (Kudos to Ralph; his "baby" was recently purchased by William Grant & Sons.)
Richard A. Smith
Bradley Quackenbush and Rhinebeck Mayor Gary Bassett
Richard A. Smith
Kim McGrath, Executive Director of the Red Hook Chamber of Commerce
Our "Conversations" series is a roving vehicle for community leaders and creative types to air local issues in a friendly, social setting. The idea is to present a viewpoint, and encourage your friends and community members to join the chat over drinks. and continue these discussions After the Luminary Media team has drawn the curtain on our monthly event, we encourage these discussions to trickle out onto the streets, in cafes over a meal, or at the pub with a pint.
To be invited to future Chronogram Conversations, please e-mail conversations@chronogram.com; the series will travel to Woodstock and Saugerties in July, Hudson and Catskill in August, and New Paltz in September. If you're interested in spotlighting your business at these events—or in the pages of Chronogram—connect with Anne Wygal at anne.wygal@chronogram.com. We have posted a video from the Rhinebeck conversation at Chronogram.com/Rhinebeckconversation.
Richard A. Smith
Luminary Media account manager Alana Sawchuck
Richard A. Smith
Photographer Dana Matthews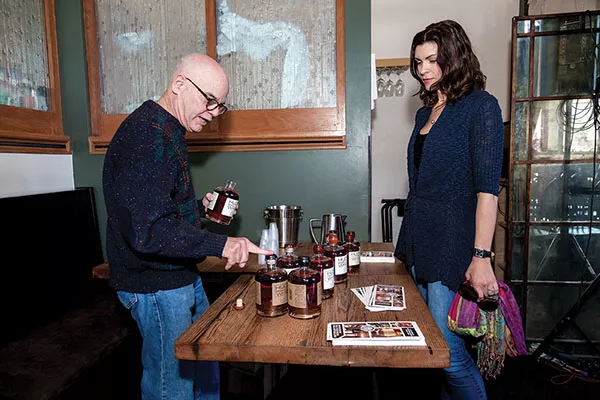 Richard A. Smith
Ralph Erenzo pours Tuthilltown Whiskey for realtor Abby Royce.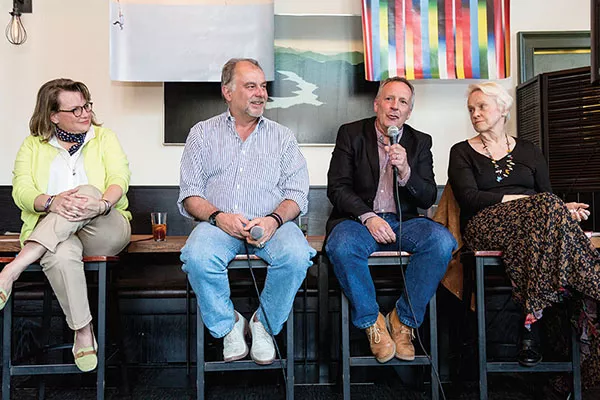 Richard A. Smith
Our panel: Rhinebeck Area Chamber of Commerce Executive Director Claudia Cooley, Paul D'Antonio of Gallery@Rhinebeck, Mayor Gary Bassett, and Barbara Schreiber of Rhinebeck Department Store
Richard A. Smith
The conversation in the restaurant at Terrapin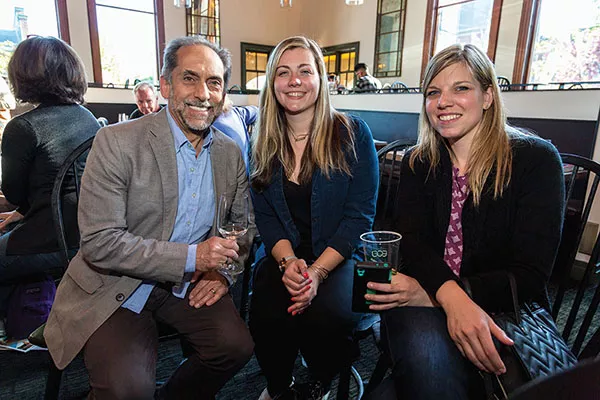 Richard A. Smith
Frank Gaglio of Barn Star Productions, Nellie Hill of Nellie Hill Events, and Theresa Palmer of I Kneaded This! Massage & Skin Care
Richard A. Smith
Milea Estate Vineyward general manager Bruce Tripp
[image-11]