John Garay
The audience at the Sustainable Entrepreneurship event at the Beekman Arms in Rhinebeck.
On May 8, the Luminary marketing and editorial team were joined by 140 attendees at a Chronogram Conversations held at the Beekman Arms. The gathering, an opportunity to network with local professionals and sample local food and drink, is also Chronogram's regional discussion platform. The subject was "Sustainable Entrepreneurship," and leading business owners and creatives gathered to listen and share their experiences of making good work in the Hudson Valley.
Chronogram Conversations – Sustainable Entrepreneurship in the Hudson Valley - Rhinebeck, N.Y. May 8, 2018 from Luminary Media on Vimeo.
Chronogram Conversations...Powered by AT&T and supported by ReThink Local, enjoyed an opening talk from Matt Stinchcomb. Founder of the Good Work Institute (and third employee of the global artisan marketplace, Etsy) Stinchcomb shared his experience in helping Etsy grow from an online place for people to buy handcrafted goods to a billion-dollar enterprise—and the frequent pivots, both professionally and personally—that led him to launching Good Work. (Read our piece on Good Work Institute and other local organizations that are redefining models for work.)


John Garay
Helene Lesterin, Johnny LeHane, March Gallagher, and Matt Stinchcomb in panel discussion.
Luminary founder and publisher Jason Stern then led a panel to discuss how entrepreneurs can thrive in the region. The panelists included Aja Hudson (Earth Designs), March Gallagher (Community Foundations of the Hudson Valley), Johnny LeHane (Hudson Valley Startup Fund), Myriam Bouchard (ReThink Local), Helene Lesterin (Co. Workspace, Accelerator of Trillions), and Matt Stinchomb.
Guests were treated to a preview of work from artists in the Gallery@Rhinebeck stable. Attendees also sampled a bevy of culinary delights from The Tavern at The Beekman's new chef, Eric Mann. Angry Orchard supplied samples of their hard ciders. Amy Lewis Sweetman showcased her sculptures, while the Claudia Cooley and the Rhinebeck Chamber of Commerce aided with support. AT&T, the event signature sponsor, shared their vision for a global company working on the local level. SUNY Ulster shared collateral on an upcoming Women's Entrepreneurs program, too.


John Garay
Alberto Flores and Carole Amper of Toucan Hats.
Chronogram Conversations is an opportunity for local businesses to sponsor an event that brings together community, professionals and creatives. If you're considering an expansion of your customer base or brand awareness campaign, reach out to our marketing team for more information.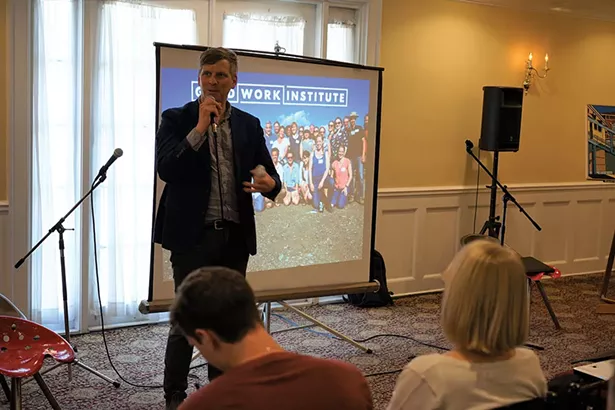 John Garay
Matt Stinchcomb presenting on the Good Work Institute.
John Garay
Panelists Aja Hudson, Helene Lesterin, Johnny LeHane, March Gallagher, and Matt Stinchcomb, and Myriam Bouchard with moderator Jason Stern (standing).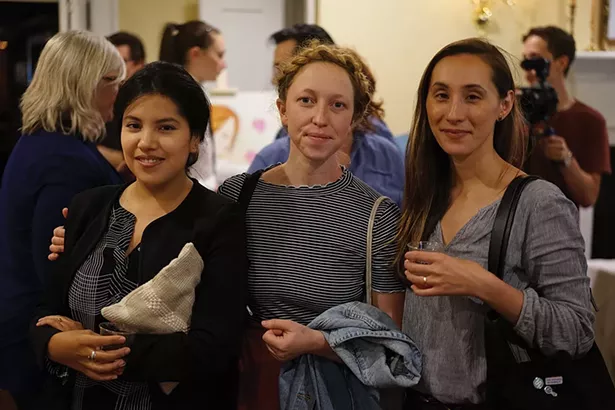 John Garay
Nina Barry, Rachel Yeager, and Stephanie Fisher-Meyer of Limetta Studio.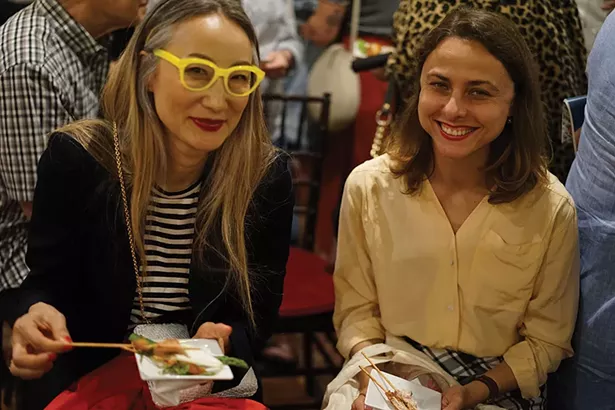 John Garay
Oejong Kim and Anna Pulvermakher of Loopy Mango.
John Garay
Ed Bergstraesser of AT&T with Leigh Bahnatka of Record Storage Solutions.