John Garay
Chronogram publisher Jason Stern was one of the panelists.
On Thursday, November 1, the Luminary Media team hosted a rousing Chronogram Conversations event at CO., a co-working space in Rhinebeck, N.Y. More than 140 people came to network, listen, and participate in the discussion on "The State of Independent Regional and Local Media."
Guests nibbled on delicious Indian fare from
Cinnamon
restaurant (Rhinebeck) as well as gluten-free desserts from T-Spoon.
Angry Orchard
brought limited-release hard ciders for sipping;
Benmarl Winery
sponsored with wine.
Brian K. Mahoney, Chronogram's editorial director, moderated the panel that featured media leaders from around the Valley: Jimmy Buff (Kingston Radio) Geddy Sveikaukas (Ulster Publishing), Mariel Fiori (
La Voz
), Lisa Green (Rural Intelligence), Gary Chetkoff (WDST) and Jason Stern (Luminary).
The panel was preceded by a wonderful "State of the Media" overview by Jim Friedlich, CEO and executive director of the
Lenfest Institute for Journalism
Inquirer and owner of the
Philadelphia Inquirer
. A moment of levity—and a highlight of the event—was an exercise with a yogi visiting from India, the founder of "Laughter Yoga."
Amara Projansky also gave a presentation on Luminary Media's latest journalism project: The River, a Hudson Valley newsroom covering regional issues of national relevance.
Learn more about The River here
.
Title sponsors for this Conversation included AT&T and
Ulster Savings Bank
, who each spent a moment sharing their will to support independent business owners. CO and ReThink Local were co-sponsors as well.
Chronogram Conversations - November 1, 2018 - CO - Rhinebeck from Luminary Media on Vimeo.
Chronogram Conversations are made possible through sponsorship support by local companies and organizations.
Contact us
to explore how your organization can participate in speaking to tens of thousands of local readers and attendees as an underwriter of our next Chronogram Conversations event.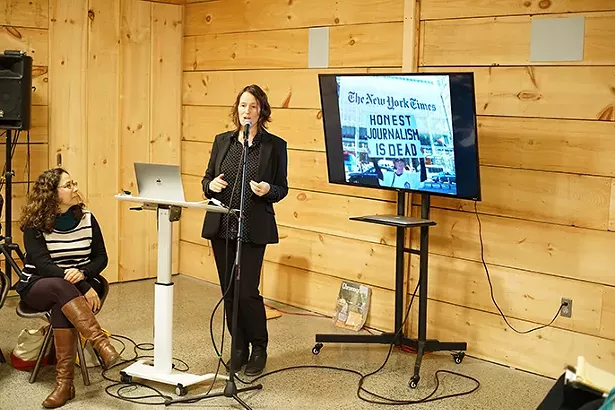 Luminary Media CEO Amara Projansky gives a presentation on The River, an ad-free, reader supported newsroom covering the Hudson Valley.