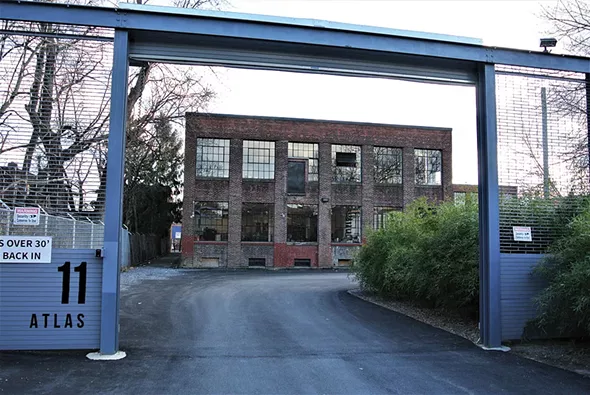 John Garay
Atlas Industries & Studios in Newburgh, site of our second Chronogram Conversations event on March 8.
The timing couldn't have been better for the second in Luminary Media's series of salon events. Chronogram Conversations took place in Newburgh on March 8, and many of the quickly evolving city's movers and shakers came out to chat. The hosting sponsor, Atlas Industries & Studios—just steps from the thriving pedestrian thoroughfare of Liberty Avenue—was an idyllic venue for the session. Guests were treated to samples of wine from vintners Palate Wines & Spirits, Graft Cidery tastings, and Newburgh Brewing Company.
The goal of the monthly series is to bring together community leaders, influencers, and creatives to discuss community issues in a social setting. The series' locations parallel our Community Pages section and inform their content, as you can read on page 32. Luminary Media was also well represented by our business development and creative teams, including Newburgh Account Executive Anne Wygal. Editorial Director Brian K. Mahoney moderated the afternoon's panel discussion on "What's Next, Newburgh?" with attorney Austin DuBois of Blustein, Shaprio, Rich & Barone; Paul Halayko, co-founder/owner of Newburgh Brewing Company; Aquanetta Wright, of Ferry Godmother Productions; Liberty Street Bistro chef/owner Michael Kelly; and Cathy Collins, executive director of Habitat For Humanity.
April's "Conversation" will take place in Beacon; images and video from that event will appear in the May issue of Chronogram. There are still advertising placement opportunities available, where businesses from Beacon and the surrounding area have the opportunity to shine as leaders of the community. Contact Ralph Jenkins: Ralph.Jenkins@Chronogram.com
Thank you to Jenny's Floral, JTD Productions, and Footage Films. You can watch a video from Newburgh's March Chronogram Conversations at Atlas Industries & Studios at Chronogram.com/newburghconversation, as well as on our Vimeo and YouTube pag
John Garay
Yaakkov Sullivan of Palate Wine & Spirits expounds on women winemakers.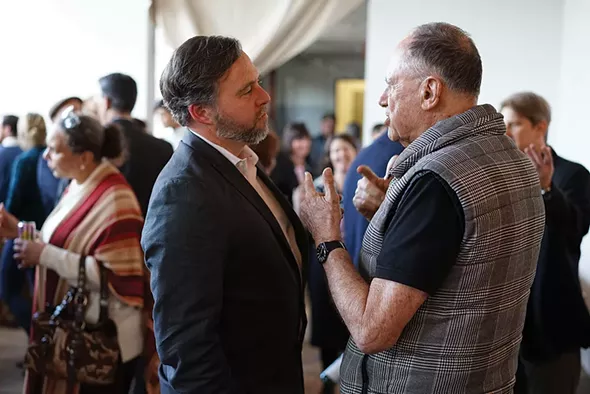 John Garay
Luminary Media Editorial Director Brian K. Mahoney with realtor Daniel Aubry.
John Garay
Dan Brown, owner of The Wherehouse.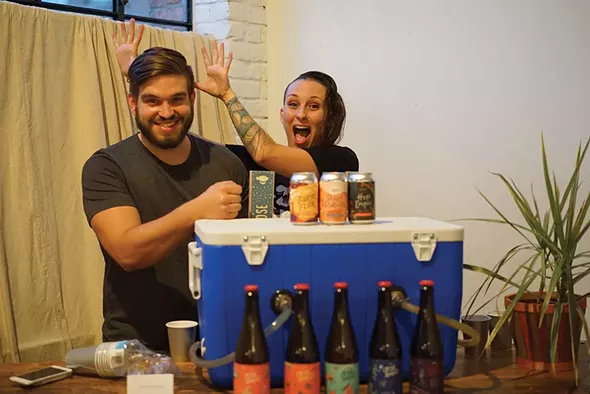 John Garay
Kyle Sherrer and Sae Kenney of Graft Cidery.
John Garay
RUPCO CEO Kevin O'Connor and Philippe Pierre, owner of Ms. Fairfax and Palate Wine & Spirits.
John Garay
Interior designer Michelle Rodriguez of OneidaMichelleCruz, Eric Jarmann of Newburgh Mercantile Custom Picture Frames, designer Pat Nunnari.
John Garay
Executive Director of Safe Harbors of the Hudson Lisa Silverstone, Chronogram Account Executive Anne Wygal, Eric Jarmann, Robert Grunnah of Newburgh city living, real estate broker Cameron McFadden.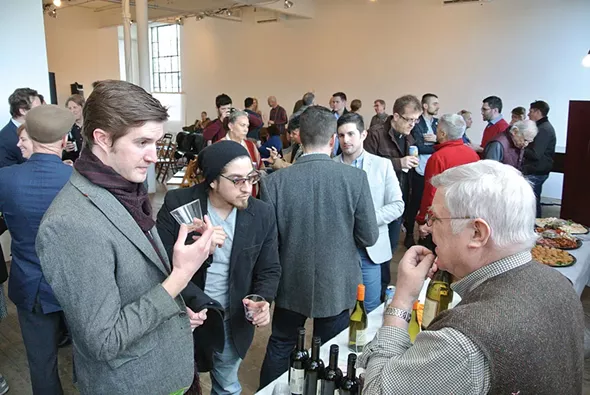 John Garay
Luminary Media copywriter Peter Martin, artist Will Teran.
John Garay
Paul Halayko of Newburgh Brewing Company, Cathy Collins of Habitat for Humanity, event promoter and activist Aquanetta Wright, and attorney Austin Dubois speaking on the panel with Brian K. Mahoney.