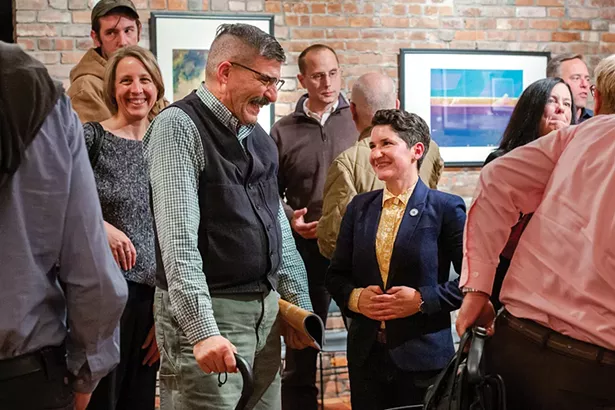 Photo: Anna Sirota
Charles Glasner chatting with Sarah Salem.
Any public forum on economic development, community planning, and gentrification in the Hudson Valley is bound to be robust, and October's Chronogram Conversation was no exception. Held on a brisk Tuesday evening at Clarkson University's Beacon Institute for Rivers and Estuaries, by 6:30pm the room was full with a mix of citizens and journalists, economists, and social scientists, who mingled over hors d'oeuvres from Bread Alone and local wine. They were in for a substantive, erudite discussion.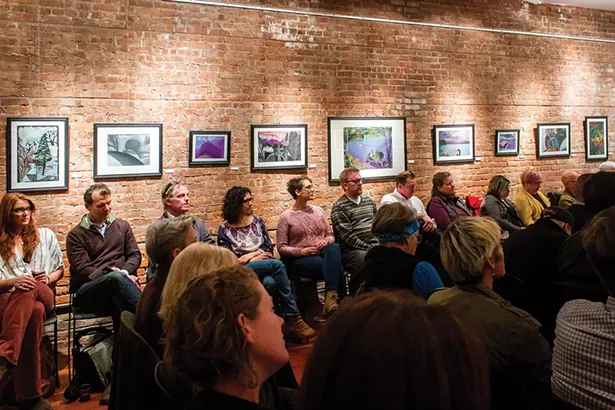 The five panelists were Kevin O'Connor, CEO of RUPCO; Joe Czajka, senior VP for research, development, and community planning at Pattern for Progress; Sarah Salem, Poughkeepsie Ward 2 councilmember; Robyn Hannigan, provost of Clarkson University; and Jeffrey Anzevino, land use advocacy director for Scenic Hudson. Anzevino distilled the issue in his introductory remarks: "There's a lot of life in these cities. But we're failing the people who live here."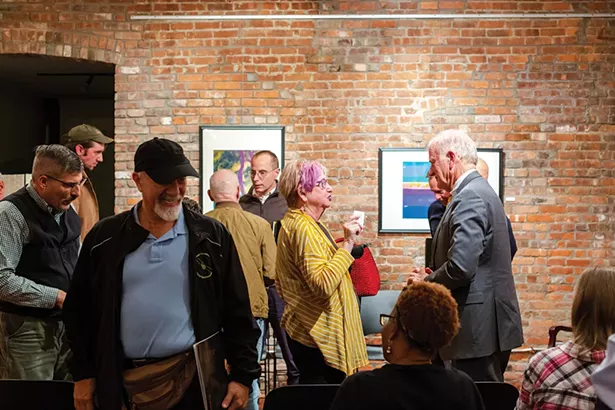 Photo: Anna Sirota
Hudson Valley Parent Publisher Terrie Goldstein and Clarkson University President Tony Collins.
The conversation built on our feature on economic development initiatives in the October issue of Chronogram, "Space Race," published in collaboration with The River, and it was not light on specifics.
Photo: Anna Sirota
Beacon Instutue for Rivers & Estuaries Education Coordinator Brigette Walsh and Jordy Meltzer of Chronogram.
After noting the irony that many employees working on Beacon's bustling Main Street probably couldn't afford to live there, Czajka discussed the need for job creation that keeps pace with change in our growing cities. "Eighty percent of firms in the Hudson Valley employ fewer than 10 people," Czajka said. "We need to look at incentives for small business to create more sustainable jobs that pay a living wage." He also noted that workforce development should start earlier, to create better results and ensure all communities benefit. "Diverse communities make for creativity," he said.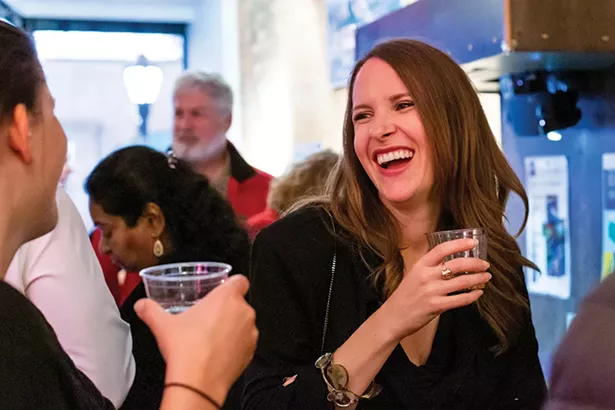 Photo: Anna Sirota
Lynn Freehill-Maye.
One way to create more jobs and boost productivity is by increasing the value add of products already made locally, Hannigan said. She pointed to Iceland as an example. There, businesses have developed ideas to use the meat, oil, skin, bones, and innards of cod to increase export value by 100 percent while the annual catch has fallen by 45 percent.
Photo: Anna Sirota
Clarkson University's Beacon Institute for Rivers & Estuaries.
Salem, who described their role as "being a listener," was focused on how local communities can work together, noting how some municipalities have leveraged their aggregate buying power to move to green energy providers, while keeping costs affordable for consumers.
Photo: Anna Sirota
Pattern for Progress's Joe Czajka, Scenic Hudson's Jeff Anzevino, and RUPCO's Kevin O'Connor.
Audience questions broadened the discussion. How can we ensure that people of color are full participants in the development of the Hudson Valley? How do we meet the needs of rural communities? How can we finance affordable housing solutions that don't require the beneficence of some large-scale developer?
Photo: Anna Sirota
Poughkeepsie Common Councilmember Sarah Salem and Clarkson University's Robyn Hannigan.
The panelists all agreed that there is no "magic bullet" to ensure equitable development; rather, a patchwork of policies, economic development, fair housing requirements, and other initiatives would be required. The work is just getting started.
—Phillip Pantuso