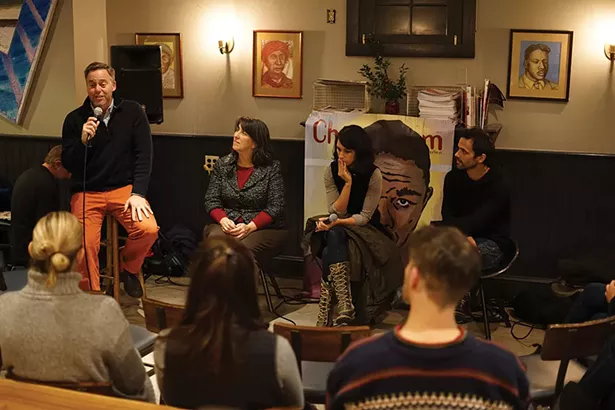 John Garay
The panel: Chronogram Editorial Director Brian K. Mahoney; North East Community Center Executive Director Jenny Hansell; Mimi Ramos, cofounder of the Spring for Sound music festival and real estate broker with Harney Real Estate; Gregg Osofsky, cofounder of the Watershed Center.
MILLING IN MILLERTON
On a chilly mid-December eve, Millerton, Millbrook, and Amenia residents and business owners warmed themselves with whiskey, coffee, tea, and organic nibbles at Irving Farm Coffee Roasters for our final Chronogram Conversation of the year. Luminary's networking and community discussion series provided the venue to discuss what good growth looks like in Eastern Dutchess County—and attendees had plenty to say.
John Garay
Piper Broderick, sales and marketing manager for Silo Ridge Field Club.
Our Conversations series is also a setting for regional sponsors to showcase their wares. Harney & Sons Tea presented a sampling of holiday-inspired teas. Our venue host, Irving Farm, poured single-sourced drip coffee. McEnroe Organic Farms served a selection of house-cured meats, pate, beef tartare, and cheeses. Hillrock Distillery poured samples of their bourbon, rye, and single-malt whiskeys.
Agrisculpture once again provided custom-built stools for our panelists, made from reclaimed tractor parts.
The panel discussion began with Jenny Hansell (North East Community Center), Mimi Ramos (Harney Real Estate and cofounder of the Spring for Sound music festival), and Gregg Osofsky (Watershed Center) who discussed their views on what makes Millerton singular, as well as some challenges facing the community, foremost among them youth employment and activities, equitable development, and aging village infrastructure. Brian K. Mahoney moderated the panel.
John Garay
Dick Hermans, founder of Oblong Books and Music, and Jenny Hansell of the North East Community Center.
As we launch headlong into 2018, Luminary presents Chronogram Conversations sponsorship opportunities to regional partners. Get face-to-face with 2,000-plus attendees and amplify your brand's messaging to Chronogram's audience before, during, and after the Conversations via our multiple media channels. This includes direct email, print placement, social media posts, and a video produced at each event. Contact Brian.Berusch@Chronogram.com to discuss your Conversations sponsorship.
John Garay
Wade McEnroe, executive chef of McEnroe Organic Farm.
John Garay
Irving Farm Coffee House is located on Main Street in downtown Millerton.
John Garay
Kathy Shapiro, manager of Irving Farm Coffee House, and author Kristen Panzer.
John Garay
Douglas Thorsey, sales and marketing manager for Hillrock Estate Distillery, and Michael Cobb, CEO of Crown Maple Syrup.