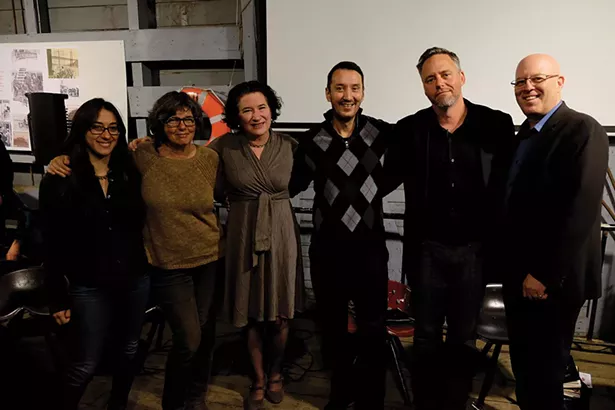 The panelists at the October 12 Conversation: Rebecca Rojer, Lynn Woods, Jennifer Schwartz-Berky, Michael Muyot, Brian K. Mahoney, and Guy Kempe (Gloria Waslyn).
We're Gonna Need a Bigger Boat...
On October 12, Luminary Media hosted a riveting Chronogram Conversations event on board the Pennsy 399 barge, tethered in Kingston's Rondout Creek. The vessel—complete with a wood-burning stove and 125 members of the Chronogram community—was provided by the team behind the SS Columbia revitalization project. Captain Ann Loeding and crew are raising funds to restore the steamship to her original 1902 glory, which is currently berthed in Buffalo and receiving a full overhaul. The hope—which entails a hefty price tag—is that in the coming years, the SS Columbia will transport hundreds of recreational and educational groups from Manhattan to the Hudson Valley, instilling a deeper appreciation for the river and its offerings.
The topic of our panel discussion—"New Paradigms in Economic Development: How Our Past Can Inform Our Future," was moderated by Editorial Director Brian K. Mahoney. Panelists included: Michael Muyot (CRD Analytics), Jennifer Schwartz-Berky (Hone Strategic, Ulster County legislator), Lynn Woods (co-producer/director, Lost Rondout), Guy Kempe (RUPCO) and Rebecca Rojer (filmmaker, Ulster People for Justice and Democracy).
Chronogram Conversations - Kingston Rondout, N.Y. - October 12, 2017 from Luminary Media on Vimeo.
Sponsorship of our Conversations series provides regional makers an opportunity to share their products and make connections with community leaders, business owners, and creatives. On board the Pennsy 399, Catskill Brewery's Chris Lofaro poured an ale and a lager for our thirsty guests, while Benjamin Horn and Kashka Glowacka from Smorgasburg made signature cocktails with local whiskey and apple cider. Peace Nation Cafe brought a dizzying array of healthful nibbles, as did Redstart Coffee, which opened recently in the Kingston Rondout. Amy Lewis Sweetman of Agrisculpture was on hand to talk about her reclaimed farm machinery-as-art and home decor.
The next Chronogram Conversations event will take place on November 17 in Poughkeepsie, in partnership with the Environmental Cooperative at the Vassar Barns and the Poughkeepsie Far, Project. Email marketing@chronogram.com for information and to be added to our invite list.

The Chronogram community gathered for the conversation (Roy Gumpel).
Peter Wetzler and Eleni Reyes performing on the barge Pennsy 399 (Gloria Waslyn).
Josie Eriole of Redstart Coffee (Roy Gumpel).
Abby Berusch, Aselya Waltzer, Alison Chawla, and Navin Chawla (Roy Gumpel).
Kashka Glowacka and Benjamin Horn from Smorgasburg serving cocktails (Roy Gumpel).
Tim Weidemann from the Ulster County Office of Economic Development flanked by Luminary Media's Emily Boziwick and Samantha Liotta (Roy Gumpel).