One might declare it a different world today for gay people than in 1998, when Matt Shepard, a University of Wyoming student, was beaten, tortured, and lashed to a cattle fence on a hill above Laramie. But the recent suicides of several American teens, following harassment for being gay or perceived as gay, suggest otherwise.
Soon after Shepard was taken down from the fence and died in a nearby hospital, Moises Kaufman and members of his New York City-based Tectonic Theater Project journeyed to Laramie. Over the next few weeks, actors interviewed one hundred people about what they saw, what they felt, and what the killing of Shepard meant to them. The interviews became "The Laramie Project," first performed in New York City in 2000 and eventually around the world.
Called "theatrical journalism" by New York Times reviewer Ben Brantley, "Laramie" was not a gay rights broadside; it offered a troubling tapestry of dissenting American voices, most humane, some ashamed, and others defiantly not contrite about Shepard's fate. "Laramie" was presented twice in this area: a staged production in 2004 by the New Paltz Summer Repertory Theatre and a 2002 reading by the Mohonk Mountain Stage Readers' Theater Company.
The restless intelligence of Kaufman moved the playwright and his troupe to return to the Wyoming college town in 2008, to question life since Shepard's death, which included memorial vigils and protests, a high-profile trial and the conviction of Aaron McKinney and Russell Henderson, who claimed they were strung out on crystal meth and simply looking to rob someone that October evening. The resulting work, "The Laramie Project: An Epilogue (Ten Years Later)," will have a Hudson Valley premiere reading this month by the Mohonk Mountain company.
"I think that what makes the sequel more than agit-prop is the examination (or point of view) that it takes on the nature of change," said MMSRTC co-founder and production director Christine Crawfis in an e-mail interview. "How is change measured? Is change lasting? The purpose for Tectonic members to revisit Laramie was not to open old wounds, but rather to see if and how the town had changed." What makes this sequel especially powerful, Crawfis said, is the inclusion of interviews with Shepard's slayers, whose voices were absent from 2000 production.
The reading performers for "The Laramie Project: An Epilogue (Ten Years Later)," are Guy Anthony, Terri Brockman, Larry Carr, Michael Frohnhoefer, Rich Hack, Zsuzsa Manna, Molly Parker-Myers, and Thom Webb. Anthony and Carr were members of the MMSRTC's 2002 reading.
During casting, Crawfis was jarred to learn that several of her actors had never heard of the true-life event that had inspired the play. "I thought that the Matthew Shepard story was more in the common language than it turned out to be," she said. "And that's one of the main points of this sequel: That life moves on and what we think of as a lasting legacy may dwindle as we move beyond the fresh details of the story."
Mohonk Mountain Stage Readers' Theater Company presents "The Laramie Project: An Epilogue (Ten Years Later)," on Friday, November 5 and Saturday, November 6 at 8pm. Unison Arts & Learning Center, 68 Mountain Rest Road, New Paltz. Tickets: $12 members, $16 non-members in advance, $14 and $18 at the door. (845) 255-1559; www.unisonarts.org.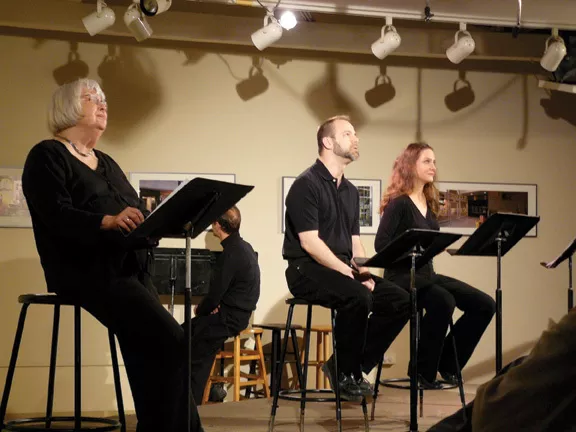 Stuart Bigley
Barbara McMahon Scanlan, Jack Kroll, Michael Frohnhoefer, and Janet Nurre performing "We Cannot Know the Mind of God" by Mikhail Horowitz at Unison in 2008.