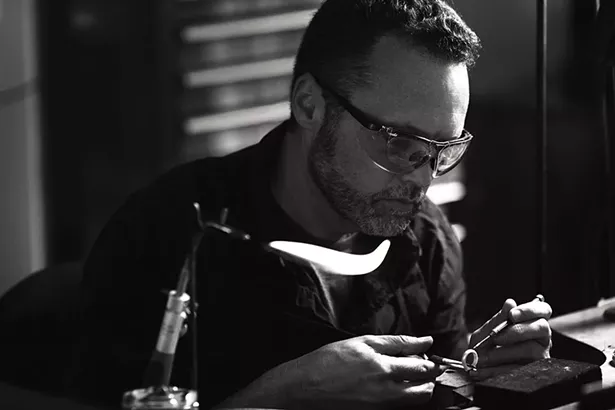 Courtesy of Geoffrey Good.
After years of working on Madison Avenue studying under famous designers like Cartier and Harry Winston, Geoffrey Good moved to Hudson to open his own jewelry showroom and workshop. He specializes in made-to-order fine jewelry for clients around the world.

Good says, "An engagement ring is intended to last forever, so it's important to know the background and qualifications of the person making the ring for you. Many people don't take the time to learn about craftsmanship, focusing only on the diamond(s) at the expense of the mounting." Read our profile on Geoffrey Good Fine Jewelry.

After you find the right jeweler, you'll need to know what to expect. Read our 10 tips on custom designing an engagement ring.
Choosing the Right Artisan for Your Custom Jewelry Project
1. Listening Skills. Find a jeweler who listens to your needs and isn't only trying to sell you something pre-existing from their inventory. Each couple is unique, and a qualified craftsperson should be able to create accordingly.
2. Creative Chemistry. You should resonate with your jeweler and be welcomed into their creative process. It should be a positive, expansive experience for all parties. I never stop learning from my clients.
3. Instagram-Approved. Ask to see photographs of other pieces the jeweler has made, and check out their social media accounts, to get a feel for their overall body of work and process.
4. Sterling Track Record. Ask about their education in the trade and their experience in creating similar items for other couples. An engagement ring is a significant expense, and not all jewelers are equally skilled at both the designing and the making. You want the whole package.
5. Budget Consciousness. Be prepared to pay for quality, but be upfront about your overall budget with your chosen jeweler. It shouldn't be an adversarial process (like buying a car). Knowing what is comfortable for my clients lets me make the best ring possible for them, whether their budget is extravagant or modest. If the jeweler is helping you to select a diamond and your budget allows, ask for one with GIA certification; this is ironclad assurance of the quality of your stone.