Founded in 2006 by Tom Crowell and James Cunningham, Chatham Brewing helped pioneer the rise of craft beer in New York as Columbia County's first brewery. They've since established themselves as one of the top brewers in the region, talking home the Matthew Vassar Cup for Best Craft Brewery in the Hudson Valley at TAP New York Craft Beer and Food Festival in 2007, 2012, and 2016. Fifteen years in, they're a staple on Chatham's quaint Main Street, an early fixture of what has grown into one of the Hudson Valley's most iconic modern industries.

Early Pioneers
Crowell and Cunningham didn't always think that they would form one of the area's most prominent breweries. The two were introduced by their wives, who knew about their shared passion for brewing. "We both worked previously in the mid to late 1990s in some early craft breweries, and then had gotten married and had kids and sort of put the idea of one day having a brewery on the back shelf," says Crowell.
When they pair started, there weren't many breweries in the area. Their hometown of Chatham was particularly lacking. "At that point, there weren't many. There was Brown's in Troy, Evans in Albany, and Keegan's down in Kingston," says Crowell. "We're sort of in between all those and were like, 'let's see if there's room for another.'"
The pair bought a three-and-a-half-barrel brewing system from a bankrupt Albany brewery and started operating out of a garage space in an alley off of Main Street in 2006. "When we started out, we just had one event called 'Growler Hours.' We'd fill growlers on Saturday afternoons for a couple of hours and that was it," says Crowell. In 2008, local homebrewer Matt Perry approached the pair about joining their team, helping to amplify their offerings. He's now the head brewer and a partner since 2017.
As the craft beverage industry exploded, the trio decided to open their current taproom and brewhouse on Main Street in Chatham in 2016. Through the years, their customers have remained loyal. "People were developing a good appreciation for handcrafted products, whether it's food or beverage," explains Crowell. "Chatham's got a nice location. It's sort of in between the Capital region, the Hudson Valley, and the Berkshires, so we definitely found a receptive audience."
Crafting Enjoyable Brews
Today, Chatham Brewing's operations have expanded far beyond their original equipment. They still have their original barrel brewing system and the double-sized fermenters that go with it. But their main production brewery is a 20-barrel brewhouse with 40 barrel fermenters. At any given time there are 14 beers on draft in the taproom, ranging from IPAs to ales and lagers.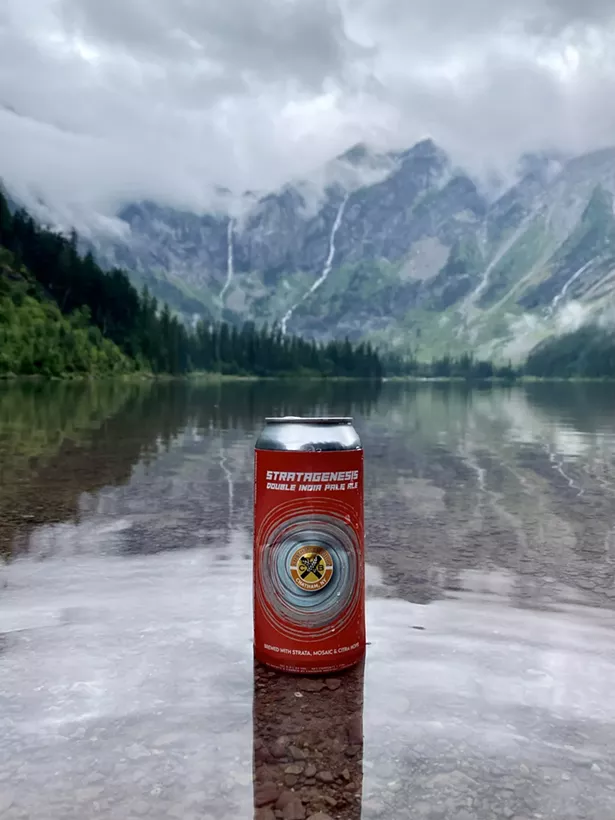 The variety of the beers is part of Chatham Brewing's philosophy: making beer accessible to any and all enthusiastic drinkers. "We brew beers that are approachable and drinkable," says Crowell. "We want beers that people will be able to enjoy more than one of."
One of the company's most popular brews is "Czech'rd Past," a Bohemian-style pilsner. "It's meant to emulate sort of what the original Budweiser lager would've been from back in the 1500s in Europe," says Crowell. "It's just a nice, crisp, easy-drinking lager." Another popular choice is the "Farmer's Daughter," a rye IPA brewed using grain from Columbia County farms. "It's got a little spiciness. It's sort of closer to a West Coast-style pale ale, as opposed to one of the hazy, New England IPAs," says Crowell.
When they opened the Main Street taproom, Chatham Brewing also began canning some of their most popular beers onsite, a decision that came from observing industry changes. "We looked around nationally and saw that on the West Coast, the trend was moving away from the bottles to cans," says Crowell.
At any time, there are about six canned beers in production. "Czech'rd Past" and "Farmer's Daughter" are always available for purchase, along with some seasonal beers including Oktoberfest, a German-style lager. Four-packs are distributed from Saratoga down through the Hudson Valley. They can be purchased at the brewery, select restaurants, and local Price Choppers and Market 32 grocery stores.
For those who don't like beer, Chatham Brewing is still committed to providing them with high-quality choices. Sip on hard ciders from Albany's Nine Pin Cider Works, or wine selections from Chatham's Sabba Vineyard and Hudson Chatham Winery, located in Ghent. For spirit lovers, the taproom offers selections from Cooper's Daughter Spirits in nearby Claverack, Albany Distilling Company, and the award-winning Hillrock Estate Distillery in Ancram.
In addition to all the drinks, the taproom offers an extensive American-style bar food menu. Several vegan, vegetarian, and gluten-free options are available, including the cauliflower "wings," which are breaded and tossed in your choice of teriyaki, mild buffalo, garlic parmesan, or other types of sauces. A "build your own" and mac-and-cheese burger are also popular, and are made with beef from Trowbridge Angus farms in Ghent. "It's sort of standard brew pub fare," says Crowell.
A Commitment to Customers
The taproom's offerings create a close-knit, inviting space. "It's a very family-friendly and very welcoming atmosphere. There's a lot of regulars who know each other, but they're always happy to chat with out-of-towners," says Crowell. "We have a very energetic staff that enjoys working there, so it's got a really good, positive energy."
The staff's commitment to their product is part of what continues to make the taproom a mainstay in what has become a crowded craft brewing space. "There's so much beer out there today, but I think it is that pride of product," says Crowell. "We take a lot of time to get to know our customers and be responsive to them."
He hopes that Chatham Brewing will continue connecting with the community in the future. "We're not looking to change anything," says Crowell. "We want to just keep it going and keep making it a place where the community likes to come together and gather."
Chatham Brewing is open Mondays and Wednesdays from 4-9pm, Thursday-Saturday from 12-10pm, and Sundays from 12-9pm. Pick-up orders can also be placed online.
Chatham Brewing
59 Main Street, Chatham
(518) 697-0059
info@chathambrewing.com