Some childhood memories stick to your ribs like a good bowl of soup, warm and nourishing. One of Bekah Tighe's favorites is of the holiday concerts at the Chapel Restoration. "They'd sing classical, and they let each kid hold a little beeswax candle," she says. "It's one of those incredibly tangible, vivid memories."
The Chapel Restoration,
just north of Foundry Cove in Cold Spring, was designed by a 19-year-old immigrant named Thomas Kelah Watson and dedicated in September of 1834. It was the first Catholic church north of Manhattan, meant to serve the foundry families, many of them new arrivals from Ireland. Abandoned in 1906 and struck by fire in 1927, it lay in ruins until 1971, when a volunteer group representing six different religions bought the property from the Archdiocese and rescued and renovated it. It was rededicated in 1977 as a historic site, a place of "quiet contemplation and repose," a place for "significant occasions and events" and for cultural programs.
"I saw it standing forlorn and lost, in disrepair, high on its rock overlooking our beloved Hudson and I nearly wept at the sight," said actress Helen Hayes, one of the original group who rescued the building from oblivion.
Tighe had her wedding there. "It was wonderful, with perfect weather," she recalls. "The river was sparkling. We married at 5pm—that golden hour when the sun was slanting right down on the water."
As a member of the Chapel Restoration's all-volunteer board, she's been a witness to all kinds of "significant events" there over the years. People often choose it for their weddings, memorials, and christenings. And as the board has gotten younger and more diverse, the programming has broadened its scope.
A Musical Interlude
At the Chapel Restoration, you can hear "Jazz at the Chapel" (last season's finale was Garrison native
Sara L'Abriola
with her quartet, and a second show was added by popular demand) or the Sunday Music Series, which finished out 2019 with
REBEL Ensemble for Baroque Music
. Then there's the Restoration Roadhouse, an "indoor/outdoor party with local craft beer and a food truck," welcoming indie musicians passing through the area on tour.
"Every time we have a concert, we welcome new people who say, 'I didn't even realize what this was! I've only ever seen the back of it'," says Tighe. "That's all you can see from the train. The front, the portico, and columns faces to the river. When performers park and walk up with their gear, they are just stunned. They love playing here."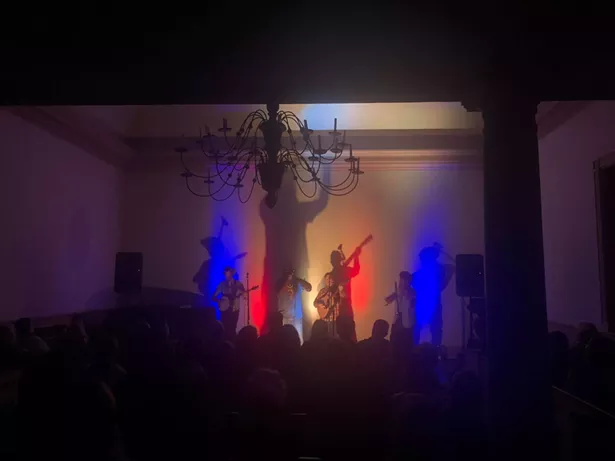 Gangstagrass at The Chapel Restoration
Each concert series has its own following of fans, albeit with considerable overlap—fans who never miss a chance to be there when the music rings out across the water. "The Sunday Music Series has a really dedicated following; they show up early and it fills up," says Tighe. "The Restoration Roadhouse people try to come to every one, Then there's the Sunday evening
Sunset Reading Series
— people call it 'church,' and it is very spiritually fulfilling. The readings happen at four, with a sunset reception on the portico afterwards."
Riverside Programming
The Chapel Restoration can be rented for weddings and events; the management has a list of local florists, caterers, and musicians. Available for your celebration are an ebony mahogany Steinway and a custom pipe organ designed specifically for the Chapel's acoustics and architecture. "One of our goals is to make better use of the pipe organ," says Tighe. "People use it for weddings sometimes. But no matter what kind of music or spoken word, the acoustics are really unparalleled. And on a nice day, with the doors open to the river—well, it has to be experienced to be believed."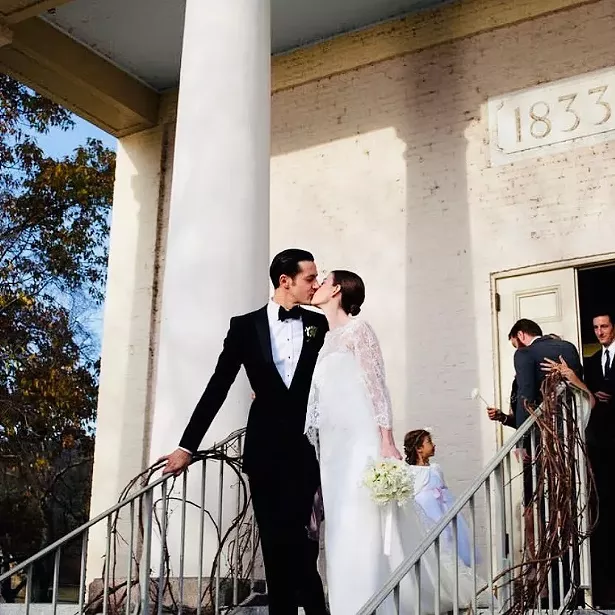 The Chapel Restoration's team knows how to entice talent. "The Sundays coordinator has great connections at Lincoln Center, so we get world-class artists," says Tighe. "Then for the Roadhouse, we get the best we can possibly afford for Americana and roots music. This chapel was built for immigrants, so having roots music at the workers' chapel feels like a perfect fit."
The Sunset Reading Series, which will welcome poet
Jeffery McDaniel
in April and authors Francine Prose and Mary Gaitskill in May and June, is yet another flavor of peak experience. "We have intermission, because it's just so much fun to go outside, and the authors come out on the portico and mingle.
Octavio's Food Wagon
comes and brings amazing things like shrimp tacos and veggie quesadillas, and we sell Industrial Arts beer and wine. It's just a very welcoming vibe."
"The Sunset Reading Series in Cold Spring is one of the most elegant, beautiful venues I've ever read in. The acoustics are excellent and the audience is too—clearly the people drawn to the series are passionate, active readers, the kind of audience every writer hopes for," Gaitskill said after her last appearance there.
The volunteer board (there are fifteen regular members and eighteen advisory) is not by any means done finding new ways to enjoy their treasure and share it with the world. "Children's programming is our next focus," says Tighe. "We've done a few things, a puppet show, a magic show, and we're looking to do more. I'm not so sure we could get the board to let the children hold beeswax candles these days, but they'll get a taste of what struck me and stuck with me all these years."