Quyen Dac Nguyen
Rock climbing at the Mohonk Preserve.
With a college of growing prestige, a highly walkable village center, a rail trail, and thousands of acres of preserved land, New Paltz has it all...
The view from the top of the Haggerty Administration Building on the SUNY New Paltz campus, is, to put it bluntly, pretty sweet. One of the lucky owners of that view is SUNY New Paltz President Donald Christian. "I can look out my office window and see the Shawangunk Ridge, the Catskills, and the marvelous Wallkill Valley spreading out below," says Christian. "I can take the elevator down and walk into a village with restaurants, shops, and art stores. I can also drive to the Metro-North station in Poughkeepsie and be in New York City in an hour and a half. If you wanted to create a classic college town, you couldn't do better than New Paltz."
The college has certainly had an outsized impact on the community. Since its official accreditation as a four-year institution in 1938, the school has become the dominant economic force in New Paltz, providing jobs and a satellite industry of supporting businesses. In a village with a population of 7,000, SUNY New Paltz's combined undergraduate and graduate enrollment for 2018 is 7,565 students. And the college continues to grow, both in size and prestige. (The school is now one of the most selective among the SUNYs and had its largest—and most diverse—incoming freshmen class this year.) New dorms have opened in recent years and renovations were completed on Sojourner Truth Library and Wooster Hall. Science Hall, a 77,000-square-foot building designed to support the college's burgeoning enrollments in the STEM fields, opened in 2017. "Alumni who come back after not visiting for several years are blown away by the pristine appearance of the campus, the new buildings, and the overall physical improvement," says Christian. A building devoted to mechanical engineering will be opening in 2019, connecting students with regional manufacturing and technology firms eager for qualified job applicants.
But Not Just a College Town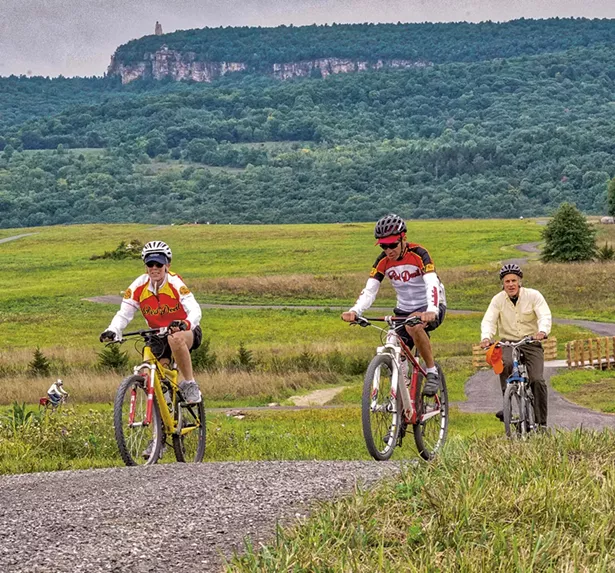 Martin Weiner
The recently opened River-to-Ridge Trail
Another cornerstone of New Paltz's economy is nature tourism—and fall is peak tourist season. "We do over a quarter of our visitation in about a month, between late September and late October," says Gretchen Reed, director of marketing and communications at the
Mohonk Preserve
, New York's largest nonprofit nature preserve, protecting over 8,000 acres and welcoming over 200,000 members and visitors annually. It's also a premier destination for rock climbers—50,000 climbers visit each year to scale hundreds of established routes. (Over Columbus Day weekend, the Preserve, in partnership with the
Gunks Climbers' Coalition
is presenting the 20th annual Gunks Climbing Film Festival, with a reception at the Preserve Visitor Center on Friday night and films screened at Studley Theater on the SUNY New Paltz campus on Saturday.)
For lovers of adventure sports, the Preserve and the rest of the protected land along the Shawangunk Ridge, which the Nature Conservancy describes the area as "one of the last great places on Earth"—is a mecca of endurance, as evidenced by two annual events. The aptly titled Survival of the Shawangunks is a triathlon-type event across natural terrain with multiple runs and swims. The top finisher from the 2018 race was Astoria's Timothy Clarke, with a time of 4:38:15. For those itching to compete, Rock the Ridge, a 50-mile race, will be back on May 4, 2019. "Start training now," Reed recommends.
The biggest recent news in New Paltz has been the opening of the River-to-Ridge Trail, a $1.7-million project of the Open Space Institute and the Butler Conservation Fund on 360 protected acres. The six-mile trail connects the Carmine Liberta Bridge at the end of Main Street to the edge of the Mohonk Preserve. The Preserve is working on securing permits for another couple miles of trail, which will ultimately connect the village and the Wallkill Valley Rail Trail to the Preserve's trail network. Once completed in the spring of 2019, the River-to-Ridge Trail will allow hikers and bikers to access the trails of the Shawangunks from the village without ever hitting traveling on roads. "It's a transformative project," says Tim Rogers, mayor of the village of New Paltz. "Being able to access Minnewaska State Park and the Mohonk Preserve right from downtown is a game changer for New Paltz."
Economic Capillaries
Caylena Cahill
Pony rides at the Taste of New Paltz
When asked what issues he is currently working on, Rogers assures me it isn't glamorous. "I try to figure out how to pay for water and sewer and fire and parking," he says. "My focus is on making sure our infrastructure is up to snuff. We're facing serious challenges from our failing, century-old water conveyance system, for instance. We need to make sure that our infrastructure—the capillaries of a healthy local economy—work for both existing businesses and new developments. There are plenty of other communities in exactly the same situation we're in."
Development is often on the mind of Eve Waltermaurer, a SUNY New Paltz professor and chair of the Village Planning Board. "One of New Paltz's best-kept secrets is that most of the village is completely accessible without a car," she says. "You can walk or ride your bike to go to a movie, see art, visit friends, or go to a restaurant." Making sure that new construction aligns with the pedestrian-friendly, small-town character of the community (and the building codes) is the job of the planning board. "We need to maintain the quality of what we have, while allowing for progress," says Waltermaurer. "We're interested in development. It's just a challenge in a place that respects its history and is pretty crowded already."
One major development that's been in the works for a few years is Wildberry Lodge, the brainchild of Steve Turk, owner of Rocking Horse Ranch, a large family resort down the road in Highland and Splashdown Beach water park in Fishkill. Planned on a 57-acre parcel near the New Paltz entrance that has been the site of previous development efforts opposed by the community—a strip mall and a Wal-Mart—the Wildberry Lodge has changed several times since it was introduced as a $75 million water park. The current $42-million proposal is a something else entirely: the resort, slated to open with 90 rooms in 2022, will feature a botanical garden and a largest-of-its-kind butterfly conservatory, according to Turk. "We're hoping to be a destination for butterfly lovers from across the Metro New York City area and beyond," says Turk.
Like Rocking Horse Ranch, with a staff of 200 year-round and another 150 in season, Wildberry Lodge, if approved, will be a large employer in the region. Turk estimates 145 full-time equivalent jobs will be created. But will it be approved? New Paltz Town Supervisor Neil Bettez is in favor of the project. "We like tourists. We need another hotel—we definitely need more beds, says Bettez. "Those other projects that were proposed for this site didn't add a lot to New Paltz. You can go to a strip mall or a Wal-Mart anywhere." Reflecting on the oppositional character of the community to getting mid- or large-scale projects built, Bettez says, "In New Paltz, we really like to be against everything. But eventually, we need to choose to be for something. This is the best project we're gonna get."
Like so many towns and villages across the region, New Paltz is facing development pressures, especially so due to its bucolic character, good schools, walkable size, quality of life, and engaged community. Change, of course, is inevitable, but how New Paltz deals with it will decide its future. Planning Board Chair Waltermaurer hopes that village will embark on a strategic planning process that will catalyze a shared vision of what New Paltz wants to be. "The more voices that go in to this vision, the better," says Waltermaurer. "People who oppose change often feel like change is happening at them rather than with them."