Courtesy of Moroney's Harley-Davidson in New Windsor

Juneteenth marks the official end of slavery in America on June 19, 1865, when Union troops marched through Galveston, Texas and read Lincoln's Presidential order declaring slavery over. Juneteenth has been celebrated by Black people since the 1800s, then known as "Jubilee Day." Today, the holiday focuses on Black achievements and culture, recognition of inequality and systemic racism in the United States, and the ongoing fight for equal rights. In 2020, Governor Cuomo designated Juneteenth an official public holiday in New York State, and this year brings an expanded list of ways to celebrate Black freedom and to reckon with the racial past and present of the United States.


Newburgh
Newburgh celebrates Juneteenth with the Frederick Douglass in Newburgh Walking Tour, a self-guided walk of Black history sites in Newburgh, sponsored by Orange County. Tour stops include the Alsdorf School of Music and Dance, AME Zion Church, and Downing Park.

Poughkeepsie
This Juneteenth, Poughkeepsie celebrates Theodore "Tree" Arrington, Poughkeepsie community leader and youth advocate who passed away last year, with a memorial event on Saturday, June 19, at 12pm at the Family Partnership Center. At 1pm in Mansion Square Park, there will be live music, performances, and food.
Courtesy of Dutchess County Progressive Action Alliance

Kingston
Harambee Kingston will celebrate Juneteenth with the grand opening of the Pine Street African Burial Ground at 157 Pine Street, Kingston on Saturday, June 19 from 12-4pm. The Saints of Swing will perform with Renee Bailey, gospel and swing sensation. Legendary saxophonist Eric Person and his quartet will play, and actor Oliver King will give a rendition of Frederick Douglass's "What to a Slave is Your Fourth of July." There will be food, games for children, and tours of the new headquarters and the Pine Street African Burial Ground.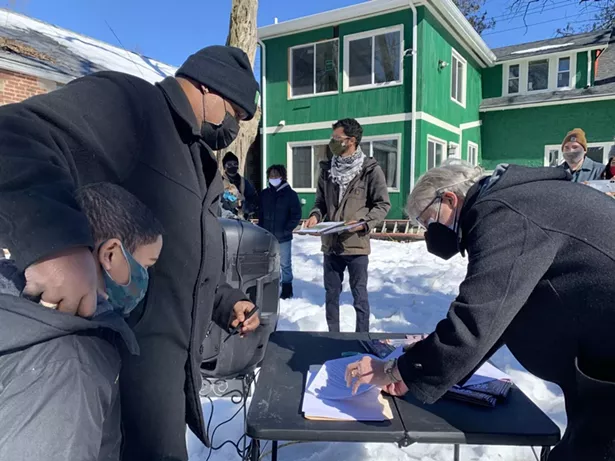 Courtesy of Daily Freeman
Beacon
In Beacon, residents will commemorate Juneteenth with a Black Lives Matter celebration march and protest at Pohill Park on Saturday, June 19, at 6:30pm. Attendees will march from Pohill Park to Memorial Park to protest racial injustice. There will be free food and beverages.
Courtesy of A Little Beacon Blog
New Paltz
The Juneteenth Prejudice Project Launch will be held at the Unison Arts and Learning Center, on Saturday, June 19, 6-9pm. The Juneteenth celebration by Elting Memorial Library and Historic Huguenot Street will be held on Saturday, June 19 starting at 11am.


The Juneteenth Prejudice Project Launch includes a talk with Albert Cook, history teacher at New Paltz High School, and an introduction to an upcoming restorative justice workshop series by Carol Bergman. Award-winning violinist and composer Gwen Laster and her band, Gwen Laster & Gameboard, will perform afterwards. The Prejudice Project is an ongoing program welcoming people who have experienced any type of prejudice to share their stories in video format, which are then archived into the project's video library. Upon collection of these stories, Unison will reach out to artists to create works that create beauty out of the painful experiences of contributors in a collaborative effort of community healing.

The Elting Memorial Library and Historic Huguenot Street begin the festivities with a benediction at 11am at the Hasbrouck Park playground. This includes a placard dedication in honor of Julia Jackson, the last surviving enslaved woman to live in New Paltz and a revered historian, storyteller and beloved friend of the community. Speakers will include Mayor Tim Rogers, Rev. Jennifer Berry, New Paltz town historian Susan Stessin-Cohn, and Albert Cook with a performance by Resisterhood: New Paltz.

Come to Huguenot Street at 3-7pm for live, local music and a family-friendly pot-luck or bring-your-own-picnic lunch on the lawn. Light refreshments will be provided. A slam poetry session is included. At 7:30pm, gates open at the Elting Memorial Library's Vera Rushforth Reading Garden in the historic courtyard for an 8pm guest speaker, Dr. Zelbert Moore, Professor Emeritus at SUNY New Paltz, who will address the origins of Juneteenth and introduce the documentary film Tulsa Burning: The 1921 Race Massacre, to be screened in the courtyard at dusk.

Courtesy of Historic Huguenot Street
Peekskill

Peekskill celebrates Juneteenth through its production "Melanin Magic!" at Peekskill High School on Saturday, June 19 at 5pm, and Sunday, June 20 at 2pm.
"Melanin Magic!" focuses on educating and uplifting students through song, dance, and spoken word poetry. In the fall of 2020, students engaged with Black history, sociology, and anthropology and will now showcase their knowledge through a staged performance, which features the Black national anthem, musical and dance numbers, a skit, and spoken word. The production will highlight the survival and resilience of people of color and celebrate our common humanity.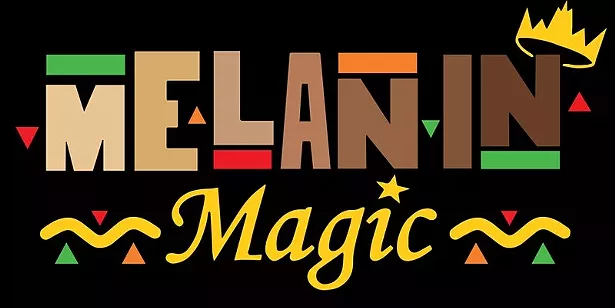 Courtesy of Peekskill High School
New Windsor
Moroney's Harley-Davidson invites readers to commemorate America's long ride to freedom on Saturday, June 19, 8:30am-12pm with a Juneteenth Underground Railroad Freedom Ride. Riders must meet at the Erie Depot in Port Jervis at 8:30am. Riders will follow the path of the Underground Railroad in Orange County, beginning in Port Jervis, through Goshen, Chester, Newburgh, and ending in Highland Falls, where there is a parade and community celebration afterwards.


Saugerties
Legal cannabis advocate Steve D'Angelo will host a mixer and celebration of the Last Prisoner Project at Fortune Valley Manor on Saturday, June 19, 5-10pm. The Last Prisoner Project works to free incarcerated people of color for marijuana drug charges that have since been declared legal in their states. D'Angelo invites attendees to this luxury cannabis networking event to make connections and break into the white-dominated weed industry, because part of Juneteenth is about celebrating Black-owned businesses like his own.


Saratoga Springs
Saratoga Springs Public Library is hosting discussions of Black history topics online each week in June from 2-3pm. The library will be honoring Juneteenth by exploring and discussing articles, TED Talks, and podcasts about Black history in America. Meetings are on June 10, 17, and 24, each with a different list of required reading for attendees to engage with and discuss in a group setting.


Schenectady
Juneteenth festivities begin on Monday, June 14 in Vale Cemetery, with a full day of events in Central Park on Tuesday, June 15. Come for music, food, vendors, and special performances in commemoration of Black culture, tradition, and history.

Courtesy of Hamilton Hill Arts Center
White Plains
White Plains will be hosting an in-person and virtual Juneteenth Celebration Concert on Saturday June 19, 7-8pm.
The Music Conservatory of Westchester will present a Juneteenth Celebration Concert including musical performances by the school's faculty and an opportunity to learn more about the featured composers. The concert has limited in-person seating in the Conservatory's Recital Hall, for which reservations are required, but the event will be livestreamed for a larger online audience. For more information, visit musicconservatory.org/community.

Courtesy of Music Conservatory of Westchester
Albany
Albany's Juneteenth celebration will take place at the African American Cultural Center of the Capital District on Saturday, June 19 from 12-8pm.
Included are live dance and music performances, soul food, outdoor movie screenings, art exhibitions, and a kids' corner with youth arts classes. The Capital District Transportation Authority and Underground Railroad History Project have partnered with the African American Cultural Center to provide educational trolley rides through Albany, including tours at the Stephen and Harriet Myers residence. The center also includes a garden on its outdoor campus with two wildlife ponds and an outdoor art gallery, a calming space to reflect on the meaning of the holiday.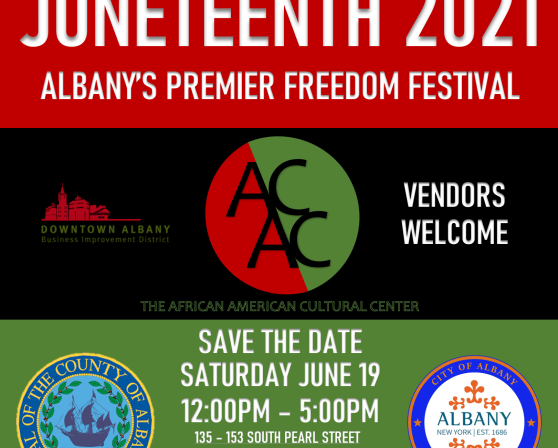 Courtesy of The African American Cultural Center
Irvington
Irvington will hold its second annual Juneteenth Celebration Rally at the Irvington Middle School on Saturday, June 19th, from 2-5 pm. Live music, free food, and arts and crafts activities are included.


Ardsley
Ardsley will hold the Juneteenth Music Festival at Pascone Park on Saturday, June 19 at 6-9pm. The Juneteenth Music Festival will feature live performances, and is hosted by June Archer, a motivational teacher, author, and former major record label executive.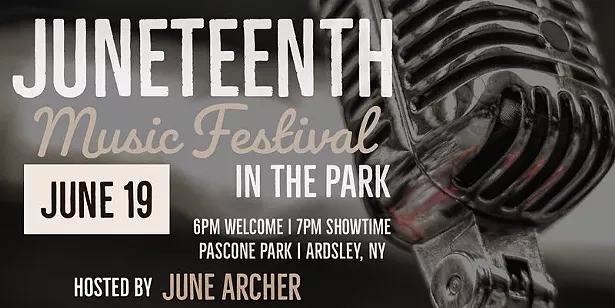 Courtesy of Eleven28 Entertainment
Pelham
Pelham Library will host a celebration of Juneteenth on Wednesday, June 16, at 7:30pm. In recognition of Juneteenth, performing and teaching artist Atiba Wilson will present a lecture/demonstration entitled "We Who Believed in Freedom Did Not Rest!" about the participation of Africans in the struggle for self-emancipation. Music, poetry and storytelling will be included in the presentation.


Bedford
Community members will perform in Bedford Village Memorial Park on Saturday, June 19, from 2-4 pm. Learn about the history of Juneteenth and Bedford's Black History from members of the community. There will be a Black dance theater performance by the Asase Yaa Cultural Arts Foundation and live jazz from Shirazette & Sonic Wallpaper Band.


Haverstraw
Celebrate Juneteenth in Haverstraw with dancing and a flag-raising ceremony on Friday, June 18, and a festival on Saturday, June 19 in Haverstraw's African-American Memorial Park. The festival kicks off at 3:30pm with live entertainment, food, and vendors celebrating the history of the Black community. The park has a kiosk with displays about local Black history and the African diaspora.

Courtesy of Haverstraw African American Connection