A local grocery bursting with thoughtfully-sourced staples, picked-to-perfection produce, organic meat, dairy, and seafood is set to open the doors of their new location. While the air full of enticing smells from its cafe is something to celebrate in itself, the grand opening of the twice-as-big new home of the beloved
Berkshire Food Co-op
means it's time to throw a major community party.
And that's exactly what's happening starting at 7:30 am on Wednesday, June 19 in Great Barrington, when the co-op folks cut the ribbon on their sleek and spacious new digs at 34 Bridge Street.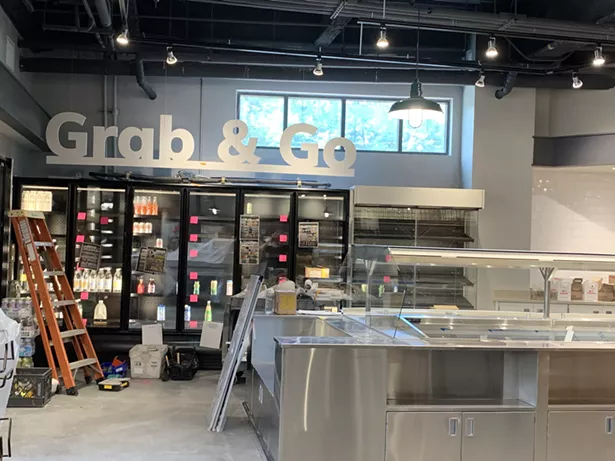 Photos Courtesy of the Berkshire Food Co-op
"It's been a long haul and a tremendous community effort," says project manager Daniel Esko. "We're thrilled to fling wide the doors of our new store and welcome the entire community inside for their first look at the tangible results of our collective hopes and dreams."
The co-op first opened its doors back in 1981. Today there are more than 3,500 member-owners. You're invited to join — or to just to come and shop. All are welcome. The expansion marks the fourth time the co-op has leveled-up their location and is yet another grand leap forward in maintaining the flow of healthy eats, local dollars, education, and good times in the area.
Photos Courtesy of the Berkshire Food Co-op
The ribbon-cutting ceremony will feature "gratitude and excitement and five or six pairs of big scissors," says marketing manager Jill Maldonado. "People who've helped achieve this will cut the ribbon as a group, cooperatively. Of course.The first 100 customers will get a free gift. We'll have squadrons of member-owners welcoming guests and handing out maps. Board members will be helping bag groceries."
WKZE and WSBS will broadcast live and two $1,000 gift cards will be awarded at 10 am and 5 pm. Live music, local vendors, producers with free samples, food prep demos, and ample opening-day deals and savings will season the festivities.
Photos Courtesy of the Berkshire Food Co-op
Partially funded by interest-bearing loans from community members, the opening marks the first time the Co-op has occupied a space custom-built to suit its needs: 7,600 square feet of retail space (complete with expanded cafe), convenient bulk foods section (make your own custom nut butter!), a kids' area, and more of all that's delicious and good for you.
"We think our new home will give everyone a fresh perspective on what Berkshire Food Co-op has to offer," says store manager Ted Moy. "We look forward to celebrating with old friends and welcoming new friends to everyone's neighborhood grocery store!"