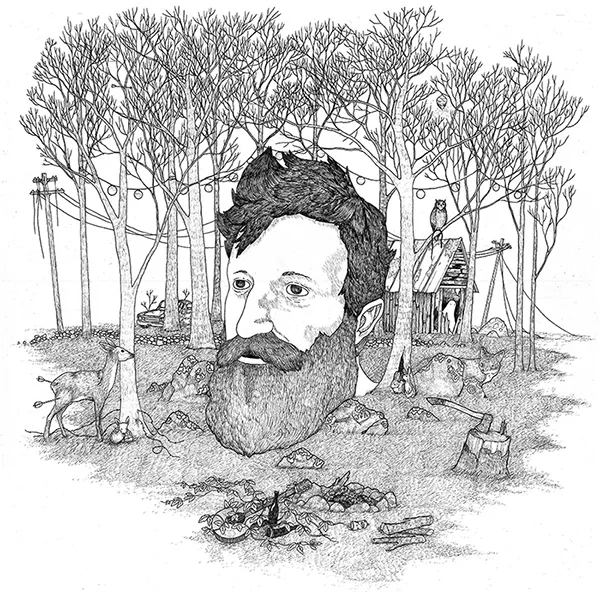 Update Required
To play the media you will need to either update your browser to a recent version or update your
Flash plugin
.
Burnell Pines Burnell Pines
(2014, Independent)
Sunlight plays catch-me-if-you-can beneath the thick canopy of evergreen boughs. It's at least a little dark, even during the day, and the tang of wood smoke nestles in against the weather. There's a small cabin, but it's wired for sound. With its debut album, Burnell Pines, the latest incarnation of Jeremy Bernstein's musical imagination, captures both the rustic glory of Americana and the still-beating heart of pop music, sometimes sticky sweet like pine sap, but with the same earthy overtones. The opening "Ode to a Young Man," for example, evokes Ben Folds, while the follow-up, "Another Sky," fairly screams Jeff Tweedy. Elsewhere, on, "Home," the album's virtual and spiritual core, there's even a tense whisper of Blue Oyster Cult's Buck Dharma, circa 1973.
The bushy-bearded Bernstein has enlisted some heavy aid in building his Burnell Pines cabin. Long-time cohort Adam Widoff (who formed Stoney Clove Lane with Bernstein) is here, but so are Hudson Valley hotshots Byron Isaacs, Dean Jones, Sara Lee, the inimitable Ben Perowsky, and the Merenda family. Keyboardist David Baron produces and co-writes much of the material on the disc, offering a stately piano anchor. And Will Lytle's pen-and-ink artwork captures the feeling of the record, extending to the spare, barely informative website, where more drawings are featured. A fine companion for late nights or long rides, Burnell Pines, as long as either finds you in the forest. Burnellpines.com.