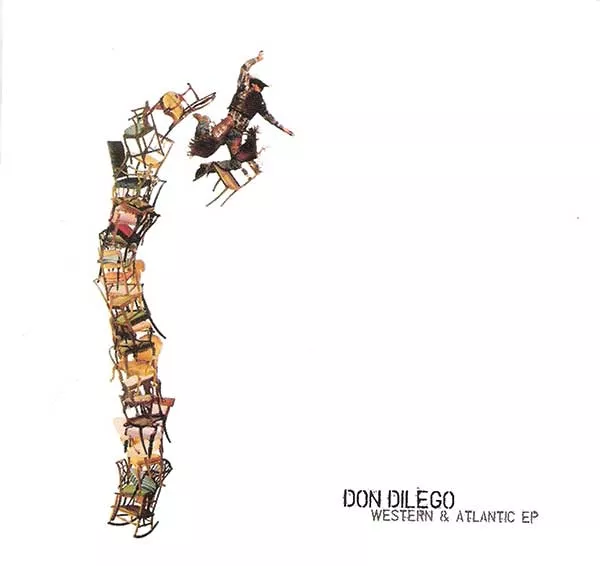 Don Dilego, Western & Atlantic EP, 2012, Velvet Elk Records
Most flannel-flyin' indie roots rockers wouldn't last 30 seconds on "American Idol." Berkshires native Don Dilego, however, possesses a golden throat rare enough to wow the glitz-mavens, at least for a few rounds. That soaring, confident voice, loaded with beguilingly oblique lyrics, goes a long way toward placing Dilego's Western & Atlantic EP above the fray. The weeping pedal steel, Gram Parsons baroque hillbilly touches, and Harvest-era Neil Young chord changes all drawl "alt-country," yes, but Dilego's '80s roots show in the anthemic, U2-esque "Chicago," and the lightning-in-a-bottle Replacements cover "Here Comes a Regular." Dilego's nervy choice to record this half hour of music live-without-a-net makes every note crackle with immediacy. He leads his well-oiled band beyond "y'allternative," diving into reverb-drenched Roy Orbison-style drama in "Lonely Couples," and trippy, hellhound-on-my-trail paranoia in "Midnight Train." The latter contains one of many Dilego lyrical delights: "The stars are gonna fall, the lights are gonna bend just to shake your faith."
Update Required
To play the media you will need to either update your browser to a recent version or update your
Flash plugin
.
Dilego's been releasing music since 2001, keeping things twangy and earthy, but Western & Atlantic EP offers a heightened sense of aural cinema, perhaps due to his recent scoring of the movie Ranchero. Like a filmmaker trusting his audience to pay attention as he pans out to a wide-angle shot, Dilego goes verité on CD closer "Carry On," recorded on the fly in a high-ceilinged ballroom, with glasses clinking, floorboards creaking, and an electric piano softly distorting. Dilego's angelic croon arcs into the ether, way above earthbound troubles and expectations. Dondilego.com.