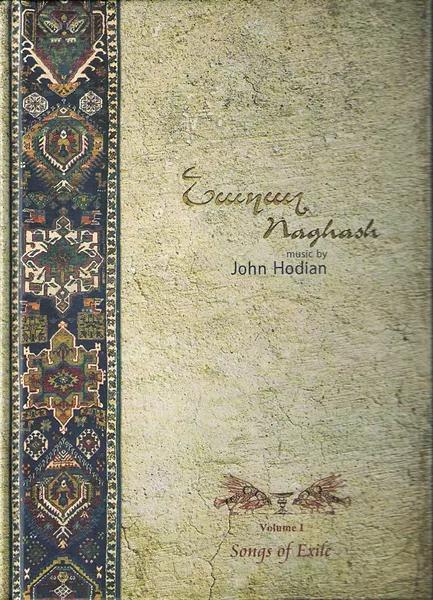 John Hodian & Naghash EnsembleVolume 1: Songs of Exile| (2014, Available Forms Music)
Mkrtich Naghash, a 15th-century priest who fled his Armenian homeland to become a migratory mystic poet, inspired this extraordinary ensemble arranged and conducted by John Hodian, who locals may remember from the popular world music duo Epiphany Project. He spent months researching in libraries worldwide for text to accompany his latest compositions, ultimately landing upon Naghash's poetry. The all-female Luys Vocal Quintet joins Armenian musicians on duduk (flute), dhol and dumbek (drums), and oud alongside a competent string quartet. This first volume of a three-CD set features a 26-page hardcover book with artwork, photos, and text in English, French, German, and Armenian script.
The pieces here are ancient and modern yet formal and earthy, and harmoniously merge folk with classical in a unique orchestral mosaic. "Composed in Exile" features a female aria that gives the mournful tune a monastic feel before bursting into an exuberant confessional and sonorous chorus revealing the plight and hope of the wanderer, or ghareeb. "On Behalf of the Ghareebs" stresses the hellish circumstances of the poverty-stricken in exile, a complex art song that continually changes in intensity and flavor. "Lamentations for the Dead" speaks from beyond the grave, emphasized by the strain of strings and percussion in a piece that is lyrically dark but not overly gloomy in its dynamic evolution. Considering its overall theme, Volume 1: Songs of Exile leaves the listener feeling surprisingly hopeful and exhilarated through its elaborate unfolding. Nagashensemble.com.