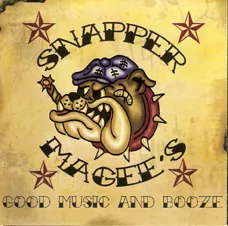 2009, Altercation Records
Kingston punk rock clubhouse Snapper Magee's is the sort of place where pretension is checked at the door. Memo to the dedicated follower of fashion: Don't bother ordering a mojito at this North Front Street haunt. As anyone who has ever bopped 'til they dropped at a sweaty gig at Snapper's can attest, the musical acts that pass through the door share a similar no-frills aesthetic that is faithfully documented on this compilation released on Altercation Records, the label co-owned by Snapper's impresario Travis Meyers.
This generous 26-track helping of adrenalized blasts of punk with major country, blues, and early rock 'n' roll overtones is a serious dose of pop energy that should make any neophyte curious about checking out Kingston's thriving scene. Homegrown Hudson Valley products like Punk Blues Review, Plastic Jesus, and the Designer Drugs howl like banshees alongside out-of-town guests like New Jersey's Electric Frankenstein and Virginia's Tim Barry.
Much like the bar where this music has been road tested, there aren't many dull moments here. Ex-Avail frontman Barry's "Dog Bumped" may be the only acoustic track, but this honky tonk-inflected murder ballad is also the most propulsive cut of the bunch. This old-fashioned story-song is also an oddly affecting paean to family values.
Another standout is PBR's joyride through Sam the Sham and the Pharoahs' "Little Red Riding Hood," which opens with a breathy, lascivious vocal intro by Jamie Bahr before the rhythm section kicks in like a hot rod with no brakes. www.altercationrecords.com.