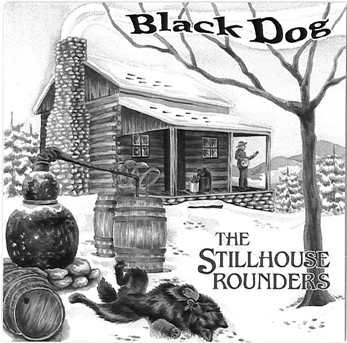 Sometimes this critic thing gets in the way of letting one's freak flag fly high. You spend time distracted from the music, looking for comparisons and hunting down influences. Digging for clever metaphors or profound alliterative phrases to capture what you're hearing.
To hell with all that this time 'cuz me and the missus are kicking up our heels as the Rounders—guitarist and vocalist Gil Sayers, fiddler Mark Schmidt, banjo man Mike Fleck, and bassist Geoff Harden—roll n' tumble over the mountains with an ever-infectious glee. Their irrepressible groove of sweet back-porch pickin' and finger-lickin'-good times throughout these 17 trad-bluegrass tunes will pull you from the narcotic lure of the mainstream.

If you're looking for good times, check out the Stillhouse Rounders at the Rosendale Cafe on February 10. They will also be featured on WAMC's "Dancing on the Air" on February 14. And if you make it to Rosendale and I don't, please find out what a "meatskin" is and get back to me.
www.stillhouserounders.com