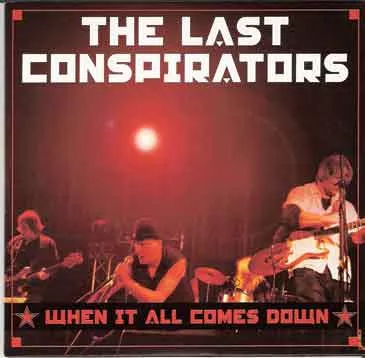 The Last ConspiratorsWhen It All Comes Down(2010, Driving Rain Music)
Following up on their 2007 debut long player,
Warparty
, Albany's Last Conspirators have unleashed another shot across the bow of a too-often-complacent rock soundscape. The songs evince an unshaken belief in the punk-rock ethic, starting with the all-in, soulful commitment of front man Tim Livingston's vocals. Although the defiance of songs such as "History" and "Who Wants a Revolution Anyway" is present and correct, the music is anything but punk-by-numbers agitprop.
The line-up of Livingston, bassist Jeff Sohn, guitarist Terry Plunkett, and drummer Al Kash is a vibrant testimonial of the Capital District's close-knit but eclectic scene. The Conspirator's sonic DNA is encoded with elements of glam, post-punk, psychedelia, and roots-rock.
"Luther Hamilton's Blues" struts forth on a bedrock rhythmic foundation, then layers on guitar fanfare that is by turns fractured and plangent before Livingston turns the lyric of a personal quest into a parable of a nation's search to restore its collective mojo, underscored with Iggy-style primal howling. These recordings possess an immediacy that hints at the band's infrequent but powerful live performances. Sure, the amps are cranked up really high, but the dynamic arrangements are the real payoff for the listener.
"History" begins with anthemic guitar scrubbing, propelled by a hook-laden bass line before Plunkett launches the band to the stratosphere and back, pausing with Livingston cutting through the onslaught with an impassioned cry of "It's too late for the future!" It's never too late for music with this much craft and heart.

For more info, check out The Last Conspirators Webpage.