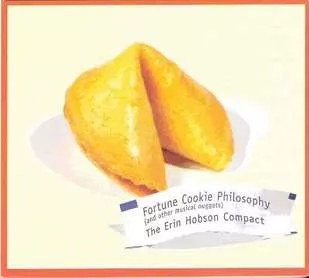 The Erin Hobson Compact, Fortune Cookie Philosophy, 2010, Choking Chicken Records.
The songwriting team of Erin Hobson and Steven Ross churns out catchy melodies and evocative syncopations that never cease to surprise. From alt-pop, rock, Americana, funk, folk, and a world-music sound, their one-of-a-kind ensemble weaves tapestries of intimate, thought-provoking musical fare with unexpected lyrical depth and sensitivity alongside Hobson's smooth, cozy croon. One earful of these huge grooves, rich colors, precision-perfect textures, and adventurous solos will keep you coming back repeatedly to pick up nuances you may have missed the first time around.
Hot on the heels of 2009's highly acclaimed
Talk Radio
(Choking Chicken Records), this uncategorizable disc is a welcomed collection for triple-A and college radio. Uplifting, eclectic, and tight with stellar mixes, it combines different generations of music into a sound that's fresh and new. The tunes are punchy, clean, and diverse—grown-up without being old. The slinky title track sits on a laidback, almost urban groove, with jazzy chords and colors, and is followed by the political "Material Things" and its funky, driving rhythms, sweetly smooth bridge, and subtly angry octave vocals. "So Seriously" blasts off with guest Pete Levin's gospel organ and ends with an a cappella vocal and funky groove. The beautiful ballad "Purple Crayon" will leave Hobson's lovely voice in your head for days.
www.erinhobsoncompact.com
.