Tall County Featherweight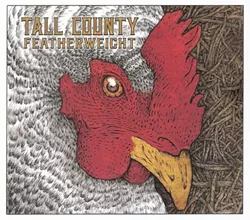 (2015, Independent)
Like well-aimed medicine for the digitally addled, Tall County's music goes straight to the marrow. The Garrison trio's debut album, Featherweight (which follows a 2012 EP, Shine), features resonator guitar, ukulele, banjo, standup bass, fiddle, and fearlessly intimate vocals, all cut very live in rooms that breathe. Tall County wields all of the above with the gratitude of young folks reaching for instruments during a power outage and experiencing a succession of Eureka moments. Recorded simply and quickly in the Adirondacks and the Hudson Valley, it's quietly spiritual, and subtly defiant of a world that would have you feast on despair and godlessness.
Tall County—Featherweight
Update Required
To play the media you will need to either update your browser to a recent version or update your
Flash plugin
.
Husband and wife Liz B. and Ned P. Rauch, plus bassman Colin DeHond, form the core of High County. Liz and Ned trade off on lead vocals, play the stringed instruments, and harmonize throughout. The seesawing between his gravelly baritone and her grosgrain silk alto, and the frequent blending of the two, make for some of Featherweight's deeper pleasures. Her sublime fiddle work deserves special mention too—heartbreaking passages of lyricism atop it all. The songs cover a broad swath of terrain: the rollicking, cinematic "Postcard"; the lullaby waltz "Waiting on the Light of Day"; the hypnotic, incantatory spell "Angel," on which DeHond transforms his bass into an earthy, underpinning voice, a sound impossible to render in any other way except through wood, wire, and flesh. It serves as both relief and reminder of a pre-electric world that exists still, patiently waiting.