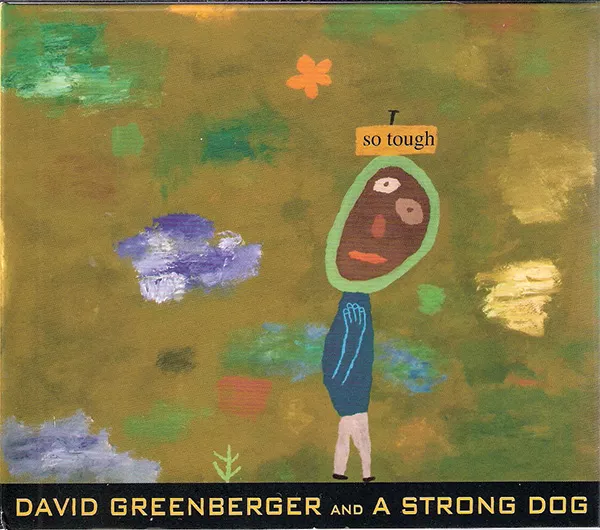 David Greenberger and a Strong Dog, So Tough, 2013, Pel Pel Recordings
Since 1979, painter, musician, recurrent NPR commentator, and erstwhile nursing home activities director David Greenberger has used his conversations with the elderly to create evocative art. His 'zine, The Duplex Planet, served as his first canvas, soon morphing into various media, including recordings. So Tough is the 17th CD on which he recites lyrics woven from ongoing interactions with folks in decline. The versatile trio A Strong Dog accompanies him this time out, offering up Tom Waits-y soundscapes, back-porch blues stomps, delicate Ry Cooder-isms, and swaggering rock, all dovetailing behind Greenberger's recitations of oldsters' observations and memories.
Rather than imitate, Greenberger abstracts lines from chats, delivering them plainspoken and gently inflected. When combined with the effortlessly simpatico music, these pieces become oddly powerful, often hilarious. One recalls how, for millennia, old folks were integral to everyday life, and whimsical, sometimes softly harrowing snippets of speech were commonplace. But Greenberger's no nostalgia hound; his work focuses on how these people are now. And he's not making a statement about a youth-obsessed culture, either, which is refreshing. With So Tough, the operative word, in fact, is often acceptance. In the slide guitar-drenched "Landlords, Maids, and Men" and the Peter Gunn-ish "Once in a Whirlybird," subjects look back on rough times without anger, while the atmospheric "Tramp in the Woods" and the minor-to-major saxophone romp "Halloween's Over" present snapshots of rich, living memory as intimate shares, the building blocks of new friendships with old people. Duplexplanet.com.

"Landlords, Maids, and Men" by David Greenberger
Update Required
To play the media you will need to either update your browser to a recent version or update your
Flash plugin
.