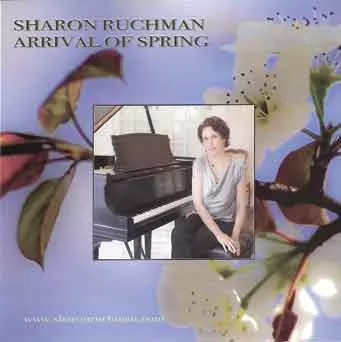 Sharon RuchmanArrival of Spring(2010, Independent)
At the time of year when the weather is unpredictable and we ache for warmth, flowers, and the cessation of snow, there couldn't be a more appropriate title for the sophomore chamber music CD by Western Connecticut pianist/composer Sharon Ruchman:
Arrival of Spring
. The recording comprises a blend of various ensembles: a string quartet, a trio, duets for violin and piano and for cello and piano.
There's a great deal of forcefulness in the first movement, while the second is hushed and the third is, again, more vivacious. The first piece, "String Quartet in F Sharp Minor," is both lively and beautiful. The moody violin piece "Memoria Dolci" is one that Ruchman wrote to honor her uncle, Rudolph Fuchs, an award-winning virtuoso violinist who played for President Coolidge. "Solemnity" is a tranquil cello/piano piece that encourages quiet inner reflection. "Trio for Violin, Cello and Piano in F Minor" moves through a vigorous and dramatic ambience to a stilled and dulcet one, and back again. "Twilight" is played on violin, coupled with the upper octaves of the piano, evoking imagery of shimmering stars. Welcome spring!
www.Sharon Ruchman.com
.