Trombonists scripted their own argot within the bebop era. When notes got quick, 'bones got slick. And players like J.J. Johnson didn't forget to sing through their instrument for their supper. Another was Kerhonkson resident Roswell Rudd. He joined his voice with free jazz players like saxophonists Steve Lacy and Archie Shepp in the '60s. The Rudd of today has developed quite an international tongue—most recently with Mongolian and Latin musical folk traditions—and all the while singing past sign posts that could have restricted his curiosity and mobility as a player and composer.
Keep Your Heart Right
features vocalist Sunny Kim, whose prowess as an interpreter is rewarded by Rudd's colorful personal experiences put to music.
Be it the beseeching "The Light is With Me," the quirky "I'm Going Sane (One Day At a Time)," or the churchy "Loved by Love," Kim's versatility reveals itself in each song. She is unrestrained, soulful, cool, throaty, and, most importantly, present to the music's asking. Rudd leads and follows her; sometimes loping alongside her, as he does in his oft-revisited "Bamako." His sound is raspy and wide-cut in all ranges, but he senses when to adjust to the subtleties of his singer. Whether it be a beautifully bowed introduction ("Whatever Turns You On Baby") or a dashing solo ("Suh Blah Blah Buh Sibi"), bassist Bradley Jones and pianist Lafayette Harris gracefully support and enhance the 10 performances on Keep Your Heart Right. To quote Rudd, "Songs—it's about the songs." www.sunnysiderecords.com.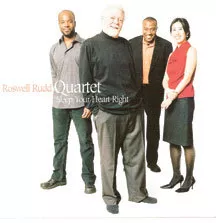 "Keep your Heart Right" by Roswell Rudd.