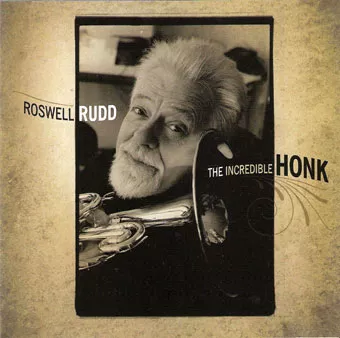 Roswell Rudd, The Incredible Honk(2011, Sunnyside)
The Incredible Honk
is trombonist Roswell Rudd's latest release, a collection of his transnational indulgences in music that reach beyond our AM/FM signal. Given his will and pleasures at this time in his life, would anyone begrudge him these? Ever the consummate collaborator, the 76-year-old Rudd personalizes each composition, not just with his brashy sound, but with his choice of chums. "Bro," "Ngoni Vortex," and "Airborne" are with spirited Malian ngoniba player Bassekou Kouyate and his group. (Rudd met Kouyate in Mali in 2000.) Other welcome guests include Cajun fiddler Michael Doucet and his band BeauSoleil, who create a gentle, easy sway with "C'etait dans la Nuit." One of Rudd's current band mates is keyboardist Lafayette Harris Jr. His solo during "Berlin, Alexanderplatz" is as humble as Rudd's muted and open playing is unfettered.
Another Rudd buddy is Sunny Kim, whose vocal nuances ("Alone with the Moon") are like gossamer. Even her paced delivery on the kiddish "Kerhonkson: The Muse-ical" is cherishable, with the song's title hinting at her role with Rudd. Two of the traditional compositions that Rudd includes on
The Incredible Honk
are "Blue Flower Blue," a Chinese folk song with sheng and vocals by Wu Tong; and "Airirang," a Korean piece featuring Kim, Harris, and the bassist of the group, Ken Filiano. With such an appetite for melody, it's not surprising what Rudd's next project will be:
Trombone for Lovers
. He's launched a Kickstarter (
Kickstarter.com
) campaign for it.
Sunnysiderecords.com
.