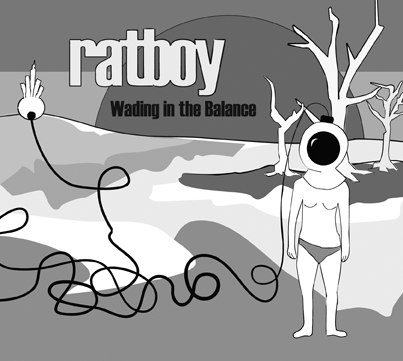 Not Your Daddy's Records, 2007
The best bands somehow maintain an original voice while still honoring their influences. One group of such messengers of song is Ratboy, the New Paltz-based combo built upon the vocal gymnastics of Tim Sutton and Matt Senzatimore, and the duo's under-the-skin harmonies reflect their longtime musical pairing.
Drummer/keyboardist Senzatimore and guitarist Sutton have hit stages together in many a band, including Lost in the Sauce and the hard-rocking Wooden Rope. In Ratboy, their signature lyrical and harmonic twist-up shows such influences as Beck (the urban pop country-esqe "Falling Up") and Lou Reed (the haunting "El Futuro"). Leave it to Sutton to bag up an ode to trash collectors on "Garbage Man": "If he didn't do it, who would? / We think you can and you should / The garbage man ain't half a man / Did you check out his tan?" Wading in the Balance was recorded by Mike Tuttle at Utopia Soundstage in Bearsville and also features Mark Beaumont on electric bass, Jay Brunka on upright bass, and the Blue Man Group's Geoff Gersh and the ubiquitous Johnnie Wang (another ex-Wooden Rope-r) on guitars. Also aboard is funky sax man Shane Kirsch (Lost in the Sauce, Perfect Thyroid, P-Funk Horns), who contributes righteous honky-tonk lines. www.myspace.com/ratboy.